Former finance minister Arun Jaitley, the BJP's principal crisis manager and according to many its keenest and most cultivated mind, died at the All India Institute of Medical Sciences here on Saturday, two weeks after being admitted with breathlessness. He was 66.
An AIIMS statement said he died at 12.07pm but did not give details of his illness. Jaitley had had bariatric surgery in 2014, a kidney transplant last year and then a soft tissue cancer surgery ahead of the general election, sources said.
Although he had voluntarily opted out of Modi's second cabinet because of his poor health, his passing will be felt in the BJP, which has lost its "modernist face" and foremost perception manager.
Jaitley, a suave English speaker, was ever ready to articulate the BJP's position persuasively before the educated classes and the media, and was perhaps the party's only leader capable of taking on the Congress's battery of erudite critics through his blogs.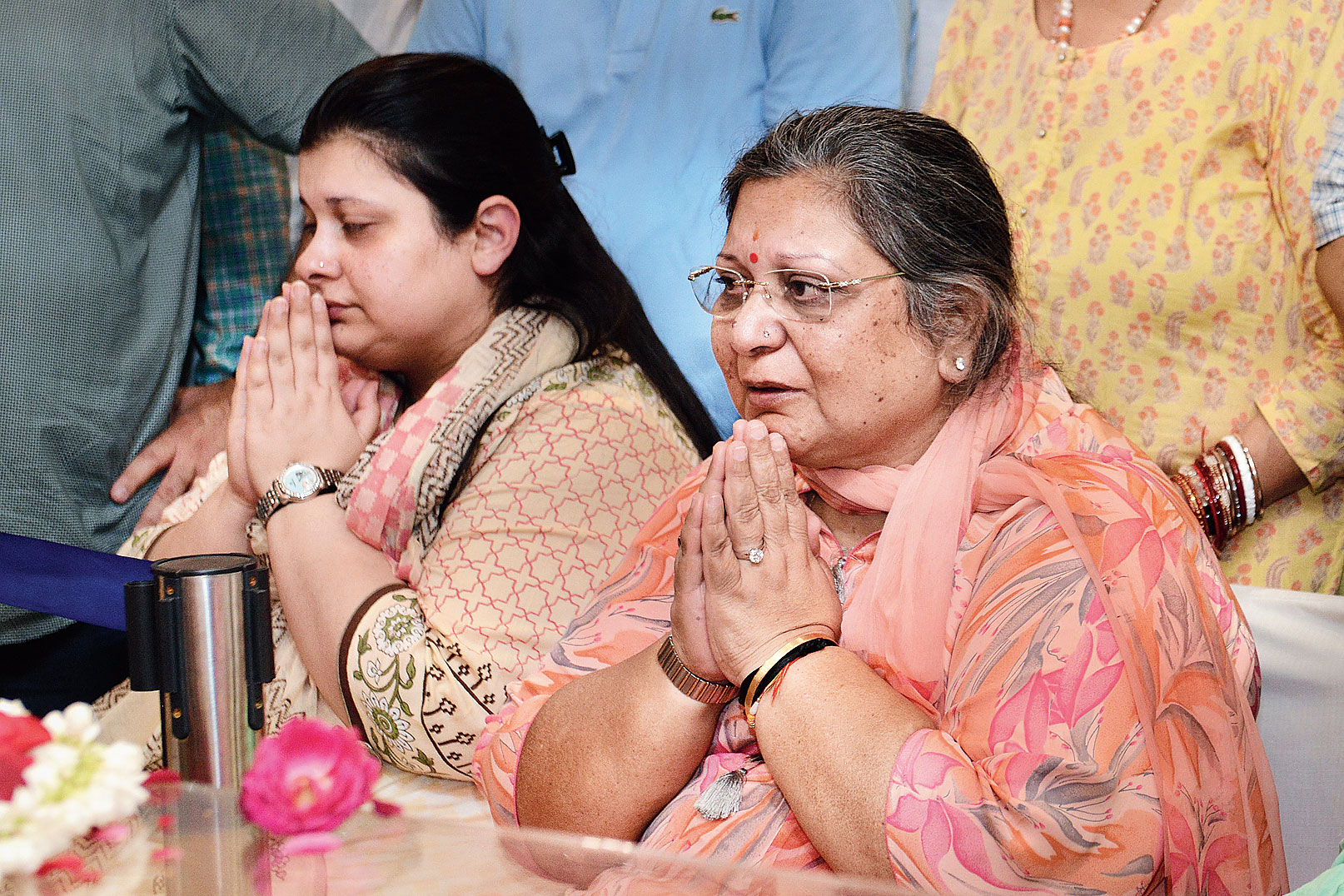 Jaitley's wife Sangeeta and daughter Sonali at their residence in Greater Kailash, New Delhi, on Saturday. Jaitley's wife Sangeeta and daughter Sonali at their residence in Greater Kailash, New Delhi, on Saturday. Bengal chief minister Mamata Banerjee offered her condolences to Jaitley's wife and children and said: "Extremely saddened at the passing away of Arun Jaitley Ji, after a battle bravely borne. An outstanding parliamentarian & a brilliant lawyer, appreciated across parties. His contribution to Indian polity will be remembered." Picture by Prem Singh Picture by Prem Singh
And amid all the acrimony that defines the Narendra Modi-Amit Shah dispensation's ties with the Opposition, his warm rapport with politicians across the divide had driven the government's efforts at dialogue and consensus on thorny subjects.
In many ways, the lawyer turned politician was a contrast to the "Hindi, Hindu" image that constrains the current BJP politician, not least as a purported member of the Lutyens' elite that Modi professes to despise. Yet Jaitley had been the Modi-Shah duo's go-to man, defending them legally and politically when they were cornered over the 2002 riots and the Sohrabuddin fake-encounter case.
"He seemed more like a pedigreed Congress leader than a BJP leader," a BJP insider said.
Even in his last days before hospital admission Jaitley had continued his blogs, defending the government over the instant triple talaq bill and the scrapping of Jammu and Kashmir's special status.
"With the demise of Arun Jaitley Ji, I have lost a valued friend…. His insight on issues and nuanced understanding of matters had very few parallels," the Prime Minister tweeted from abroad.
Shah, BJP president and Union home minister, mourned his "personal loss" and rushed back from Hyderabad. Jaitley's body will be taken to the BJP headquarters on Sunday morning before the funeral at Nigam Bodh Ghat.
Among those feeling his absence would be Delhi's journalists, who attended his informal "durbars" in droves looking for political gossip or useful clues. The relationship had its flip side too, with Jaitley being accused of planting stories, even against intra-party rivals.
As a politician, he lacked mass appeal and never won a direct election but was revered as a master strategist who had crafted many victorious BJP poll campaigns.
With Jaitley's death, four active BJP leaders have been cut off in their prime in the past one year.
Union minister Ananth Kumar died on November 12 last year aged 59, former Union minister and Goa chief minister Manohar Parrikar on March 17 this year, aged 63, and former external affairs minister Sushma Swaraj on August 6 this year, aged 67.