Article 370 ache in quota
Rivals National Conference and People's Democratic Party are considering a court challenge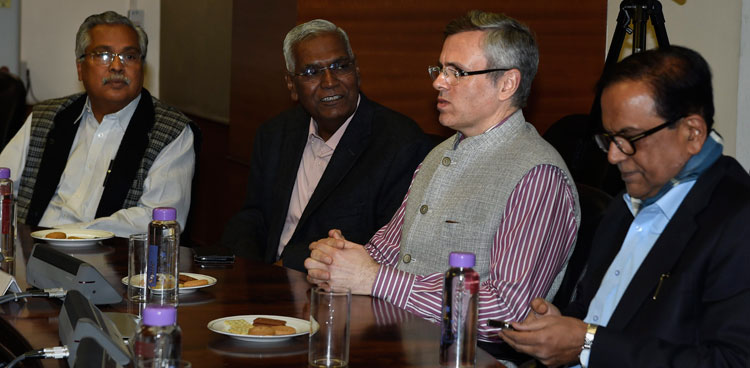 ---
|
Srinagar
|
Published 01.03.19, 10:11 PM
---
The Centre's decision to extend the benefits of reservation to underprivileged sections in Jammu and Kashmir by amending Article 370 of the Constitution in the absence of an elected government in the state has ruffled feathers, with rivals National Conference and People's Democratic Party considering a court challenge.
The governor of Jammu and Kashmir, who is currently in charge of the administration, had recommended to the Centre the grant of the benefits to the state.
The Union cabinet chaired by Prime Minister Narendra Modi on Thursday approved the governor's proposal to extend the benefits of the constitutional amendments 77 (reservation in promotion for the Scheduled Castes and Scheduled Tribes) and 103 (10 per cent reservation for economically weak sections of the society) to Jammu and Kashmir, which involves amending the contentious Article 370, which gives special status to the state.
Under Article 370, constitutional amendments can be extended to Jammu and Kashmir only on the concurrence of the state government.
The decision fuelled fears that it would pave the way for the abrogation of Article 35-A, which gives Jammu and Kashmir residents exclusive rights to own immovable properties in the state, and the grant of domicile rights to refugees from the erstwhile West Pakistan living in the state.
The Centre later clarified that only the state's residents would benefit from these amendments.
But former chief minister Omar Abdullah said Article 370 made concurrence of an elected government "a condition precedent for extension of a constitutional provision not falling under three subjects (defence, foreign affairs and communications)" and that his party would consult lawyers on moving court.
"The President cannot seek concurrence of the governor, who is a representative or agent of the President. Same will apply even where only consent is required," the National Conference leader said. The state is under President's rule.
PDP chief Mehbooba Mufti said the Centre's decision to use the governor's office to extend the benefits of the amendments to Jammu and Kashmir seemed to be a "sinister" move aimed at "disempowering" the state.
"This will not be tolerated & the entire state will fight against this criminal and illegal move of GoI (Government of India)," she tweeted.
Mehbooba alleged that the BJP-led Centre was pushing Kashmiris to the wall.
The Supreme Court is hearing a bunch of petitions filed by groups close to the RSS challenging the legal validity Article 35-A. Many Kashmir fear the Centre is determined to scrap it, one way or the other.
Mehbooba has warned that any attempt to do so would render Jammu and Kashmir's accession with the country "null and void". Omar had said there would be an agitation worse than the one in Arunachal Pradesh.
President Ram Nath Kovind issued an order on Friday night extending the benefits of reservation to economically backward sections in the state.