Army releases video of caught 'Lashkar militants' on day of Kashmir teen's death
Chinar Corps commander Dhillon highlights Gulmarg militant infiltration attempts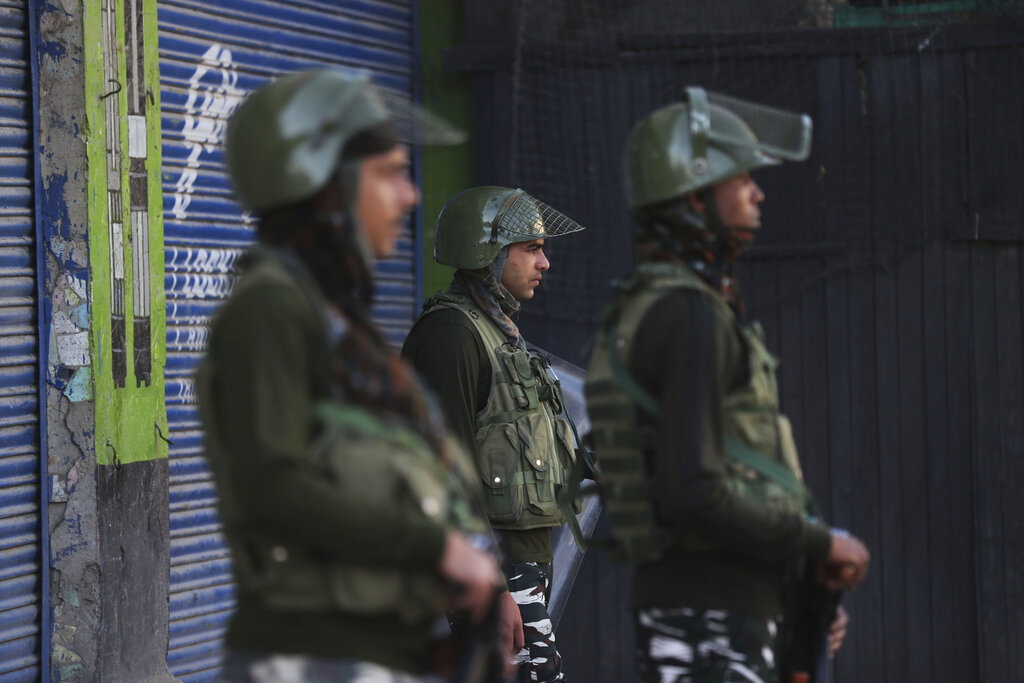 ---
|
Srinagar
|
Published 05.09.19, 03:02 AM
---
Indian security forces have been able to foil all infiltration attempts by terrorists to get into Kashmir as Pakistan is trying to make such attempts every day and night, Kashmir's seniormost army officer K.J.S. Dhillon said on Wednesday evening.
The information was shared by the army on a day news circulated that a teenager who was protesting at Soura in Srinagar on August 6 had died in hospital. Asrar Ahmed Khan, 18, had not suffered any pellet injuries, the police told PTI. But medical reports showed that there were pellet injuries.
News of the boy's death led to a reimposition of restrictions in some parts of the Valley where these had been eased.
Dhillon on Wednesday also announced the capture of two alleged Pakistani nationals who had infiltrated into the Kashmir Valley from the Gulmarg sector on August 21.
Addressing a news conference in Srinagar, along with Jammu and Kashmir Additional director-general of police (law and order) Munir Khan, Dhillon played a video of the now nabbed militants before the press. The apprehended militants, in the video, confessed to be Pakistan nationals and said they were associated with the terror outfit Lashkar-e-Toiba.
"Pakistan is desperate to infiltrate maximum terrorists into the Kashmir valley. All the launch-pads as of now are full and infiltration attempts are being made every day... to disrupt peace in the Valley. On August 21, two Pakistani citizens belonging to proscribed terror outfit were apprehended by the Indian Army," Chinar Corps Commander Dhillon said.
The Pakistanis were found to have in their possession "some IED materials", he said.
Khan seconded the army officer, and praised the security forces for enforcing calm in the Valley.
"Infiltration attempts are continuously being made. Not just from the Gulmarg sector, but from elsewhere also,' he said. 'Many such attempts have been foiled by the Indian Army. As far as law and order is concerned, one thing we have been able to ensure and, touch wood, very successfully, is that no civilian casualty in law and order action has taken place since August 5. Credit goes to all the security forces operating on ground," he said.
When he was asked about death of the Valley youth, Khan stressed that Asrar was killed because of an injury inflicted by a stone. "No shelling, no pellet injury. He was hit by a stone. And I am very sure about that," he said.
Dhillon was asked by journalists about information that the forces were "picking up" civilians. He said these were all rumours and emphasised that the Indian Army was a "disciplined" and "professional" army.

On August 28, Jammu and Kashmir police chief Dilbag Singh had spoken at a news conference about detention of adolescents. His words at a news conference, where governor Satya Pal Malik spoke, seemed to suggest it was the police that was detaining adolescents and children. 'Hum log naujawan, bachchon ko agar laate hain, counsel karte hain, thoda bohot der rakhte hain, chhodte bhi hain. Bohot badi tadaad nahi hai ki aapki chinta ka vishay ho. Aur humein iska idea hai ki jitni zaroorat hai, utni hi giraftari kari jayegi uske alawa nahi kari jayegi (If and when we have rounded up adolscents and children, we have counselled them, kept them for sometime and then let them go. These are not big numbers that should make you anxious. We know how many and who to arrest. There will be no excesses),' Dilbag Singh said, confirming one of the allegations made by a human rights activists' team led by Jean Dreze who had visited the Valley immediately after the clampdown.
Dhillon also threatened Pakistan of a "befitting reply" in case the neighbours engaged in a full-blown armed conflict. "Pakistan will be taught a lesson. They will receive a befitting reply which they will remember for generations to come. Probably better than 1971," the officer remarked.