Diversity of faiths and slogans, one flag
Thousands responded to a call from over 60 organisations to hold nationwide protests against the amended citizenship law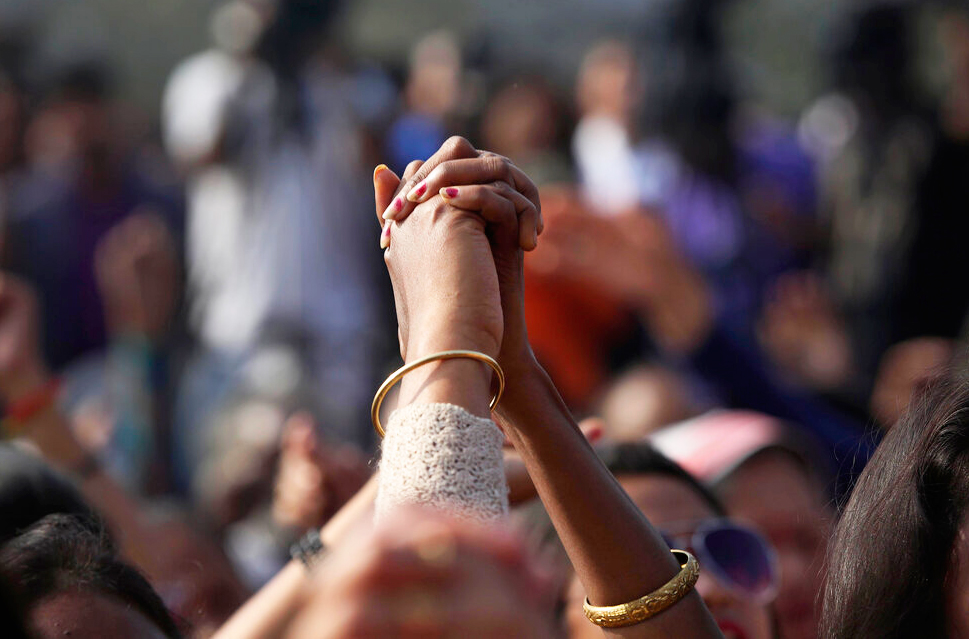 Protesters hold hands and shout slogans during a protest against the Citizenship Act in Guwahati, Thursday, December 19, 2019.
AP
---
Calcutta
|
Published 19.12.19, 10:35 PM
|
---
"I was born a Hindu, but religion has never been important to me," said Sam, 30-year-old resident of an upscale south Calcutta locality who had studied at La Martiniere for Boys before going abroad for higher studies, in English.
"Yes, I'm a Muslim but I'm also a proud Indian," said Hanna Gazi, a resident of Haroa in North 24-Parganas who seemed to be in his late 50s, in Bengali.
Prime Minister Narendra Modi claims the protesters against the Citizenship (Amendment) Act can be identified "from their clothes", but Sam's branded jeans and denim shirt and Gazi's kurta-pyjamas and skullcap displayed a sartorial diversity at a Calcutta rally on Thursday that defied facile pigeonholing.
Thousands had responded to a call from over 60 organisations to hold nationwide protests against the amended citizenship law on a day freedom fighters Ashfaqulla Khan and Ramprasad Bismil were executed 92 years ago.
Calcutta witnessed several other marches and rallies through the day, by the ruling Trinamul, Left parties, the Congress and fledgling outfits like the Joint Forum Against NRC. But a march that started from the Ramlila grounds near Moulali stood out for the messages it emphasised, and not just for challenging Modi's surmise about the protesters' attire.
⚫ Youths carrying Indian flags made up more than 75 per cent of the protesters. Takeaway: The young fear the idea of India is in danger.
⚫ No political party's flag was spotted in the gathering. Takeaway: People are spontaneously coming out to protest.
⚫ The march ended peacefully when the police asked the protesters to stop. Takeaway: Most protesters are in favour of a peaceful and democratic form of dissent.
⚫ People from different faiths took part. Takeaway: Ordinary Indians are against discrimination on religious lines.
⚫ Slogans were chanted in Hindi, Bengali, English and Urdu. Takeaway: The protests are assuming a pan-Indian character. This correspondent met Sam and Gazi in front of Futnani Chambers, a Raj-era building on SN Banerjee Road, where the rally ended after covering a distance of around 1.7km.
The protesters split themselves into small groups on SN Banerjee Road, Rani Rashmoni Road and Corporation Place, discussing freely all the problems facing the country as the smell of biryani from Aminia and kati rolls from Nizam's wafted through the air.
Gazi spoke of how the spiralling input costs had turned agriculture into a loss-making venture for a marginal farmer like him. "I was better off four-five years ago. We farmers are in great distress," he said.
Manas Bose, a teacher who had come with wife Kakoli and daughter Pritha, explained why distressed people like Gazi were being left in the lurch.
"This government at the Centre cannot solve the problems the people are facing. They just want to divert the people's attention, and so they are springing the NRC (National Register of Citizens) and the CAA on us," he said, standing in front of Aminia.
Sam explained why he had joined the first political march of his life even at the cost of antagonising elders in his family.
"I have several Muslim workers at my bag-making unit. They are all scared…. I don't want my fellow citizens to live in fear," the businessman, who had come to the march with 40-odd friends, said.
That Sam didn't want to give his full name reflected the prevailing "atmosphere of fear" that industrialist Rahul Bajaj had highlighted at a recent event attended by Union home minister Amit Shah.
A bearded friend of Sam, who had come wearing a mask, said the situation in the country had turned so critical that one couldn't "simply sit at home and watch television".
"If you don't hit the streets now, when will you?" he asked.
The various organisations that participated in Thursday's programme are to meet soon to chart their next course of action.
Sagar Lahiri, one of the many organisers of the day's protests, cautioned that the fight ahead would be tougher.
"Today's protest march has been successful, but this is just the beginning. The road ahead will be tougher but we have to carry on," Lahiri said, holding a bandanna that screamed: "No NRC, No CAA".