Shah at Bihar door with Modi jholi
Union home minister confident of NDA govt formation in state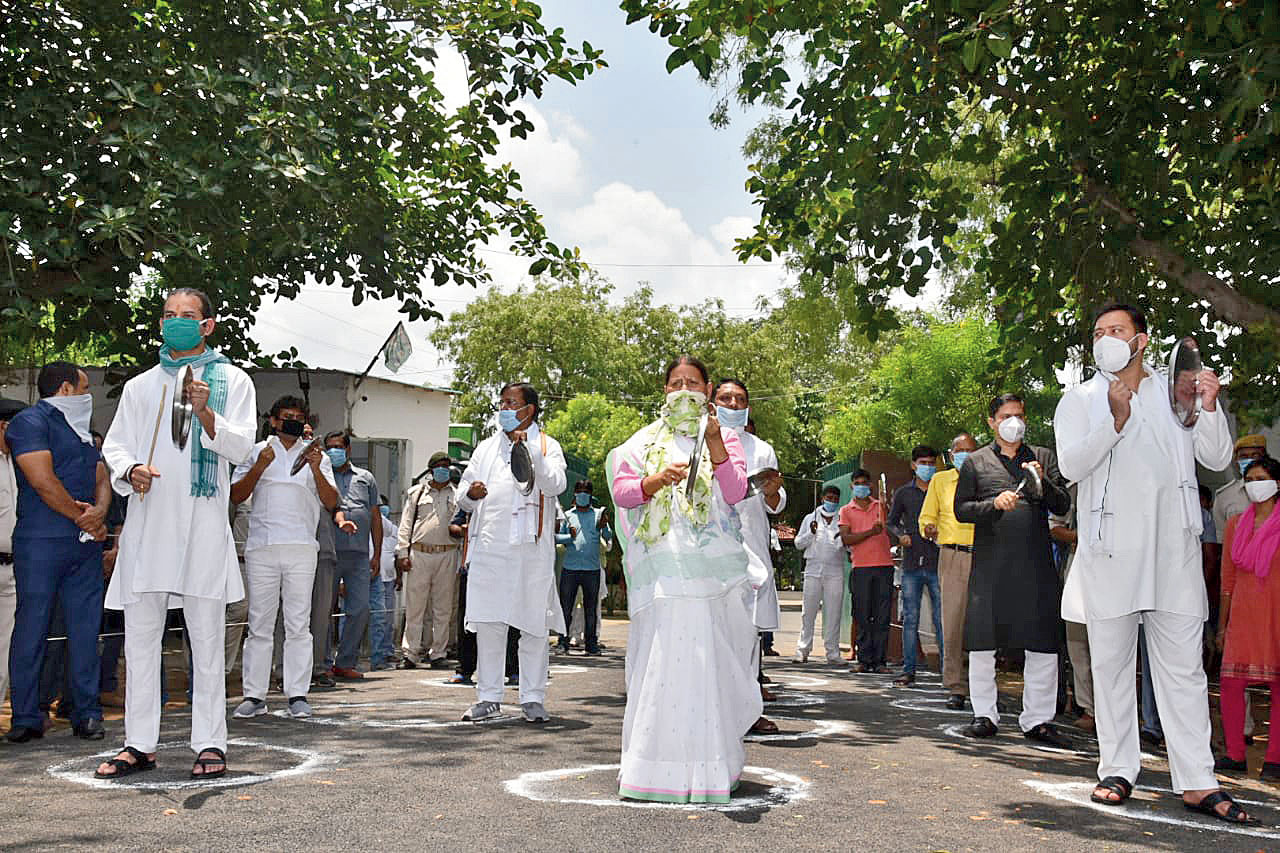 RJD leaders Rabri Devi, Tejashwi Prasad Yadav, Tej Pratap Yadav and others clank untensils outside Rabri's residence in Patna on Sunday to protest Amit Shah's virtual rally.
Picture by Sanjay Choudhary
---
Patna
|
Published 07.06.20, 11:03 PM
|
---
Union home minister Amit Shah on Sunday complained that some people were "seeing politics" in his online address to Bihar but went on to point out that the state had always filled Narendra Modi's "jholi" (bag) in elections and expressed confidence that the ruling NDA would sweep the impending Assembly polls.
Speaking during the "virtual" Bihar Jansamvad (public dialogue) rally streamed across various social media platforms on Sunday as part of the BJP's celebration of the Modi government's six years, Shah said: "Friends, elections will be held in Bihar in the coming days. It is my firm belief that the NDA government under the leadership of Modiji will be formed with two-thirds majority. But this is not the time for politics. This is the time of coronavirus and we all should unite with Modiji in the war against it."
The former BJP president pointed out that the "people of Bihar have filled Modiji jholi (bag of alms) whenever he has spread it in front of them, be it the 2014 Lok Sabha elections or the one in 2019".
However, Shah did not refer to the 2015 state polls in which an alliance of chief minister Nitish Kumar's Janata Dal United, Lalu Prasad's Rashtriya Janata Dal (RJD) and the Congress had trounced the BJP-led NDA. Nitish later left allies RJD and Congress to team up once again with the BJP to form an NDA government in the state.
Shah said the rally was to mark Modi completing six years as Prime Minister, "yet some people were seeing politics in it. They should have organised rallies from Patna to Darbhanga instead of sitting in Delhi and enjoying their life."
BJP leaders said the remarks were intended for RJD leader Tejashwi Prasad Yadav.
Shah said many people had tried to mislead the residents of Bihar but they, especially the migrant workers, had staved off such efforts.
Hailing the BJP's efforts, under Modi's leadership, to "decimate poverty", Shah referred to former Prime Minister Indira Gandhi's slogan of "Garibi Hatao" (remove poverty) and attacked the Congress. "People used to say that Indiraji has gone but poverty has stayed on," he said.
At a time when China had intruded into Indian territory in Ladakh, the Union home minister remembered the surgical strikes and airstrikes conducted on Pakistan.
"Our defence policy has garnered global recognition. People now believe that if there is any other country apart from the US and Israel that can go into another country to defend itself, it is India. India is capable of protecting its borders and its borders are fully protected," Shah said.
On the Citizenship Amendment Act, he said: "The promise was of equality and honour to the Hindus who chose to stay there (Pakistan). But it was never kept. The Hindus faced injustice, torture and insults. We brought the CAA for them. We have provided citizenship to those who came to our country to save themselves."