Ambulance complaint
Aishe Ghosh's complaint accuses a professor and 3 ABVP activists of threatening her before the attack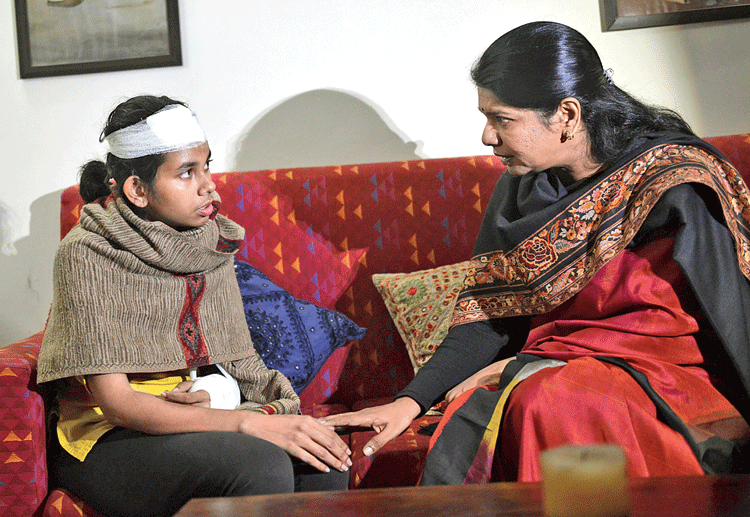 Aishe Ghosh with Kanimozhi at JNU on Wednesday.
Picture by Prem Singh
---
New Delhi
|
Published 08.01.20, 10:03 PM
|
---
JNU students' union president Aishe Ghosh, who has suffered lacerations on her head after being attacked with iron rods, has named a purported ABVP supporter who allegedly waylaid the ambulance that was ferrying her to hospital on Sunday.
In a complaint alleging an attempt to murder, Ghosh has said ABVP supporter Onkar Shrivastava had stopped the ambulance.
Ghosh mentions that the station house officer of Vasant Kunj (North) police station, Ritu Raj, was present when the vehicle was blocked. The ambulance had to evacuate her through another route.
The university administration has filed two FIRs naming several students, including Ghosh, and accusing them of theft, assault and destruction of property. These complaints were filed while the ambulance was being attacked on Sunday. Ghosh has denied the charges the administration has levelled against her and others.
Ghosh's complaint accuses a professor and three ABVP activists of threatening her before the attack.
On Wednesday, DMK MP Kanimozhi visited Ghosh, and a Congress fact-finding team met students and teachers.
On Monday, Sucharita Sen, the geography professor who was injured when the crowd attacked a meeting of teachers, had filed a complaint with the police alleging an attempt to murder her and rioting.
Vice-chancellor M. Jagadesh Kumar has not met any of the injured.
Newspapers in Delhi published on Wednesday a notice from the police calling for videos and statements from those who witnessed the "clash between two groups of students" at JNU on Sunday.
The word "clash" appears in bold — an assertion by the police that there are two parties to the FIR for rioting by unknown persons that they are investigating.