All-weather winner and able organiser is no more
H.N. Ananth Kumar passed away at 59, early on Monday, after a battle with cancer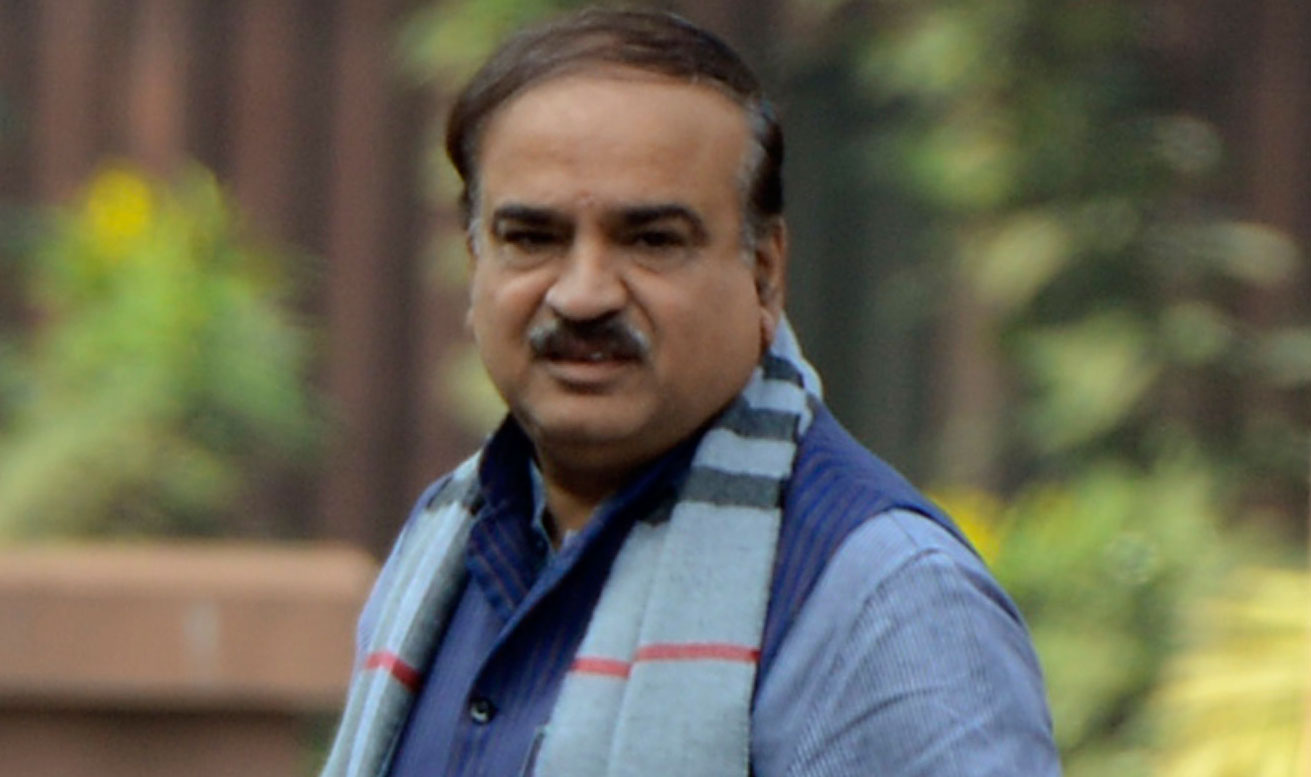 H.N. Ananth Kumar
Telegraph file picture
---
Bangalore
|
Published 13.11.18, 06:15 AM
|
---
H.N. Ananth Kumar rose through the ranks in the Atal Bihari Vajpayee era, was considered close to L.K. Advani and held his own in the Narendra Modi dispensation.
The Union parliamentary affairs minister, who never lost an election and was considered an able organiser, passed away early on Monday after a battle with cancer. He was 59.
The senior BJP leader had been diagnosed with advanced adenocarcinoma in June. He breathed his last at the Sri Shankara Cancer Foundation Hospital in the city.
He had earlier been treated at the Memorial Sloan Kettering Cancer Center in New York but was bought back to Bangalore a few days ago after the treatment abroad failed. Kumar had apparently ignored early signs of the disease.
He leaves behind his wife Tejaswini and two daughters. The funeral will be held on Tuesday.
Seen as a good organiser, Kumar showed how able he was when he got the GST Bill passed in Parliament, though his party didn't have the required numbers in the Rajya Sabha.
Kumar never lost an election and his six successive victories in Lok Sabha poll since 1996 helped transform his constituency, Bangalore South, into a BJP pocket borough.
The Congress-led Karnataka government declared a holiday for all government offices on Monday and announced three days of mourning.
Thousands of people, including leaders from other parties, paid their last respects to Kumar at his home in Basavanagudi in Bangalore South, where his body was shifted in the morning.
The six-time parliamentarian had started his political career through the RSS's student wing ABVP, becoming its state and then national secretary.
He came into contact with Vajpayee and Advani early in his political career as an Emergency-era prisoner in Bangalore Central Jail. He maintained that contact, rising quickly up the ranks with his connections in Delhi, where his linguistic skills helped him find an early footing.
Advani would always pick Kumar to translate his speeches into Kannada whenever he travelled to Karnataka.
Kumar shot into fame when he defeated Varalakshmi Gundu Rao, wife of former Congress chief minister R. Gundu Rao, from Bangalore South in 1996. In 1998, he became the youngest minister in Vajpayee's cabinet where he held the civil aviation portfolio.
But his tenure had its share of controversies too because of differences with the then Indian Airlines chairman, P.C. Sen, who was eventually sacked over the purchase of new Airbus aircraft.
When the BJP rode to power at the Centre in 2014, many feared that Kumar's closeness to Advani might work against him. But Modi made him minister for chemicals and fertiliser and then, in July 2016, gave him additional charge of parliamentary affairs.
"Ananth Kumarji was able administrator, who handled many ministerial portfolios and was a great asset to the BJP organisation," Modi said in a tweet. "He worked hard to strengthen the party in Karnataka, particularly in Bengaluru and surrounding areas. He was always accessible to his constituents."
Party sources said Modi, Union home minister Rajnath Singh and Vice-President Venkaiah Naidu were expected at Kumar's funeral.
Infosys co-founder Nandan Nilekani, whom the Congress had fielded against Kumar in 2014, expressed his grief at Kumar's passing.
"Saddened to learn about Shri Ananthkumar's untimely demise. Our heartfelt condolences to Tejaswiniji and the rest of his family," Nilekani tweeted.
Kumar's name always cropped up whenever the BJP looked for a chief minister in Karnataka. But being a Brahmin, caste considerations kept him aside.
Karnataka BJP chief B.S. Yeddyurappa, Kumar's main political adversary, was in tears while lauding him as a leader who made a big difference. "Karnataka will miss his presence in Delhi," he said between sobs.