All-party delegation banned from leaving Srinagar airport
The delegation made up of leaders from several parties such as CPI(M), NCP, DMK, TMC, RJD and LJD was visiting Srinagar to assess the ground reality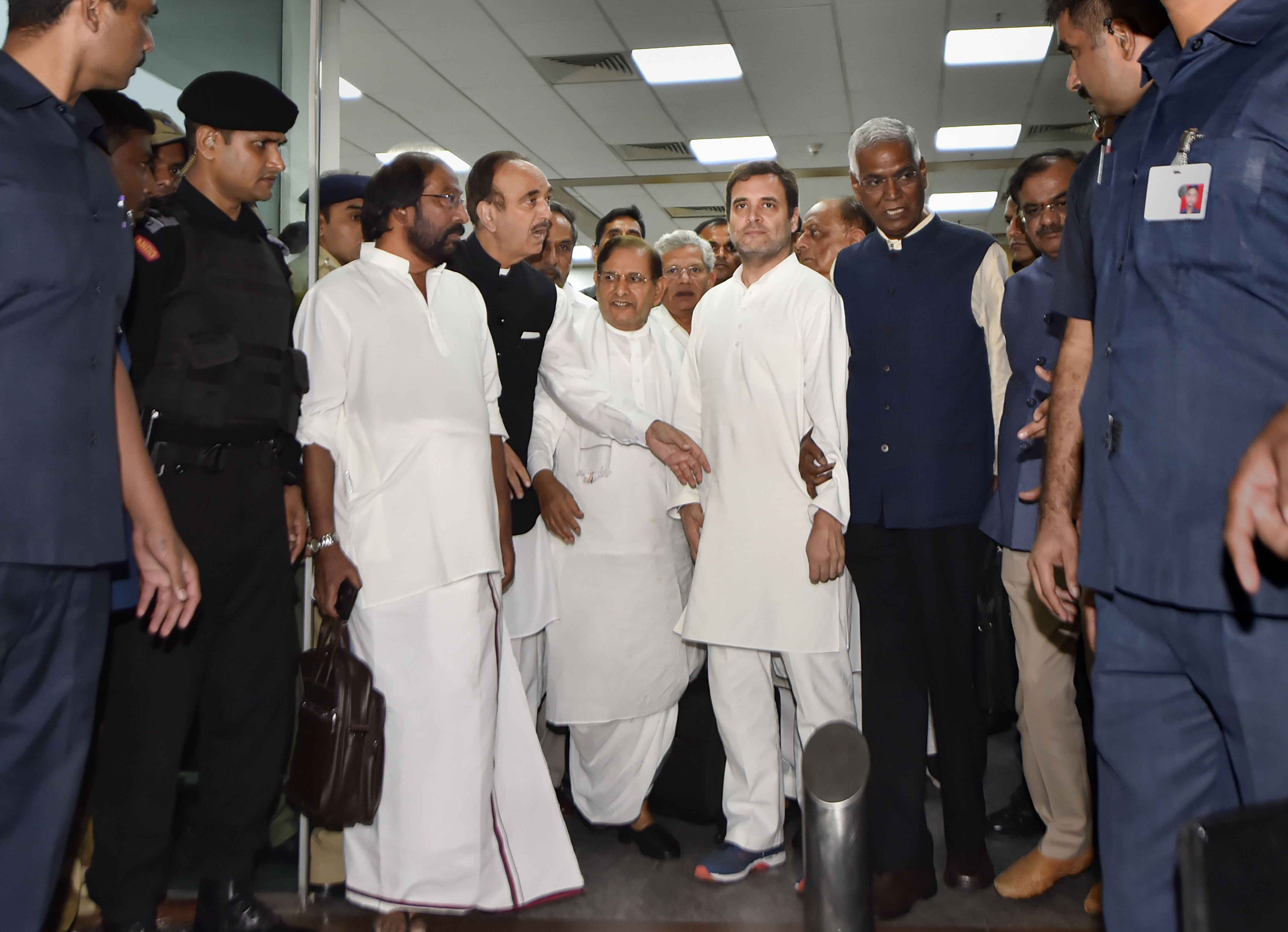 ---
Published 24.08.19, 04:55 PM
|
---
An all-party delegation of opposition leaders led by Congress leader Rahul Gandhi was barred from leaving the Srinagar airport by the authorities and sent back to New Delhi on Saturday.
The 12-member delegation made up of leaders from several parties such as CPI(M), NCP, DMK, TMC, RJD and LJD was visiting Srinagar to assess the ground reality well after the Centre abolished Article 370 on August 5.
A video of the delegation's encounter shows Gandhi asking police if "everything is normal, why are we not being allowed to enter," adding that, "it is a bit surprising."
Objecting to the refusal to allow them to leave the airport, the multi-party delegation has written a letter to the Budgam administration. The letter says that the delegation was in Srinangar at the "public invitation of the honourable Governor" who asked them to visit and see for themselves "the peace and normalcy that prevails".
The letter further says that, "the tone and tenor of the order read out attributes to us motives which are baseless and lack substance".
"This denial of our movement in Srinagar also amounts to violation of our fundamental rights," says the letter.
The letter has been signed by 12 people including Rahul Gandhi, Ghulam Nabi Azad, Sitaram Yechury, general secretary of the CPI(M), D. Raja of the CPI, Sharad Yadav, president of the LJD, Dinesh Trivedi of the TMC, among others. 

After they were sent back to Delhi, the Congress tweeted, "The government is saying everything is okay here and everything is normal. If everything is normal why are we not allowed out?"
Representation to the Governor of Jammu and Kashmir objecting to the undemocratic and unconstitutional detention of the multi-party delegation in Srinagar led by Shri @RahulGandhi pic.twitter.com/EbUAGMI4Sc

— Congress (@INCIndia) August 24, 2019
The govt is saying everything is okay here & everything is normal. If everything is normal why are we not allowed out?: Shri @RahulGandhi

Was it not Governor Satya Pal Malik that invited Mr. Gandhi to come to J&K and assess the situation for himself? #RahulGandhiWithJnK pic.twitter.com/jneIkpOJve

— Congress (@INCIndia) August 24, 2019
ANI news agency quoted the state governor, Satya Pal Malik as saying he "had invited him out of goodwill but he started doing politics." Governor Malik dismissed the Gandhi visit as "nothing but a political action by these people. Parties should keep in mind the national interest at these times.'
Former chief minister Omar Abdullah and Mehbooba Mufti are among the many who remain under arrest in Kashmir. Domestic media reports have put the number of people arrested in the wake of the abrogation of Article 370 in the thousands.