AMU call for CJI intervention
Students issued a resolution where they outlined their future course of action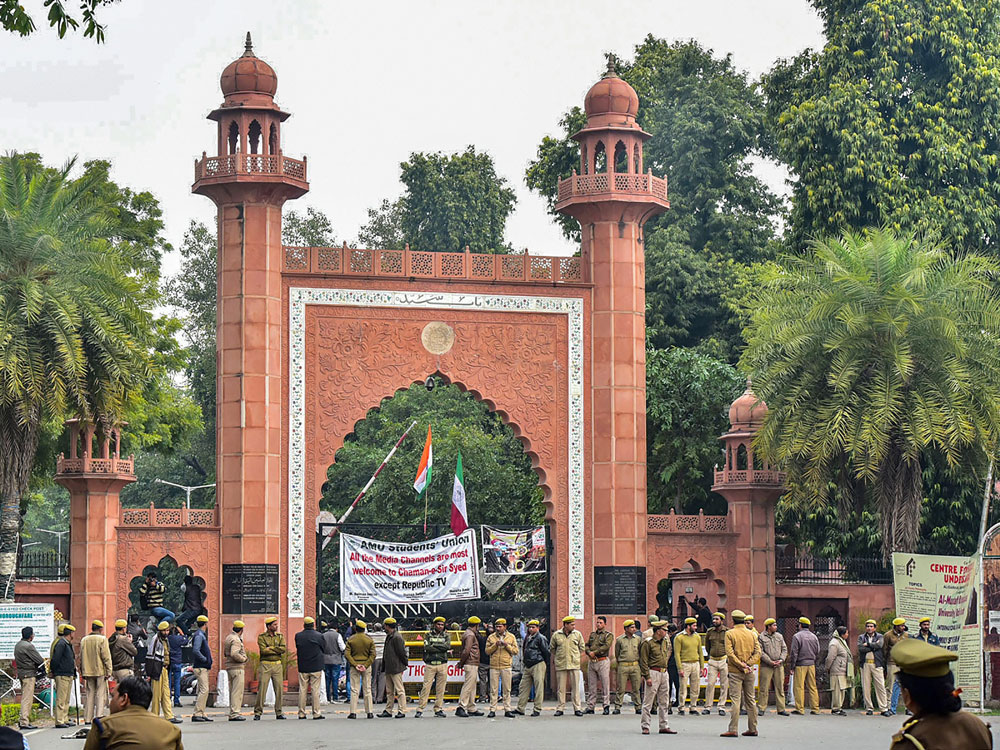 ---
|
Lucknow
|
Published 14.12.19, 08:42 PM
---
Students of Aligarh Muslim University on Saturday sought Chief Justice of India S.A. Bobde's intervention to declare the Citizenship (Amendment) Act unconstitutional, saying "it would be better to write" to the country's topmost judge instead of approaching the President.
"We need to keep in mind that requesting the President to declare the bill void would be worthless… the President has already signed the bill. This is the reason that we resolve to address all our memorandums to the CJI," Hamza Sufiyan, former vice-president of the Aligarh Muslim University Students' Union, said in a speech.
The students, who have been protesting since Wednesday against the act they have dubbed "anti-Muslim" and "anti-national", issued a resolution where they outlined their future course of action.
"Instead of seeking the intervention of President Ram Nath Kovind, it would be better to write to the CJI to ensure that this act is declared ultra vires as it is not in coherence with the secular Constitution of India," the students' union said in a resolution as anger over the act mounted.
The students had organised protests at the varsity's main gate on Thursday and Friday, undeterred by police action against a procession they had taken out around the AMU campus on Wednesday.
Minor clashes had broken out between the students and the police and 20 students have been accused of "rioting" and "preventing public servants from duty", along with 500 unnamed students.
AMU teachers too had taken out a peaceful procession on Friday against the act.
"The teaching community and staff of AMU express their pain and shock over the act, which has been passed by both Houses of Parliament," Professor Najmul Islam, honorary secretary of the varsity's teachers' association, said. "We also condemn the district administration for registering cases against the students. The authorities argued that there was Section 144 of the CrPC to prevent assembly of five people at a place. We were never told that the prohibitory order was there outside the gate of the campus," Islam added.
"We are going to form a joint coordination committee on Sunday to decide our future course of action."
Chandrabhushan Singh, district magistrate of Aligarh, said: "We are alert and keeping a close watch on the situation."
Friday and Saturday saw protests against the act in Kanpur, Bareilly, Bahraich, Ambedkar Nagar and Agra by different groups. Members of the Indian Union Muslim League had called for protests in front of every mosque in Kanpur district on Friday.