Algae shadow on river water near Varanasi
Concentrations of nitrogen and phosphorous were increasing, posing a threat to aquatic life and disturbing ecosystem of the river in the holy town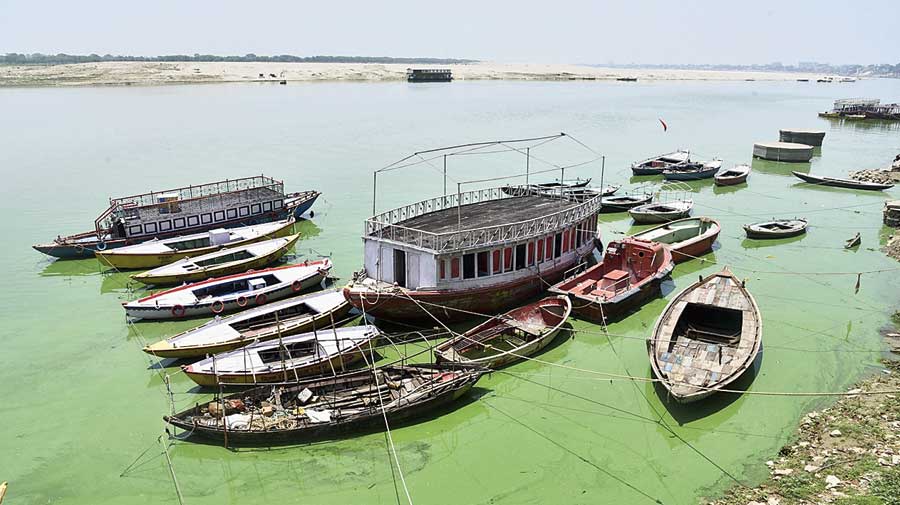 ---
Lucknow
|
Published 04.06.21, 01:28 AM
|
---
Fish and other aquatic animals are in danger as a thick layer of algae has spread over the river water along Varanasi's ghats, not an alluring advertisement for Prime Minister Narendra Modi's pet "Clean Ganga" project in his own constituency.
Scientists have said that while the oxygen level in the water was decreasing fast because of the growth of algae, the concentrations of nitrogen and phosphorous were increasing, posing a threat to aquatic life and disturbing the ecosystem of the river in the holy town located 300km east of Uttar Pradesh capital Lucknow.
"A thin layer of algae had been spreading over the surface of the river for the past few days. But it has suddenly become thick over the past 24 hours," said an employee involved in the Namami Gange programme of the central government who didn't want to be named.
The river water needs to be cleaned regularly and the water must not be allowed to stagnate to prevent the growth of algae.
A member of the Union water ministry committee monitoring the Namami Gange project said on the condition of anonymity that the algae had come floating from Allahabad and had not bloomed in Varanasi. He said it would be cleaned soon.
B.D. Tripathi, a scientist in Varanasi, said: "Normally, the temperature under the river during this time of the year is 25 degrees Celsius. But it has increased to 35 degrees Celsius because of the algae. The algae should be removed immediately to save the fish and other aquatic animals."
Kripa Ram, a scientist at the Institute of Environment and Sustainable Development of Banaras Hindu University, told reporters in Varanasi: "Algae bloom
forms in water when eutrophication happens. The enhancement of nutrients exceptionally catalyses the growth of plant life and adversely affects the oxygen level in the water."