AIADMK hits back at Rajini with lizard parallel
Superstar slams ruling party's protests against Vijay's Sarkar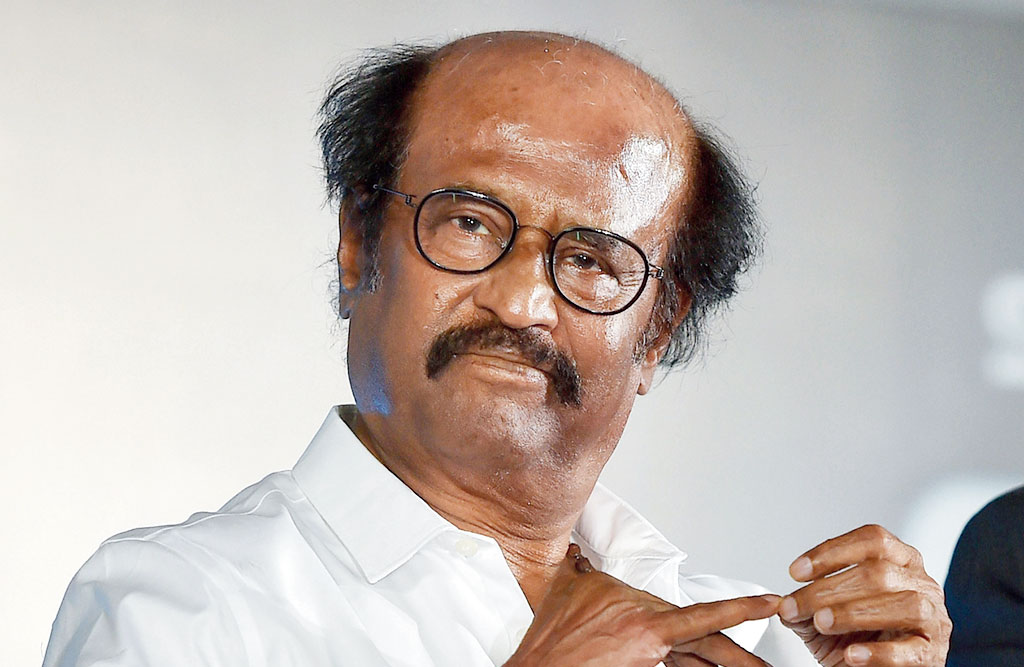 ---
Chennai
|
Published 10.11.18, 08:54 PM
|
---
The AIADMK on Saturday castigated Tamil superstar Rajinikanth for criticising its protests against the new film Sarkar, which the party accuses of taking a dig at late chief minister Jayalalithaa and lampooning its poll freebies for the poor.
Rajinikanth had on Friday "strongly condemned" the ruling party's protests against certain scenes in actor Vijay's Diwali release and asked how anyone could object to a movie cleared by the film certification board, popularly called the "censor board".
A write-up in the AIADMK mouthpiece, Namathu Puratchi Thalaivi Amma, hit back on Saturday: "Top star, be frank. If you find a lizard inside a packet of food that has all the certifications, will you throw it away or eat it saying it has the required certifications?"
Facing the AIADMK backlash, the makers of Sarkar had on Friday removed certain "objectionable" scenes and "muted" an apparent reference to Jayalalithaa.
Rajinikanth is a virtual demigod in Tamil Nadu and his recent decision to enter politics has turned him into a potential rival for the entrenched parties. The actor has history against the AIADMK: his comments against the party days before the 1996 Assembly elections are often cited as a reason for its rout, with even chief minister Jayalalithaa vanquished.
Saturday's write-up in the party mouthpiece asked Rajinikanth to "advise" the film's director, A.R. Murugadoss, and not defend "a mistake" by waving the board certificate.
Even if a piece of "misinformation" in a film passes the censor test, it "has to be stopped", the party said.
Sun Pictures, under whose banner the film was made, is owned by the Maran brothers Dayanidhi and Kalanidhi who are with the AIADMK's traditional rival DMK.
Senior Tamil Nadu ministers had demanded deletion of scenes in Sarkar that apparently show mixer-grinders being burnt, which the ruling party has interpreted as an attack on its tradition of offering poll freebies, which often featured these domestic appliances.
The party also objects to a purported negative character played by a woman carrying a name it says resembles that of Jayalalithaa too closely.
Defending the freebies, the party mouthpiece equated them to reservations. "The freebies are like the reservation system that was brought to bridge the poor-rich divide," it said.
The write-up added that the AIADMK's welfare schemes were now being followed in many other states.
Attacking Vijay, Murugadoss and the Maran Brothers, it said these "affluent" people might "look down on freebies" but the Amma canteens serve thousands of aspiring filmmakers in the tinsel town.
The Amma canteens, named after Jayalalithaa, serve meals at heavily subsidised rates and are popular among the masses.
"Aren't the (free) mixers and grinders a godsend for the have-nots?" the write-up asked.
It alleged that the makers of Sarkar wanted to "incite" people against the government.
It scoffed at Vijay's reported political ambitions, saying he was "dreaming that he can become chief minister just by mouthing emotional dialogues against the government".