He accepted act, pledged peace: Kin
Complaint withdrawn as ABVP chief 'is a doctor and it is a public health emergency'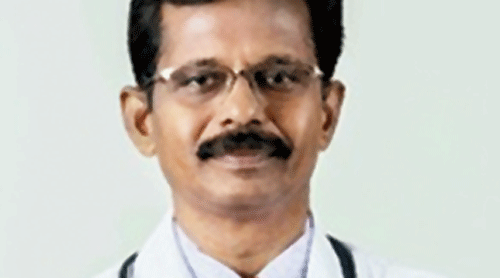 Subbiah Shanmugam
Sourced by the Telegraph
---
New Delhi
|
Published 27.07.20, 01:50 AM
|
---
A Chennai-based stand-up comedian has withdrawn his police complaint against the national president of the RSS student arm, whom he had accused of urinating on his 62-year-old aunt's doorstep and harassing her for parking space.
Police had on Saturday filed an FIR against Subbiah Shanmugam, 53-year-old ABVP head and surgical oncologist, under the Tamil Nadu Prohibition of Harassment of Women Act and Indian Penal Code sections for violating quarantine and committing public mischief.
The FIR was filed 14 days after Balaji Vijayaraghavan says he first went to police, and after Congress student wing NSUI started an online campaign seeking justice for the widowed Chandra Sampath, a neighbour of Subbiah.
On Saturday night the ABVP shared pictures on Twitter of a joint declaration by Subbiah and Chandra, with her name blacked out, that they had had "misunderstandings".
The declaration said that, courtesy discussions through friends and the apartment owners' association, "we have sorted out our differences to the satisfaction of both of us…."
The ABVP also shared letters from Balaji and his aunt, with her name and both their addresses blacked out, withdrawing the police complaint. Balaji confirmed to this newspaper that the letters were genuine.
"We had a meeting with the doctor yesterday in the presence of the apartment association," Balaji told The Telegraph on Sunday.
"At the end of the discussion, the victim's stance changed considering the situation of patients he treats.... We are in a public health emergency and doctors are needed the most."
Balaji added: "He has had a long chat with the victim for about 45 mins.... He accepted his act and promised peace."
Balaji had complained to police on July 11 with CCTV footage of a person resembling Subbiah purportedly urinating on the front door of his aunt's flat the previous night.
He claimed the harassment had been going on for a month, and included vandalism of parking signage as well as the suspected dumping of garbage, a face mask and a semen-like substance at his aunt's doorstep. He alleged that Subbiah was doing this as Chandra had rebuffed his efforts to secure her parking space.
Once an FIR is filed, the case remains open even if the original complaint is withdrawn -- until the police have recorded the statements of all the parties involved and formally closed the case.
Balaji said he had been informed that an assistant commissioner of police would record the statements.