About to read order, SC judge faints
Her condition is stable and she has been taken to her official residence: Sources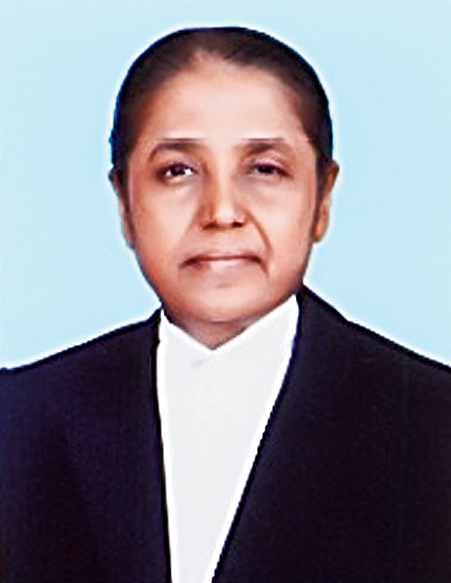 Justice R Banumathi
(Sourced by the correspondent)
---
New Delhi
|
Published 14.02.20, 09:58 PM
|
---
Supreme Court judge Justice R. Banumathi on Friday fainted in the court hall while proceeding to dictate an order on the Centre's appeal challenging the stay granted by a trial court on the execution of the four death-row convicts in the December 2012 Delhi gang-rape and murder of a paramedical student.
Supreme Court sources said her condition was stable and she had been taken to her official residence after medical intervention. Over-exhaustion is said to be the preliminary finding.
The matter was adjourned for the day.
Justice Bhanumathi, 64, is the fifth senior-most judge of the Supreme Court and the lone woman judge in the five-member collegium.
Justice Bhanumathi was proceeding to dictate the order — on the Centre's appeal against the Delhi High Court order that had upheld the trial court's decision that the four could not be hanged until they had exhausted all their legal remedies — when she collapsed on her seat.
She is heading the bench that also has Justices Ashok Bhushan and A.S. Bopanna.
Court staff rushed to her rescue even as the other two judges gave her a helping hand. Immediately, doctors at the Central Government Health Scheme dispensary on the Supreme Court premises attended to her.
Earlier in the day, Justice Bhanumathi had pronounced a judgment dismissing the plea of one of the death-row convicts, Vinay Sharma, challenging the rejection of his mercy plea by President Ram Nath Kovind.
"As held by the constitution bench in the Maru Ram v. Union of India and Others (1981)…, the court shall keep in mind that where the power is vested in a very high authority, it must be presumed that the said authority would act carefully after an objective consideration of all the aspects of the matter.
"In the result, we do not find any ground for exercise of judicial review of the order of the President of India rejecting the petitioner's mercy petition and this writ petition is liable to be dismissed. The writ petition is dismissed accordingly," Justice Bhanumathi had said a few minutes before she fainted while dealing with a separate application moved by the Centre against the Delhi High Court order.