A bondage to humans
In February this year, Father Francois Laborde was awarded the Légion d'honneur for his work among India's poor, handicapped and ailing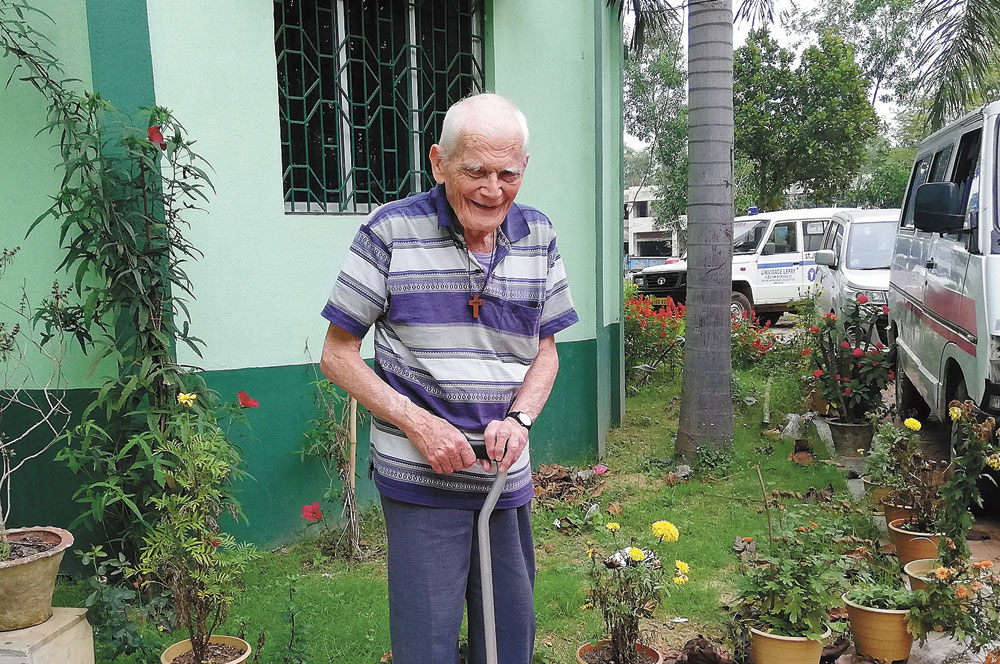 ---
---
The room in the two-storey guesthouse adjoining St. Joseph's Hospital is stark, all things in it are utterly perfunctory. And yet, each corner is rendered welcoming and home-like by his presence. When I reach the hospital room in Bengal's Midnapore district after a four-hour train journey from Calcutta, 92-year-old Father Francois Laborde is bending over a plastic chair, rag in hand. He is assiduously wiping the dust off it. When he looks up and sees me, he breaks into a broad smile. Not a jot embarrassed, he straightens the chair, gives it a final wipe. And then says, "Have you eaten? Why don't you freshen up first?"
So saying, he walks me to the dining hall. Laborde is a Catholic priest of the Prado order and founder of the Howrah South Point, a home for handicapped children. He has retired from active community service and is now staying at this hospital. A cerebral stroke and his advanced years have left him frail, but he is strong of will. He says"I often walk down to the hospital and meet the patients there. I offer physiotherapy." He hands me a plate, piles some rice on it, then points to the homely soybean curry and jokes, "They are serving chicken today."
In February this year, Laborde was awarded the Légion d'honneur — the highest civilian award of France — for his work among India's poor, handicapped and ailing. He has been at their service for over half a century now. I ask him about the honour from the French government and he is visibly embarrassed. He starts to laugh uncontrollably and then he says, "My team has got it."
Laborde was in high school when he heard his teacher talk about India, in the geography class. Many years later, in 1965 — when he was in his late twenties — Laborde's ship sailed into Bombay port from where he left for Madras. "I was here for research," says the nonagenarian. "It was only partly true. I was a sociologist, but it was also a fact that those days it was difficult to get a tourist visa."
Laborde spent nine months in Tamil Nadu, where he worked with slum dwellers. He is full of stories. How once a couple invited him home to bless their baby and when he did visit, they greeted him with a copper plate and an apple, a lemon and a rose on it. "They had nothing to offer but pure love," says the priest, his eyes moist from the memory.
Laborde's stories all have to do with his own wonderment at humankind's impossible reserves of compassion. He tells me the story of one Ika Das, his domestic help. "Ika used to borrow money from me for a bidi or the occasional tipple. So when he would raise his hands in prayer to the Lord before his meals, I would think his devotion was fake. One day, when we sat down for lunch, there was a knock on the door. It was a beggar asking for food and Ika handed him his whole plate. I told him we could have shared the food with the beggar instead. Ika elbowed me hard and said, 'You don't know what it is to be hungry'."
Laborde's father held a modest administrative job and his mother was a housewife. "It was a good life. A good childhood," he says.
Laborde was nine when he invited a friend, Robert Buffet, to his house. He tells me that no sooner had he opened the door and his friend got a peep inside, than he ran away. Next day, when Laborde asked him the reason behind his apparent strange behaviour, his friend took him to his own house. It was a humble one-room set-up on the top floor of a building. Suddenly, it dawned on the young Laborde that his big house with carpets and window drapes and decorations had scared his friend.
He tells me slowly and softly in his ancient voice, "I realised, the poor cannot come to the rich. The rich will have to go to the poor."
Laborde says in his younger days he was very attached to his immediate family. On his desk, I spy the black and white photograph of a middle-aged woman with two strapping youths. "My mother and my brothers," says Laborde following my gaze. But Laborde also had this compelling urge to become a priest. After many years of mulling over his choices, one day he heard a priest tell his gathered audience: "If any one of you can hear the calling of God, do not refuse it." Says Laborde, "The words pierced me like a bullet."
After spending nine months in Tamil Nadu, Laborde moved to Calcutta. Some years later, he met Mother Teresa. "She was working in a refugee camp in Salt Lake. She asked me to join her. I told her, 'I have already been taken, by Prado.'" Around this time, Laborde visited the slum at Pilkhana in Howrah district. He recalls, "There were 47,000 people staying there [92,000 people live there today]."
The slum had two bathrooms shared by 20 families, and a single working tap. Laborde himself put up in a room in the slum that was more like a little shop. "During my years there I learnt the real meaning of patience," he says.
It seems the Calcutta Bishop House had offered him a place, but he had wanted to be amongst the people he was working with. One day, Laborde asked the slum dwellers what they wanted most — water or electricity. They said they wanted a place for their children to study. Says Laborde, "I was surprised. This meant, the human string was not broken."
It was in 1984 that Father Laborde started Howrah South Point. It has nine centres now, across Bengal — four in Howrah, four in Jalpaiguri and one in Asansol. "It was on Cardinal Pitcachy's insistence that I thought of setting up this institution. The cardinal used to repeatedly ask me what I would want to do with the piece of land where the school [Howrah South Point] stands now. On his third visit, I told him, 'If you insist, we could make a home for the handicapped children.' The cardinal replied with a thump of his fist. He also asked me to add a dispensary," says Laborde.
Retired he may be, but Laborde still keeps abreast of goings-on at Howrah South Point. These days, he is writing a book and then there is the hospital. As I get up to take his leave, he reaches out and says: "Please remember. That award, it was for my team."