25000 quarantined after return to Bihar
The government struggled to make arrangements for the people whose numbers are expected to swell up to 2 lakh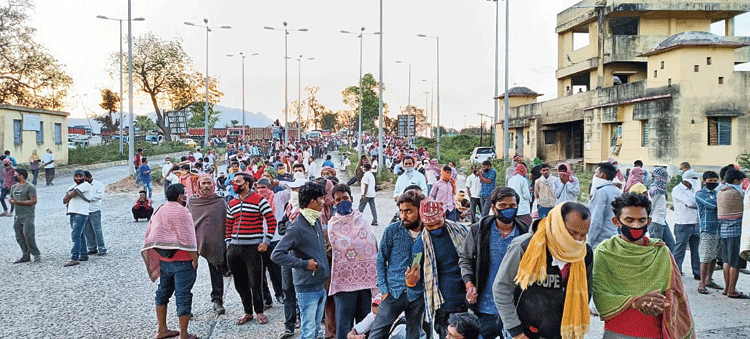 ---
|
Patna
|
Published 29.03.20, 09:25 PM
---
The Bihar government, already grappling with 15 positive coronavirus disease (Covid-19) cases, stared into a massive humanitarian crisis on Sunday as migrants working in other states started returning in large numbers in the wake of nationwide lockdown to contain the spread of the pandemic.
Around 25,000 of the people who have arrived so far have been quarantined for 14 days at different places in Bihar. The state government also decided for mandatory medical check-up of all people who have recently returned to the state from other countries.
The government struggled to make food and shelter arrangements for the people whose numbers are expected to swell up to 2 lakh over the next few days. It also decided to make arrangements to transport fit people to their native places across the state.
Disaster relief centres have been set up along the state borders on the instructions of chief minister Nitish Kumar for the influx of people who had been working in others states, especially Delhi, Rajasthan, Gujarat, Punjab, Haryana, Uttar Pradesh, Madhya Pradesh, Chhattisgarh and Bengal.
"People have started arriving from other states. We have decided to establish big camps replete with all arrangements with regard to food and accommodation in government schools and colleges at places where main routes from outside enter Bihar.
"Those coming here are being first put through medical examination to see their health condition and symptoms of any disease. Suspected cases of viral infection will be isolated," home department additional chief secretary Amir Subhani said.
Names, addresses and contact numbers of all those entering Bihar are being noted down. Subhani asserted that preliminary estimates indicated that up to 5,000 people were expected for each of the 38 districts in the state.
Arrangements were being made accordingly with plans to use other big government buildings if the numbers swell further.
"Ideally all the incomers should be quarantined for 14 days. They will stay at the relief camps for the time being, but the government will consider sending them to their native places if their numbers increase," Subhani said.
Figures from the disaster management department revealed that 25,000 people have already been screened at border relief camps and now quarantined for 14 at various schools at different district headquarters on Sunday.
Meanwhile, the Bihar resident commissioner's office in Delhi has got information around 1.15 lakh people stranded in other states across the country, and has moved to resolves the issues, including that of food and shelter being faced by them.
Nitish directed the resident commissioner's office to appoint separate nodal officers for different states to resolve the issues being faced by the people of Bihar. He also appealed to everybody to follow social distancing.
The state government, in a bid to curtail the influx of people that could easily compromise the lockdown, was also in talks with the Centre and other states, especially Delhi to fix a deadline till which people would be allowed to move.
"However, this seems to be difficult because word has spread that buses are available in and around Delhi to travel to Bihar. It is sad that other states did not do anything to retain lakhs of people who finally set out by any available means and even on foot for here. The influx is mostly of lowly-paid workers and daily wage earners. Timely announcements to assure them about food, payment of wages and housing would have stopped the panic that set among them," the senior state government official told The Telegraph.