The games our children should play
Children who are taught sports or martial arts, or preferably both, learn teamwork and respect for fellow humans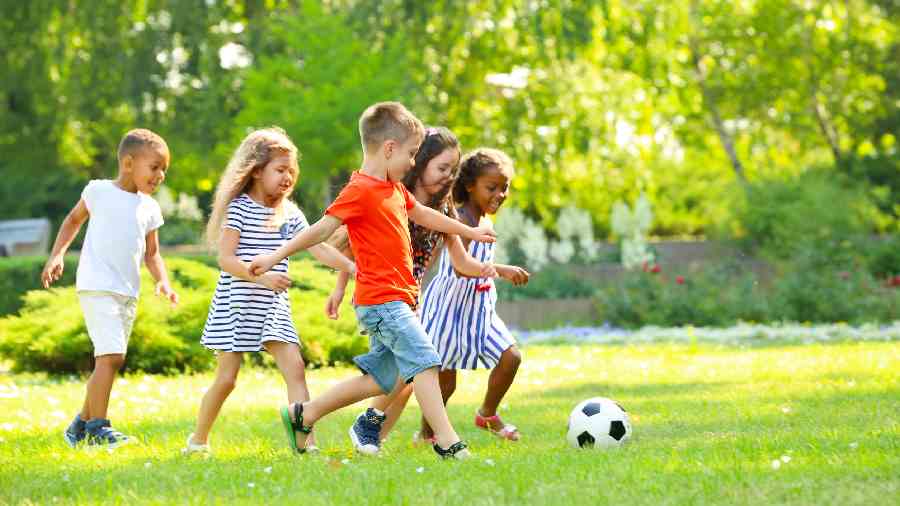 Children who are taught sports eventually do well in academics.
Shutterstock
---
Published 07.12.22, 08:13 AM
|
---
Academics in India is very competitive. There is a large youthful population vying for limited professional education. Performance in school only plays a part; many professions have their own entrance exams as well as other criteria like a statement of purpose and interviews for admission. This places families under tremendous pressure, both emotionally and financially.
In school, students are pushed to perform (sometimes unrealistically) as the institution's reputation is at stake. At home, anxious parents enrol them in tuition and coaching classes. The games periods in school are usurped for "extra classes" in mathematics or science subjects. Children may be asked to stay an hour after school for extra classes. Sick leave is a no-no. An unwell child cannot concentrate and study and may pass the contagious illness to the rest of their classmates. The coaching centres usurp weekends to train children for competitive exams. Eventually, they need to take out advertisements to showcase "toppers".
In this scenario, everyone is a loser. The child's health suffers. He or she needs 8-10 hours of sleep per night for the brain to grow and develop well but does not get this. Usually, children are up till 11pm doing school and tuition homework. Without adequate sleep, the brain not only does not develop properly, but it is also unable to learn, retain and process new information quickly.
Physically, either the child is overweight from junk food or thin and malnourished from not eating enough. The appetite is poor. Immunity develops with good physical activity. As this is lacking, illness is frequent; recovery is slow. Rest, required for rapid recovery, is denied as the school demands attendance.
It is up to parents to ensure that the child gets an hour of structured physical activity a day as cycling, jogging, swimming, running, skipping, stair climbing or dancing. A 10-minute warm-up and 20-minute cool-down before and after the activity is essential. Ten minutes of yoga or some other form of stretching is also needed.
Children are not going to do this by themselves. Parents have to be involved, supervise the activity and preferably do it along with the child. There are sports centres where structured coaching is offered three times a week in football, tennis, badminton, basketball, archery or even dance classes. If you enrol your child, it means that you have only to spend an hour on the other four days to ensure physical activity. Also, after a few months, the child may be sufficiently motivated to practise individually on the off days.
The knowledge of martial arts like karate, taekwondo, kung fu, jujitsu and ancient arts like silambattam and kalripattai are essential for protection in today's violent world. They promote respect and discipline and, contrary to popular opinion, do not promote violence. Children who learn the martial arts are not likely to fight; they have enough discipline to remain calm. They learn to concentrate and focus and are therefore able to retain what they are taught faster and longer. They learn coordination and can work against fatigue, so they are not always tired.
Children who are taught sports or martial arts, or preferably both, learn teamwork and respect for fellow humans, do not discriminate based on religion, language and finance and can stand up for what is right. They do well in academics. They realise that performance is what matters. They are less likely to do cigarettes, alcohol or drugs as they carry the discipline and habits learnt at this early age into their college and adult life.
The writer has a family practice at Vellore and is the author of Staying Healthy in Modern India. If you have any questions on health issues please write to yourhealthgm@yahoo.co.in