Couples sleep better
If singles want to sleep better, they should avoid stressful activities before bed, noisy bedrooms and bright lights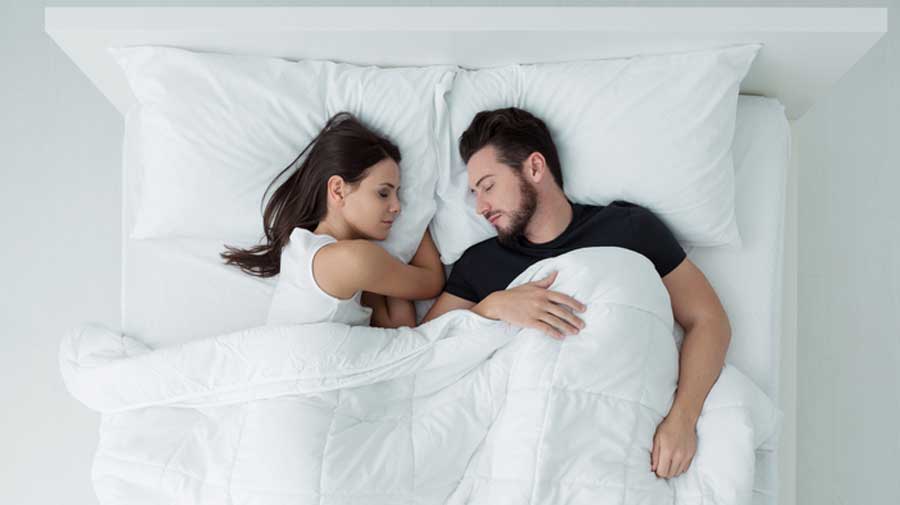 Relaxing and safe environments encourage REM sleep so that may be a reason for happy couples getting more of it.
(Shutterstock)
---
Published 01.07.20, 05:36 AM
|
---
Do you need better sleep? Then get a partner. New research says that when happy couples sleep together, they tend to have more — and less disrupted — rapid eye movement or REM sleep. This phase of sleep has been linked to emotion regulation, memory consolidation and creative problem-solving. Relaxing and safe environments encourage REM sleep so that may be a reason for happy couples getting more of it. The key word here is happy. Couples in strained relationships, particularly in which one partner is afraid of the other, will not benefit from sleeping together. If singles want to sleep better, they should avoid stressful activities before bed, noisy bedrooms and bright lights. The study was published in Frontiers in Psychiatry.
Lower BP, healthy heart
The risk of cardiovascular disease may begin to increase at blood pressure levels well below the currently defined guidelines. Researchers studied 1,457 people, average age 58, who were free of cardiovascular disease and otherwise healthy — they didn't smoke, had healthy cholesterol and blood glucose levels, and none was taking blood pressure medicines. They found that compared to people with a systolic reading (the top number) of 90 to 99, people with readings of 100 to 109 had three times the risk of cardiovascular disease; those at 110 to 119, 3.1 times the risk; and those at 120 to 129, 4.6 times the risk. The study was published in JAMA Cardiology.
Covid-19 impacts brain
Patients with severe Covid-19 may be at risk for a variety of brain complications from stroke to psychosis. Benedict Michael, a fellow in the Institute of Infection and Global Health at the University of Liverpool in the UK, studied 125 Covid-19 patients who were hospitalised in April. He found that the most common brain complication, which occured in 77 patients, was stroke while about 39 per cent patients experienced confusion or behaviour changes that suggested an altered mental state.
Alzheimer's hormone link
Women have more Alzheimer's disease-related changes in the brain than men, and this may be linked to hormonal disruptions at menopause, researchers say. "About two-thirds of people living with Alzheimer's are women, and the general thinking has been it's because women tend to live longer," said study author Lisa Mosconi of Weill Cornell Medicine in New York City, US.
"Our findings suggest that hormonal factors may predict who will have changes in the brain. Our results show changes in brain imaging features, or biomarkers in the brain, suggesting menopausal status may be the best predictor of Alzheimer's-related brain changes in women," Mosconi said. The study was published in Neurology.