James Gunn's reset plan shows the future of DCU is in good hands, but expect some bad things too
DC Studios bosses Gunn and Peter Safran have given Henry Cavill and Ben Affleck the boot as Superman and Batman, respectively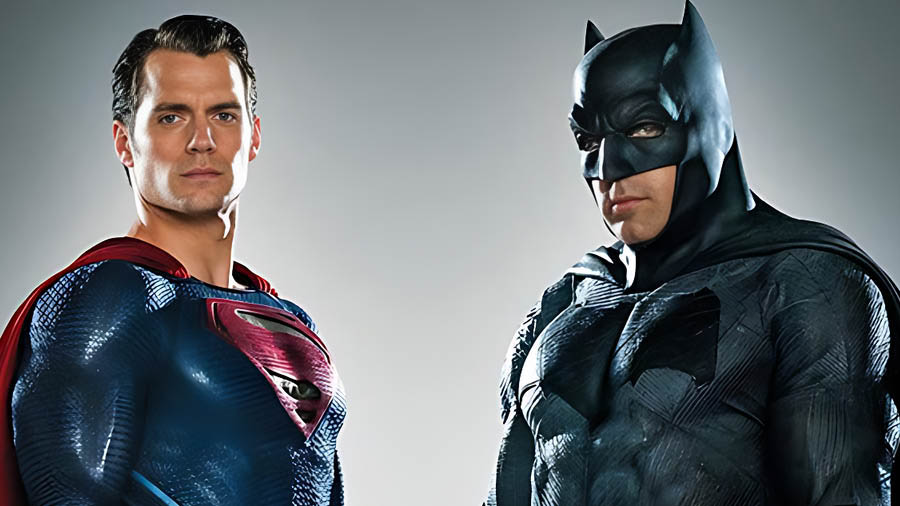 Henry Cavill and Ben Affleck as Superman and Batman
IMDb
---
Calcutta
|
Published 03.02.23, 11:34 AM
|
---
The DC Extended Universe (DCEU) has reached flashpoint. Catalysed by the appointment of James Gunn as DC Studios boss along with Peter Safran, the DCEU is losing the E and getting a facelift it desperately needed. And as we had conjectured sometime back, they will be using the Flashpoint storyline in the upcoming Ezra Miller-starrer The Flash as the reset point for many storylines and characters.
The DC cinematic universe has had a chequered past both on the small and the big screen. As rightly pointed out by Gunn, it had a lot to do with too many cooks and the desire for a shortcut to the Marvel Cinematic Universe success. The result was an incoherent mess without any continuity or synchronicity. There were different Supes in different television shows and in the DCEU movies. Speedster The Flash was played by two different actors (though they bring in Miller at one point). Wonder Woman 2 had no relation to what happened in the first movie. We can go on and on.
So, for most of us, the reset is good news. And the one thing that convinces me that the future of the DCU is in good hands is Gunn's comment about the DCU version of Superman. "He is kindness in a world that thinks that kindness is old-fashioned," Gunn is reported to have said about Superman's avatar in DCU. And we can't be happier. Turning every superhero dark does not a super film make!
Does this mean we are going to have to say goodbye to all the known faces in the DC cinematic universe? Gunn replied to a fan on Instagram that it will not be a hard reset. "Flash resets many things, not all things. Some characters remain the same, some do not," reads his comment. 
So, who are getting the axe, who are going to continue and how do we feel about them? Henry Cavill is definitely not returning to DCU as Superman. While he looked the part (and how!), he is older and far too dark for how Gunn sees Superman in DCU, whom we will see in Superman: Legacy, something he referred to in an Instagram reply to a fan. We will miss seeing Cavill but won't miss his version of Superman for sure.
Ben Affleck's Batman is also getting the boot and we are not at all sad about that. We barely tolerated him in Batman v Superman and The Justice League. The only Batman worse than him was George Clooney, so the less said the better. Bruce Wayne's hard reset will come via The Brave and the Bold, where we will also see his errant son, and sometimes Robin, Damien Wayne.
Gunn confirmed that Gal Gadot hadn't been let go of as yet, but we don't know when or how we will see her as Wonder Woman in the DCU. But we would really like it if she is kept on as Themysciran. Jason Momoa, similarly, hasn't been given a hard reset as Aquaman, yet. His film, Aquaman and the Lost Kingdom, is all set to release later this year and he seems to believe he will have some role to play in the DCU. We are ambivalent about this news.
There is also Zachary Levi's Shazam: Fury of the Gods, which releases in March, and we hope that the funny family keeps making appearances in the DCU.
We will, however, miss the actors of the Arrowverse. Is there a way of bringing them into the DCU? Unlikely, but we sincerely hope so.
What we are most excited about, however, is the television-film-game tie-ins as promised by Gunn. Like MCU, where Agent Coulson moved to the small screen for Agents of S.H.I.E.L.D, or how Kang shows up in Loki on the small screen before becoming the big baddie on the big screen, or how Daredevil showed up in Spider-Man: No Way Home as Peter Parker's lawyer. Gunn has the experience of being a part of the MCU and that feels promising and he has already laid the grounds with Suicide Squad and Peacemaker.