Zoe Renee gets candid about 'Master' and her obsession with Bollywood
We really want to see the diversity of the world in our workspaces, says the actress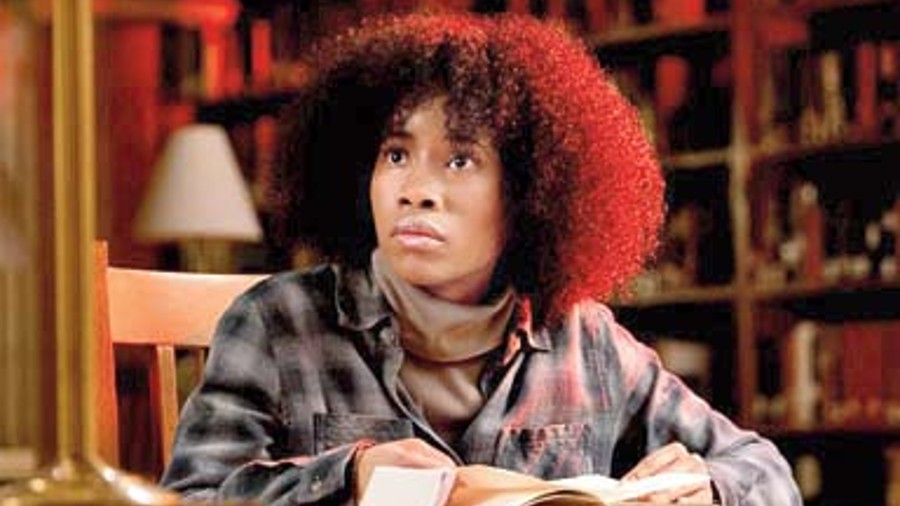 Zoe Renee as Jasmine in Master, now streaming on Amazon Prime Video
Sourced by the correspondent
---
Published 22.03.22, 05:08 AM
|
---
Two African-American women begin to share disturbing experiences at a predominantly white college in New England. Directed by Mariama Diallo in her directorial debut, Master — that released on Amazon Prime Video last Friday — stars Regina Hall, Zoe Renee and Amber Grey as its main players. Over a video call, The Telegraph caught up with Zoe Renee, who has films like The Quad (2017) and Nancy Drew and the Hidden Staircase (2019) to her credit to chat about Master, why social horror works as a genre and her obsession with Bollywood.
Before we talk about Master, you had a physical premiere for the film, one of the rare ones in the last two years of a pandemic-hit world. What was that experience like?
Ya! I am so happy you asked this question because that has undoubtedly been one of the highlights for me. Last night, we had a screening in New York and it was completely different than watching the film at home on my personal screen with just my mom and dad. For this, we had a theatre full of people, as well as those who had worked on the film, and we had feedback after the screening, where the audience brought in their thoughts. It was so valuable.
What were the challenges and creative highs of working on this film, and in particular, playing Jasmine?
The biggest challenge was that I hadn't done anything in the horror or thriller genre before this. I was really nervous about portraying. the urgency of everything that Jasmine experiences in the film. I was nervous that I wouldn't be big enough. When we are talking about death, it's not like how one would portray heartbreak in a film. The level of urgency is very different. I was worried that I wouldn't get there.
But I was so lucky that our director Mariama (Diallo) guided us... she gave us research, she gave us films to watch, she gave us things she wanted to pull from.... This film is about what happens when life is about to end, or when you get a second chance at life and you want to fix it. These are things that we wanted to discover a little more and see how it looked on each individual actor. When I first got the Master script, I was very scared, but it also excited me.
Is there anything common between Jasmine and you?
I am starting my career and I am trying to find scripts that have similarities between me and the characters that I play. But I am also going to be very excited when there is a girl who is completely different from me. Jasmine and I are extremely different, but I think we are similar in a very core fact — we are both young Black women. There are experiences that she has had that I also share. Simply because of that, I understand her on that type of level. After that, anything in her that I hadn't experienced, I could also connect with that because my friends have experienced it, my mom has....
What did the predominantly female energy on set feel like?
It was amazing! I have worked on a handful of projects and I am lucky to have worked with some wonderful women. On this set, we dived head first into strong women talent. Our director, our DoP (Charlotte Hornsby), our assistant director are all women... we handled the project with grace and style. If anybody could see how well organised and how brilliantly we got this film done, it should be like that everywhere.
As a young Black female actor, you probably have opportunities that your predecessors 10 years ago didn't have. How do you look at the scenario now?
I think a lot has been done, but there is so much more that one needs to do. I don't think we can ever arrive at a point where we can say: 'Ah! We are good, we have got enough.' We may have a lot of diversity now, but I want to see more and more. There are so many spaces that we can plug in and so many different cultures. I think the film industry's biggest strength is having so many different people from different backgrounds. It's a strength that we can capitalise on. I really hope that we continue with this movement... we really want to see the world in our workspaces.
Films in the the genre of the social thriller/ social horror, which Master is, are more often than not winners. Get Out is one of my favourite rewatches. What do you think works for these films?
It's like a big elephant in a room which is quiet. It's huge and it's there but we never speak about it. I think that's what makes this genre attractive. Everyone was thinking about it, a lot of people have experienced it, but no one was really saying anything. But films in this genre say it as it is. It causes conversations and that's probably what we need most right now.
It's early days for you yet, but what's the career plan?
I would love to dive back into horror. I want to give myself a year to get over all that has happened on the Master set, and then jump right back into it. I also want to do a romantic comedy. Also, I must tell you that I am obsessed with Bollywood! (Laughs)
Oh, is it?
Yeah! If anyone will have me, I may want to go over to India (smiles). I love how vibrant and beautiful and colourful Bollywood is. That embrace of colour, of joy, of dance... we don't see much of that in American films. And that's something I crave to see on my screen. I am just so obsessed with all that love and colour!