You should actively look for love: Ravinder Singh
An interview with the popular writer of romance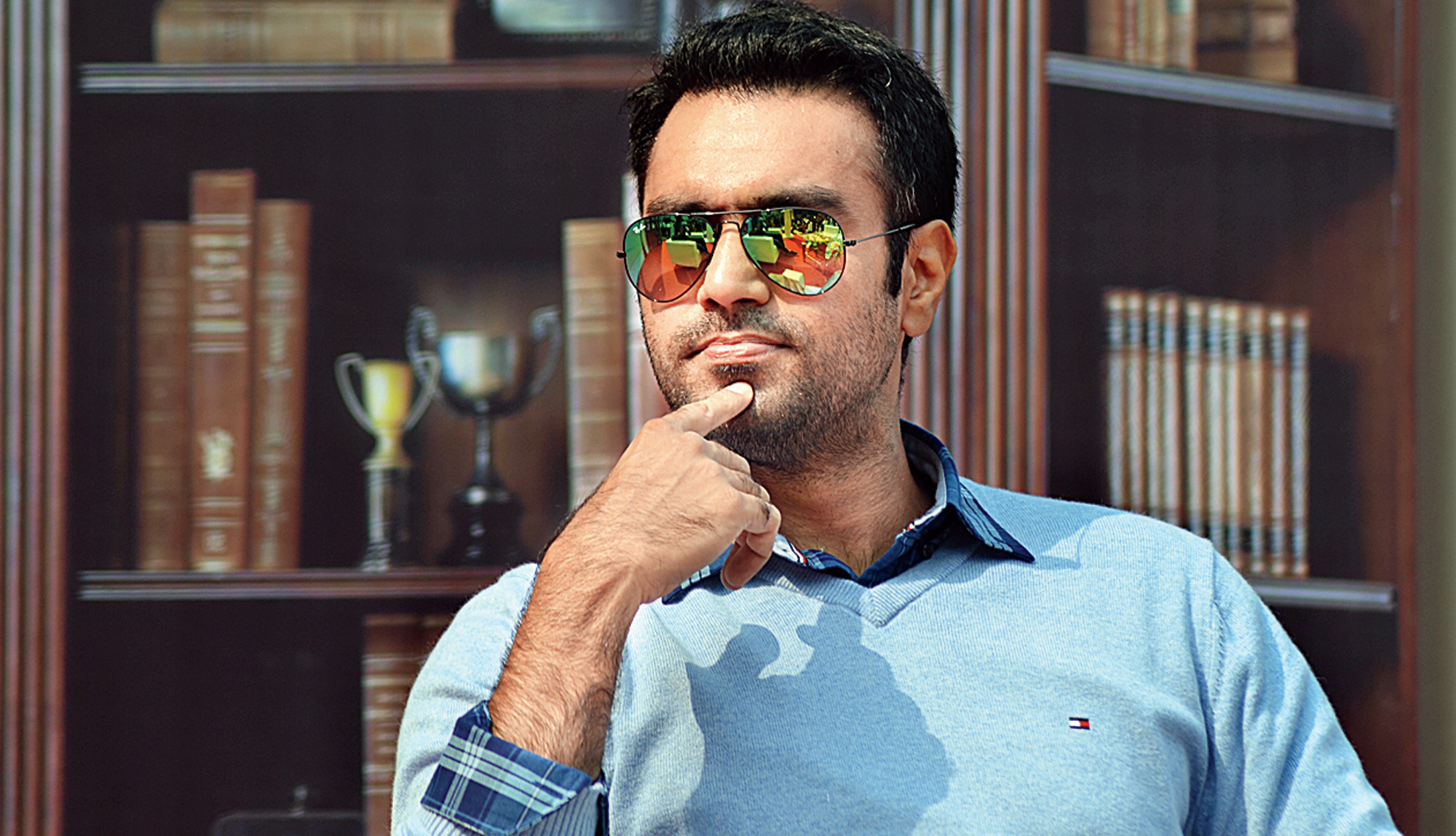 ---
---
Fans crowd around him begging to pose for one more selfie. They relate to his books and even see parts of themselves in his protagonists. Ravinder Singh, the author of a long list of romance novels like I Too Had A Love Story, Your Dreams are Mine Now and Like It Happened Yesterday, was in town recently to attend a literary meet. We caught up with the author whose name is now a constant fixture in the Indian bestsellers list, to talk about his writing process and what inspires him. Excerpts...
Let's go back to the time when you had to really struggle to get your first book published...
It was back in 2007-8 when I had just finished writing my first manuscript and all the publishing houses known to me had rejected it. Most didn't even bother telling me that they had rejected it and I was even shoved out of a publishing house. Back then we were making physical copies of manuscripts, so I needed mine back from them. They stopped responding to my calls and messages so I had to show up unannounced. They said that they never kept rejected work and that I should look for it in some dustbin of Delhi.
It was a tribute to my dead girlfriend and I was sad, it was raining and I was crying. But it was that day that I realised that no matter what, this book had to become a reality. That was the time maine zidd paal li that this book will have to see the light of day. I started reaching out to the pavement book vendors asking them if they could keep my book, five copies each. They thought I was a distributor! They agreed to keep the books and pay me when they sold.
I then went to Daryaganj where all the educational books are printed and I asked them what they would charge me to print 500 copies of my book. That time I thought 500 copies was more than enough and now we have sold a million copies of I Too Had A Love Story. No publisher gave me proper feedback, so I started believing that my work is not good enough, otherwise why would I get rejected from so many places.
Then I went and found a literary agent online and he suggested that I go and give my love story to a particular publishing house that was only doing love stories for campuses. These guys didn't even have a website and I ended up at their office which was actually a godown. They agreed to publish my book because they hadn't done a love story with a sad ending before. I was not too happy with the publishing house but I thought let me just save my printing money and use it for marketing instead. That's how it all started.
You have established yourself in the romantic genre. Any plans of expanding in another direction?
Romance is not a comfort zone for me, I write it because people want more of that from me. Of course, you will also see real-life issues spoken about in my books. Like the last one (Will You Still Love Me?) was about road safety. This Love That Feels Right was about extra-marital affair and open marriages and whether that school of thought actually works and if there are merits in it, no matter how the world looks at it. The world looked at LGBTQ in a different way as they did live-in relationships. But now that's changing. And now my idea is to leverage romance to pass on messages that I want to.
What kind of research goes into a book that you are writing?
A lot of it. It mostly depends on the plot I am writing about. In Will You Still Love Me, I spoke about the North-east. The protagonist was an Assamese from Meghalaya. I have spoken about the scenic beauty of Meghalaya, Shillong and Cherapunji. People were messaging to tell me that they were planning their next vacation in Meghalaya because of those three chapters that I wrote. Like the topic of open marriage — it's controversial and intimidating. I had to do a lot of research as to what the smart brains were saying about this topic, what is the public opinion on this and more. I listened to a lot of TED talks too.
What inspires you?
Things happening around me, the news, and you sum it up in your writing. We talk about national security, nuclear weapons and what not. After 1947, the number of people we have lost in war, we lose as many or maybe even more in a year in road accidents. So what is the real epidemic and why aren't we fighting it? I don't want anybody's loved ones to take their last breath on the road.
What's your writing style like?
Like all authors, I write every day but my speed picks up when the novel is nearing its end and the deadline is looming closer! (Laughs)
How important is craft over content?
I think both are equally important. The content is important and how you choose to communicate it is important. You have to be at the top of your game.
What's your take on micro-fiction?
It's good because that's how you convert non-readers into readers.
You said you hadn't read a book when your first book came out. Do you read now?
I do! I was reading Cecelia Ahern and if there is one book that I feel I should have written, it is The Fault in Our Stars. I got to know about the book from my readers, someone who posted on Facebook. A girl had posted a series of images of a girl reading a book and crying pools of tears and the caption was 'reading I Too Had a Love Story'. I shared it when someone commented and said 'The book in the picture is The Fault in Our Stars'. Indian readers started comparing the two books and that made me pick it up. There are very few books where I can say I loved the book as well as the movie made on it. This is one such book.
Would you be open to writing the screenplay if your book gets made into a film?
I will, I think. I would only do it if it is my book, I am not going to write the screenplay for someone else's book. But the stars are always at the centre of the film universe. It is my story and my book so I don't know how comfortable I would be if I am not in the limelight of that production.
I wouldn't be very happy about it.
You have been around for long, how do you think technology has changed publishing?
Technology has changed everything in and beyond publishing. We were not consuming content the way we do now. There was no Netflix or Amazon Prime. The world of paper has gone into e-books and audio books. What disturbs me though is that authors are still not on television. There are chefs, gadget reviewers, musicians, and people from all walks of life but there are no authors. There are 500 channels to boast of but not one talks about books or authors. We have always been at the mercy of print media.
I think in a way social media really helped in getting authors connected to their followers. In 2008, I used to reach out to print media talking about my book and asking them if they'd like to do a feature and they would say that they don't even know me and that I was no Dan Brown or Amitav Ghosh, without realising that Amitav Ghosh is no Ravinder Singh also. (Smiles) They said you must do something incredible in life, win some Booker award and then we can talk about you. I tried countering them and asking that isn't it great that so many people are reading my book and they said that they didn't know how many people actually were reading my books. But when social media took over, the same people realised that Ravinder Singh is someone with 1.3 million followers.
For someone who writes about romance as much as you do, how do you think technology has changed the way we romance?
(Laughs) Oh it has added so much of ease and therefore distraction.
So are you saying it's more difficult to romance now?
It is more easy to sustain romance. It is very easy to find someone to be in a relationship with. Relationship and love are two very different things. Technology has made it easy to fall in relationship but difficult to be in love. Apps wouldn't find you love; they can provide you the opportunity but it is you who has to strive to find love.
Do you believe that one should actively look for love or that love will happen when it needs to?
I think the first one. If you want something in your life, you have to get going and find it. I would love to be a part of the second school of thought; I wouldn't even bother waking up in the morning. If it has to happen, it will, till then let me sleep!
Fans go berserk when they meet you. What is your craziest fan moment?
I was at ISB in Hyderabad when a girl in 9th or 11th standard took a train from Gujarat to come to ISB to attend my talk, just because I had posted on Facebook about it. I was so worried and I made her sit in the hostel and eat. She had even got a small Ganapati for me. I had some fruits on my table, so I cut them and served her some. (Laughs) She left with all the hugs and all the signatures she wanted. There was also this girl who had tattooed my name and proposed to me. I had to say no but she later got married and named her son Ravin!