With Bala, Stree man Amar Kaushik has scored another hit at the box office
'I can't forget where I have come from because that's where my films come from. If I lose that, my stories could become superficial and filmi'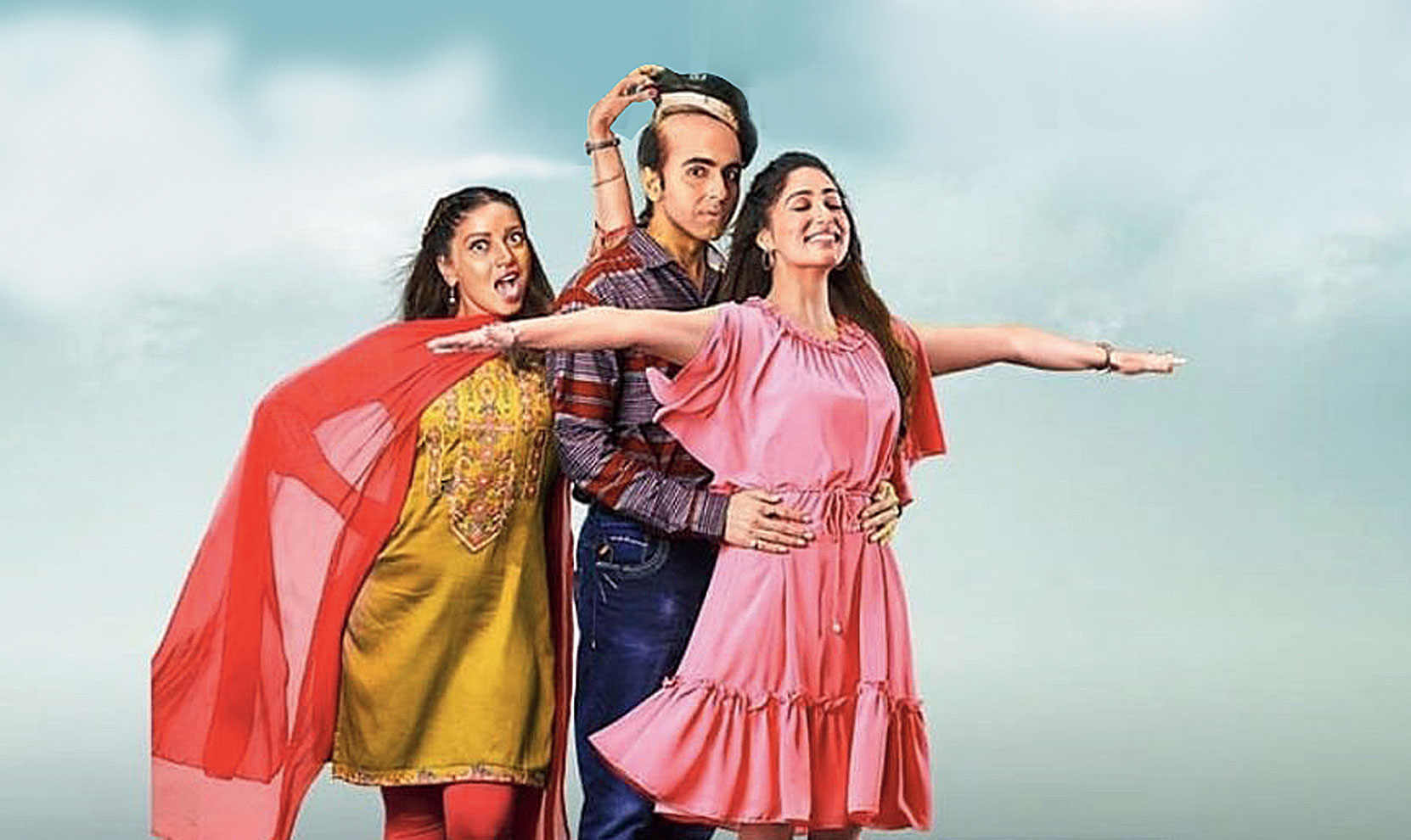 Bhumi Pednekar, Ayushmann Khurrana and Yami Gautam in Bala, now playing in cinemas
(Movie poster)
---
Published 21.11.19, 02:02 PM
|
---
After the runaway success of last year's Stree, director Amar Kaushik has delivered another hit with Bala. The Ayushmann Khurrana, Bhumi Pednekar and Yami Gautam film — about a man suffering from alopecia— continues to play to packed houses across the country and is heading towards the Rs 100-crore mark. In a chat Amar spoke about the surreal conversation with his filmmaking idols, why Ayushmann didn't go bald for the film and explains Bhumi's make-up issues.
Two back-to-back hits! Congratulations...
Thank you. It's a great feeling, but I can feel the responsibility and expectations rising already. I have people saying that I had to get a hat trick with the next one. That is terrifying.
What kind of reactions have you got from the industry?
The reactions have been really nice, but what has been great is getting messages from regular viewers. One person who is also losing his hair called and apparently the film reminded him of the days when he was too ashamed or didn't have the confidence to step out of his house. Everywhere he went, people made fun of him losing his hair or would give him home remedies. He was just tired of people talking about him losing hair. Another person, who was very thin, wrote to me talking about how he identified with the insecurities that the film talked about. This kind of feedback is an example of how people are identifying with the film and why they are loving it so much. When a filmmaker starts a film, you definitely want to entertain people, but if you also get to touch them somewhere, it's the best feeling.
This industry loves a success story and it's very easy to get swept away. How do you make sure that that doesn't happen to you?
While a lot has changed in terms of work for me, the rest of my life hasn't! Every Diwali, it's my job to put up the lights at home. This year, I was really busy with post-production but my wife warned me with dire consequences if I didn't put the lights up. So, I had to (laughs).
At work, yes, I used to be one of the guys in the background and today, I call the shots on a set. People who once didn't believe that I could direct, now admit that I can. It's amazing to get appreciation from your idols. Today, I can sit and have a conversation with (filmmakers) Sriram Raghavan or Anurag Kashyap. It feels a little surreal at times....
You also have someone like Varun Dhawan saying that he wants to work with you!
Yeah… it's amazing. But I am conscious that I can't lose touch with my roots. I can't forget where I have come from because that's where my films come from. If I lose that, my stories could become superficial and filmi. Also, I am a firm believer in keeping your critics close to you. I have to have people who will not spare my feelings and tell me exactly what they think about what I am doing.
Like Stree, the story of Bala was brought to you. What was it about the story that made you want to invest a year of your life on it?
After I was done with Stree, I was working on another film called Mimi (an adaptation of a Marathi film) but it wasn't ready to go on the floors. Dinesh Vijan, who has produced both my films, asked me to be the creative producer on Bala. Pavel (Bhattacharjee) had written an interesting one-line idea of Bala that there's a boy who is losing hair and things happen in his life because of that.
When I started rewriting the film with Niren (Bhatt), we realised that the film has to be more than just about one guy and his hair-loss problem. The theme of insecurity started emerging. I started meeting directors to make this film, but I couldn't find anyone who saw the story the way I did. A few people even refused to direct it. That's when I decided to direct this film myself. There was a lot from my life that I added… the film became personal and not just because I am also losing hair.
Really? You are!
(Laughs) I am… I will become Bala very soon.
And you already had Ayushmann on board?
Yes. Like me, he had heard the one- liner and said he would do the film if the script was properly developed. It took us about six months to get it right. Bhumi and Yami were cast only after the fourth-fifth draft was done.
Now that you've mentioned Bhumi…
(Laughs) I know the question you are going to ask and I am prepared for it.
Actually, I agree with your reasoning that if Bhumi is being criticised for playing a darker character, then Ayushmann should also be criticised for playing a balding character or Shah Rukh Khan and Riteish Deshmukh should not be playing people of short stature. On the other hand, you have to admit that women more than men are discriminated against based on the colour of their skin. Was your decision to hire Bhumi based on the fact that you could get a better budget because you have another star attached to the film?
Ah! Our decision wasn't based on budget. I needed a strong actor for that role. When I met Bhumi, I felt like she really understood Latika and that she'd be able to do justice to that role. I didn't want to take someone who looked the part but couldn't deliver as an actor. There's a scene in the film where Latika goes to watch a play and a young girl is playing Kubja. According to Krishnaleela, Kubja was a severely deformed girl. I told my casting team to get someone to play that role and they found someone who had a hunchback and her limbs were deformed. You would think it would be perfect casting but the scene required the audience to be laughing at the girl while she implores to Krishna and asks 'Why am I so ugly?' I didn't want that girl to go through that for the next 10-12 hours of shooting. So, then I asked for someone who could be made to look like that. Even for a small part, if you are making fun of someone's shortcoming, it's not right.
Fair enough. But I have to ask about the very obvious make-up issues. Bhumi's face was different shades through the film and it was very distracting. What happened?
That was a technical problem. We did multiple look tests in studios, which is a very controlled environment. When we got to Kanpur and started shooting in 45 degrees, sweat and dust started creating havoc with her make-up. Every time she got a touch-up, the skin shade kept getting darker. We had thought it would be cleared up in post-production but we couldn't. It took us about four-five days to figure out a solution. So, we started planning our daily shoot in a way where we would finish as much work with her before it started getting hot. And we stopped touching up her make-up.
Was there a conversation about Ayushmann shaving his head?
Actually there was and it was his idea. But we had a problem... the character goes bald gradually through the film and we normally don't shoot linear so it would have been difficult to go back and forth. Also, the quality of Ayushmann's hair is so good that even if we did the partial baldness, the rest of his hair looks so good that no one would believe that this man is losing his hair. So, we decided to go with prosthetics.
This is your second film with Dinesh and I hear your next will also be with him. What makes him the perfect producer for you?
He is the kind of producer who lets you make the film that you want to make. Like I mentioned earlier, this could have been a comedy about a guy who is going bald, but I thought we need to say something more. That made the film's second half a lot more serious than it could have been. At no point did Dinesh say that he wanted that changed or wanted me to add more masala into the film. Also, he really takes care of his team. When the plagiarism thing happened (where the makers of Ujda Chaman — also based on baldness — accused Kaushik and his writers of filching the idea of the film), I was very disturbed for a few days. This is just my second film and I didn't want people to think that I had stolen someone else's idea. He told me to forget about the controversy and only concentrate on delivering the best film I could. I am really happy to be working with him.