'Ujda Chaman': Sexist and discriminatory
The movie reinforces the very stereotypes it aims to shatter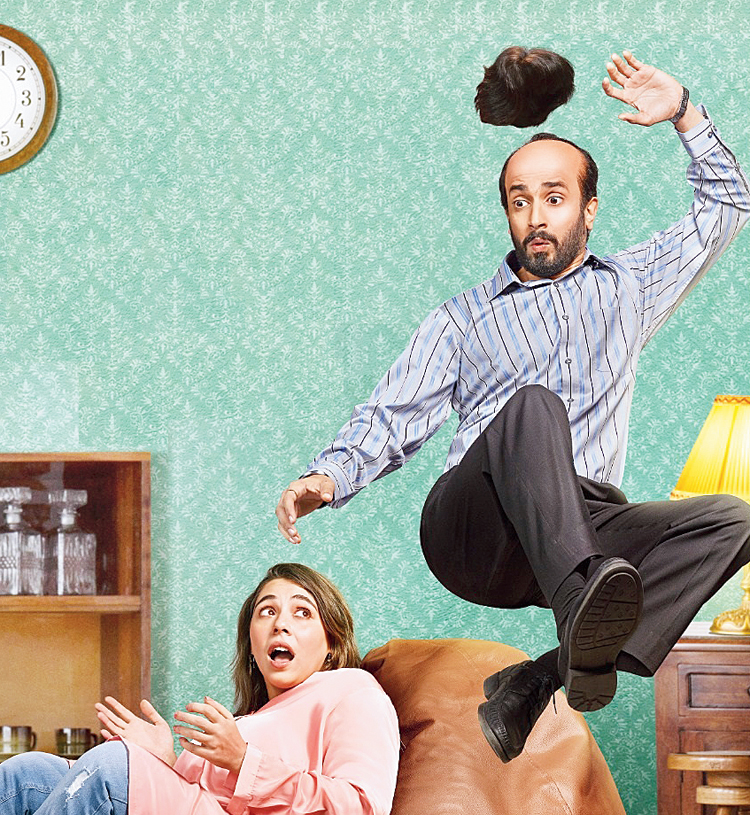 A scene from the movie
Source: 'Ujda Chaman'
---
Published 01.11.19, 02:02 PM
|
---
Takle ki pehli aur asli film" is the rather bizarre tagline of Ujda Chaman. This won't come as a surprise if you have scrolled enough through social media in the last few weeks. Ujda Chaman has been fighting a battle of release dates with Bala, the Ayushmann Khurrana film that's also based on the story of a man facing ridicule because of his receding hairline. Ujda Chaman has come a Friday ahead of Bala, justifying the "pehli" in its tagline, but it's far from being "asli", being the remake of the 2017 Kannada film Ondu Motteya Kathe.
But if the original was a warm and frothy comedy that succinctly highlighted issues like body shaming and low self-esteem, prejudice is used to underline prejudice in Ujda Chaman that uses every sexist and discriminatory trope in the Bolly book to reinforce the very stereotypes it aims to shatter.
And that starts with the title itself. Chaman (Sunny Singh) is a 30-year-old Hindi lecturer in a Delhi college who has been "trying" to get married for the last five years. But Chaman Kohli is better known as "ujda Chaman" —neighbours to friends to even among the students he teaches — because of premature balding, a fact that he blames on his dead grandfather's genes, even though both his father (Atul Kumar) and younger brother Goldie (Gagan Arora) have their head full of hair.
To make matters worse, the family astrologer (Saurabh Shukla, wasted in a cameo) predicts that if Chaman doesn't get married before his 31st birthday, he will be doomed to remain celibate — or rather "celebrate" as Chaman's loud Punjabi mom (Grusha Kapoor) likes to call it. Chaman, suffering from a lack of self-confidence and a series of rejections over years, now has only four months to either get a head of hair or a bride who doesn't have an issue with his bald pate. Both are elusive, much like the script in Ujda Chaman.
Directed by debutant Abhishek Pathak, Ujda Chaman had the germ of what could have been an interesting study of how outward appearance is what predominantly matters in today's world driven by Tinder and Twitter. But an aimless plot and obnoxious jokes, coupled with Hitesh Sonik's manipulative and loud background score, ensure that the film ends up not only being a two-hour bore, but is also inexplicably insensitive in its treatment. Take for example the first time that Chaman meets Apsara (Maanvi Gagroo) after setting up a date through Tinder. She's on the heavier side, but ends up calling him "ganja"; he isn't quite Adonis himself, but refers to her as "moti bhains", something that is repeated several times through the film. Finesse and sensitivity are clearly not the strong points of this film.
For a film that wants to make a case for those who are different, Ujda Chaman abounds in stereotypes. A Punjabi family living in Rajouri Garden in Delhi is presented exactly like every Bollywood film shows a Punjabi family living in Rajouri Garden — loud enough to drown out each other's voices, with most of their conversations revolving around "paratha" and "Patiala peg". The mother of the house chalks down the prospective daughter-in-law's slow metabolism to, "Taaqat honi chahiye bachche paida karne ke liye". Cringe-worthy dialogues are the mainstay of this film, with Chaman, at one point, dismissing Apsara's decision to take a break from her job with, "Ghar pe baithe rehna bahut boring hota hai".
Some bits are, however, done well. Like Apsara's nonchalant attitude towards those who body shame her and the various instances used to illustrate how comfortable she is in her own skin. Maanvi Gagroo brings both credibility and charm to her short role, while some parts featuring Chaman's overenthusiastic family will bring on the laughs.
What clearly doesn't work for Ujda Chaman is the casting of Sunny Singh in the central role. The actor, who was sidelined after the massive success of Sonu Ke Titu Ki Sweety and was left to watch Kartik Aaryan walk right into the big league, wears a permanent hangdog expression, making you feel nothing for his sad sack of a character. This is a part that needed both spark and spunk and Sunny, despite the earnestness and the lack of vanity, falls far short.
In the end, Ujda Chaman is a wasted opportunity, one that isn't even worth tearing your hair out for. We couldn't resist that, could we?