'Bala': A cracker of a film, powered by 'hair' apparent Ayushmann Khurrana
In 'Bala' the focus is on hair. Or rather the lack of it on its protagonist's head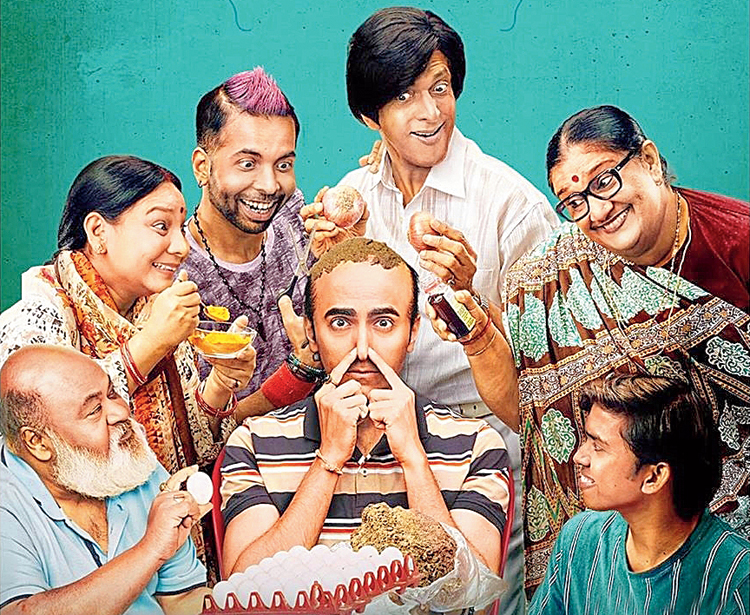 The movie's poster
Source: 'Bala'
---
Published 08.11.19, 02:23 PM
|
---
How does everything that Ayushmann Khurrana touches turn into 70mm gold? In film after film, the young actor — blessed with an innate ability to cull out extraordinary scripts based on seemingly ordinary people and situations — turns flawed, even not instantly likable, characters into flesh-and-blood portrayals that compel you to not only empathise but also come away with a jolt to the conscience. Bala simply reinforces what has been bubbling under all along — Ayushmann is the 'hair' apparent to the Bolly throne, an actor who may never reach the dizzying heights of superstardom as a Khan or a Kumar, but one who has carved a unique niche for himself that will remain unchallenged for some time to come.
In Bala the focus is on hair. Or rather the lack of it on its protagonist's head. In a cruel twist of fate, the young man who was named Balmukund because of his envy-inducing mop of hair at birth and breezed through school and college as a chick-magnet because of his floppy, wavy mane, has just a few strands left in his 20s. This is partly due to his genes and a lot to do with the onset of early diabetes, but Bala's (Ayushmann) sense of self-confidence and identity is hinged on his gradually receding hairline. At one point, the young man — a walking-talking encyclopaedia of '90s Bollywood — laments, "Amitabh Bachchan Avtar Gill ki tarah kaise jee sakta hai?" In another scene, he bemoans his quick transition from Shah Rukh Khan to Anupam Kher.
He may often sport a T-shirt with the word 'Whatever' emblazoned on it, but Bala is never nonchalant about being follicly challenged, always conscious that his lack of hair makes him the butt of jokes. His prospects in the arranged marriage market are dwindling and even his marketing job — that sees him, ironically, peddling fairness products — has him being relegated to a desk role because he isn't 'presentable' enough. Nothing else matters for Bala… not the fact that he's a gifted stand-up comic blessed with amazing mimicry skills, not that he has friends and family rallying in support. His one mission in life is to get some hair on his head, whatever it takes.
Director Amar Kaushik — who gave us the equally compelling Stree on debut last year — crafts a fun first half that sees Bala hilariously play out his predicament, even as the film tackles the all-important issue of self-worth being linked to appearance. Bala's refusal to accept himself as he is gives rise to one comic set piece after another, most of them linked to a bunch of 'remedies' he resorts to — from slapping on cow dung to slathering on hair dye. Such is his desperation that he's even willing to graft hair from his nether region, but nothing really works, causing his self-esteem to dip further.
On the other side of the spectrum is his dark-skinned schoolmate Latika (Bhumi Pednekar), a confident young lawyer who has been at the receiving end of taunts for her skin colour all her life, but is supremely confident in her own skin. Unlike Bala, Latika doesn't allow society's imprudent standards of beauty to dictate her life, though the film does disservice to its own messaging by casting Bhumi — an actress several shades lighter, who has to dab on make-up akin to boot polish — in the role. Bhumi, despite being as adept as she always is, is the weak link of the film, with her "activist type" Latika being used largely as a trope for the film to hammer in one message after another.
Bala's emphasis on how we, as a society, allow looks to determine our impression of a person is given another dimension in the form of small-town social media sensation Pari (Yami Gautam, in good form). A TikTok star whose entire life is governed by filtered selfies and social media likes, Pari is the one Bala holds a torch for. He quickly makes inroads into her heart (in a case of reel-meets-real, Pari is signed on to endorse the fairness cream Bala sells), but once the wig comes off, will Pari be able to see beyond Bala's bald pate?
That's the question — and then some more — that Bala asks in its rather heavy second half. The film increasingly becomes preachy, but Kaushik ensures that the small-town quirky world of north India — now almost a sub-genre in Bollywood — keeps you invested. The laugh-a-minute lines of Kanpuriya Hindi — replete with words like 'Lallantop' and 'Kantaap' — add sparkle to many a scene. The film has some memorable sequences, like the one in which Bala's brother (a spot-on Dheerendra Kumar) loses his cool after being forced to be a party to his brother's outlandish 'hair growth' techniques or the moment when Bala lets it rip, blaming his cricket-obsessed father (an ever-dependable Saurabh Shukla) for his predicament. The Marvel Cinematic Universe currently may not be finding favour with the cinema greats, but Bala makes some fun references to keep fans chuckling — from Captain America's pompadour to Thanos aka "Amrika ka Shaktimaan".
What also works are the inside jokes, like the one in which Bala tells Pari's mother, played by Deepika Chikhalia who was Sita in Ramayan for kids growing up in '80s Doordarshan, "Sita maiyya, meri agnipareeksha mat lijiye". You will also laugh out loud at Bala and Pari's TikTok videos, most of which bring Govinda and Kumar Sanu hits alive.
Bala's idiosyncratic world is peopled by a strong ensemble of actors, each of who elevate the film even when it flags. The pick of the lot are Seema Pahwa as Latika's hooked-to-Instagram aunt to Bala's salon-owning sidekick, played by Abhishek Banerjee, and Bachchan bhaiya, played by Jaaved Jaaferi, Bala's confidante and adviser of sorts, with a Bachchan hangover. Some of the character arcs are predictable, but these are people who will stay on with you.
Bala may not be without its share of flaws. Some bits reinforce the very stereotypes it strives to shatter and a few sexist jokes are cracked under the garb of delivering a message, but it's a film that's worth your time. The laughs are guaranteed, but so are the life lessons. And yet another A-plus act from A-star Ayushmann.