When Alia stumped Papa Bhatt
Alia Bhatt's dance performance in Kalank has even her father surprised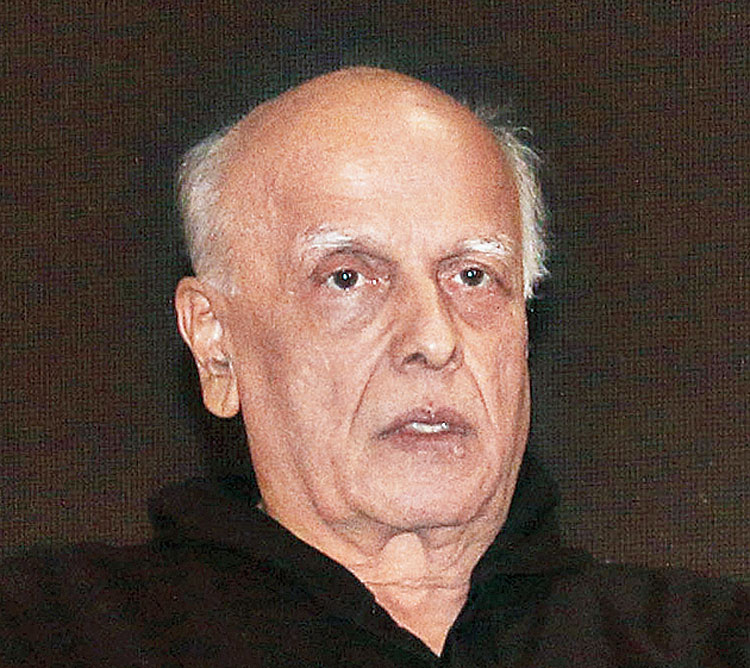 Mahesh Bhatt
Picture by Fotocorp
---
Published 13.04.19, 08:17 PM
---
Alia Bhatt is such a surprise package that she managed to zap even her father. When he saw the exquisitely picturised Ghar more pardesiya from her new film Kalank, Mahesh Bhatt sat up and asked, "Where did that come from?"
While one has got used to Alia moving swiftly from innocent girl molested at home in Imitiaz Ali's Highway to spy with spunk and a conscience in Meghna Gulzar's Raazi, watching her do a Kathak number with the trademark chakkars or spins, which is a speciality of the dance form, was a revelation. "She was just another Juhu girl who became an actress," commented her dad. "She hadn't learnt all this traditional dancing."
So where did that come from? It came from many months of learning and 20 days of intense rehearsals.
"She's a very driven girl," remarked Mahesh. She won't give up until she has learnt what she has to do before the camera.
Incidentally, the pre-Partition drama, Kalank, was given a U/A certificate by the censor board without a single cut or debate. Which must have surprised producer Karan Johar and his company, given the bloody and very communally charged times before Partition.
Mahesh himself has had run-ins galore with the board. A filmmaker like Shakti Samanta, who once headed the CBFC, had told him to reshoot and change the sexuality of the hijra (transvestite), one of the main characters of Sadak (1991).
Mahesh had stuck to his guns.
During Zakhm, the last film he directed in 1998 before opting for premature retirement, the minister of state in the I&B ministry had advised him to change the orange colour to black in the climactic protest scene, in an era when computer graphics were not within easy reach of a filmmaker.
"Whatever little money we had, we spent it on changing the colour to release the film," recalled Mahesh. And when the same government gave Zakhm a National Award, he typically refused to go to Delhi to receive it. "Pooja went, I didn't," he said.
One would think it was the temptation of directing Alia for the first time together with older daughter, Pooja, that brought Mahesh out of retirement two decades after Zakhm.
"It was Sanjay Dutt," he disclosed. The two have a very special relationship. When Mahesh narrated a story to him, Sanju was so charged about the emotionally stirring content that he sprang up and wondered, "But who will direct it?" Mahesh had shrugged that he'd get somebody to do the job. "I'll be around to oversee it," he told Sanju, not entirely convinced that anybody else would be able to touch that raw nerve which is a Mahesh Bhatt speciality.
"People today don't know how to get emotions out of a story," he lamented. Mahesh's decision to direct Sadak 2 and step back into the space he had voluntarily vacated in 1998 was thus because of Sanjay Dutt.
"Now that Sanju has become a father on screen (in Kalank too he is the father of a grown-up, married son), it will be interesting to watch him. His two years in prison haven't been juiced out of him so far," mulled Mahesh, who's all set to start filming the sequel to Sadak with Sanju, Pooja, Alia and Gulshan Grover.
Apart from being armed with a potent script, Mahesh is also looking fit at 71. He actually goes to the gym and does pilates. It was wife Soni who told him, "You're such an independent man but as you grow older, the body becomes dependent on others. Do something about it." So he who had never exercised or lifted a dumbbell in his life, stepped into the gym. "And I love it."
In his cabin is an old B&W photograph. A working still from a film with Amjad Khan's father Jayant, Mahesh's mother Shireen, and his father Nanabhai, who was a sound engineer in 1938 when movies moved from silent to talkie.
The stories around Mahesh Bhatt have always been fascinating.
Bharathi S. Pradhan is a senior journalist and author