What has been Asha Parekh's 'outstanding contribution' to be given the Dadasaheb Phalke Award?
Asha Parekh was the 'hit' girl but her films don't do justice to the criteria of 'outstanding contribution to the growth and development of Indian cinema'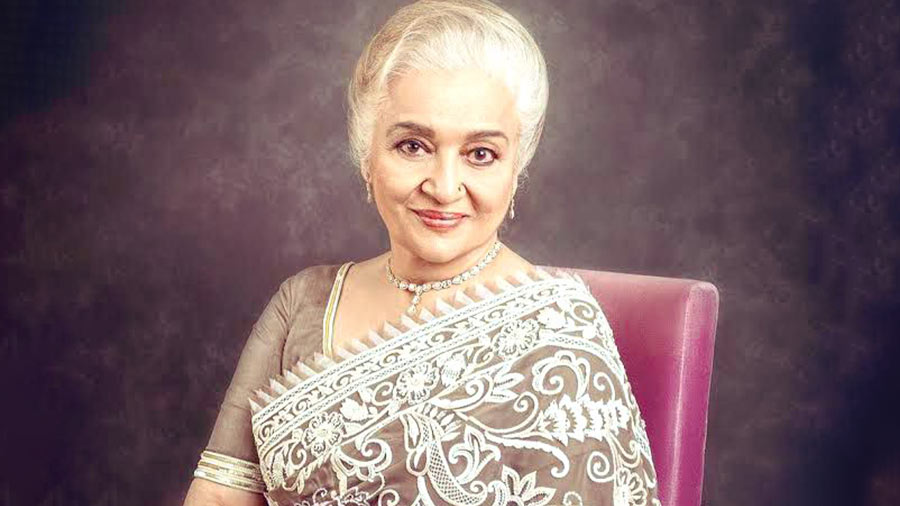 Asha Parekh has received Dadasaheb Phalke Award just before her 80th birthday.
Twitter
---
Calcutta
|
Published 03.10.22, 09:30 AM
|
---
A recipient of the Dadasaheb Phalke Award is honoured for his or her 'outstanding contribution to the growth and development of Indian cinema'. The selection is made by a committee comprising eminent personalities from the Indian film industry. It is telling that the first recipient was none other than Devika Rani. 
Among the first eight people honoured between 1969 and 1976 were Ruby Meyers (Sulochana) and Kanan Devi. Durga Khote followed in 1983. Lata Mangeshkar was bestowed the honour in 1989 and Asha Bhosle in 2000. It has taken the government 22 years to find another woman worthy of the award.
By that reckoning, the honour for Asha Parekh should have been a cause for celebration. However, it is with a sense of disbelief that I heard the announcement. There is no doubt about Asha Parekh's contribution to Hindi mainstream cinema. She was the 'hit' girl, with an enviable string of commercial successes. As apologists on her behalf have said, let us not blame her for this. She did not ask for it. Right. 
It is being said, justifying the award, that Asha Parekh's body of work included the biggest blockbusters and landmark films of the era: Jab Pyar Kissi Se Hota Hai, Teesri Manzil, Love in Tokyo, Do Badan, Aaye Din Bahar Ke, Upkar, Shikar, Kanyadaan, Sajan, Pyar Ka Mausam, Aya Sawan Jhoom Ke, Kati Patang, Mera Gaon Mera Desh, Samadhi, Heera, Zakhmee and Main Tulsi Tere Angan Ki. 
The operational words in the citation for the award read 'outstanding contribution to the growth and development of Indian cinema'. Do these films, listed in defence of the award to her, do justice to the criteria? The answer is a big no. They are an important part of mainstream Hindi cinema, but artistically and creatively, do these rank alongside — even if comparisons are odious — the contributions of other recipients, say, a Gulzar, a Dilip Kumar, leave alone a Satyajit Ray or an Adoor Gopalakrishnan? No way. 
As importantly, even a dispassionate look at the list should make one wonder how much of the success of these films — because success is what is being touted in defence — owed itself to Asha Parekh. Teesri Manzil, Pyar Ka Mausam and Caravan were primarily RD Burman's achievements. And of course Shammi Kapoor and the genius of the director Vijay Anand in Teesri Manzil. Take out the songs from Jab Pyar Kissi Se Hota Hai, Love in Tokyo and Do Badan and would we even recall Asha Parekh in these films? And to credit her for the success of Mera Gaon Mera Desh and Zakhmee is like saying Dilip Kumar was responsible for the success of Gulzar's Koshish. The Manoj Kumar-Vinod Khanna-Asha Parekh syndrome
The award to Asha Parekh is just another in a series of nominations that have progressively devalued the Dadasaheb Phalke Award. One of the most baffling decisions to confer the Dadasaheb Phalke Award pertains to Manoj Kumar (2015). Again, there is no doubt about his place as a star and filmmaker in Hindi cinema. His films Shaheed, Upkar and Purab Aur Paschim are part of Hindi films' hall of fame, but do even these or a majority of his work — directorial or otherwise — stand to scrutiny? His filmography is full of clangers: Be-Imaan and Pehchaan, Clerk and Kalyug Aur Ramayan, Sanyasi and Dus Numbri to name just a few. Even his big directorial successes Roti Kapda Aur Makaan and Kranti are hugely problematic and of dubious merit. Do these actually measure up to the works of some of the other filmmakers on the Dadasaheb Phalke award-winner roster? No.
Vinod Khanna was conferred the award in 2017. Now, here's an actor I have loved and admired. I have enjoyed not only his big commercial successes but even many of the atrocious films he was part of. But do I think he deserves the Dadasaheb Phalke Award? No. There is no doubt he was a huge star, and when given the opportunity a terrific actor, but little in his work makes for an 'outstanding contribution to the growth and development of Indian cinema'.
Awards are always subjective. And there's no award in the world that has always done justice. But some awards, such as the Dadasaheb Phalke Award, need to be like Caesar's wife. And that's a test the awards have failed with alarming regularity in recent times.
It is being touted that the present government has initiated several changes in how awards operate in India and that the spotlight is now on the lesser celebrated heroes. Asha Parekh is not a lesser celebrated hero. Neither were Manoj Kumar and Vinod Khanna. Each has been celebrated enough given the scale of their contribution. Therein lies the agenda and the problem behind bestowing Asha Parekh (linked to the Gujarat elections), Vinod Khanna (only because he passed away that year and was a prominent leader of the party running the government) and Manoj Kumar (articulating a filmi version of patriotism and nationalism) with the Dadasaheb Phalke Award.
None of these awardees are at fault for being so honoured. However, none of them are deserving either. Particularly when you have stalwarts of the stature of Kamal Haasan and Jahnu Barua, Waheeda Rehman and Madhabi Mukherjee and Sharmila Tagore (if it's a woman the committee wanted to award after 22 years) still around.
Shantanu Ray Chaudhuri is a film and music buff, editor, publisher, film critic and writer