What Happens in Vegas: 8 celeb couples who split or stayed together after a Vegas wedding
Ben Affleck and Jennifer Lopez recently joined the long list of celebrities, including Joe Jonas and Britney Spears, to have tied the knot in Las Vegas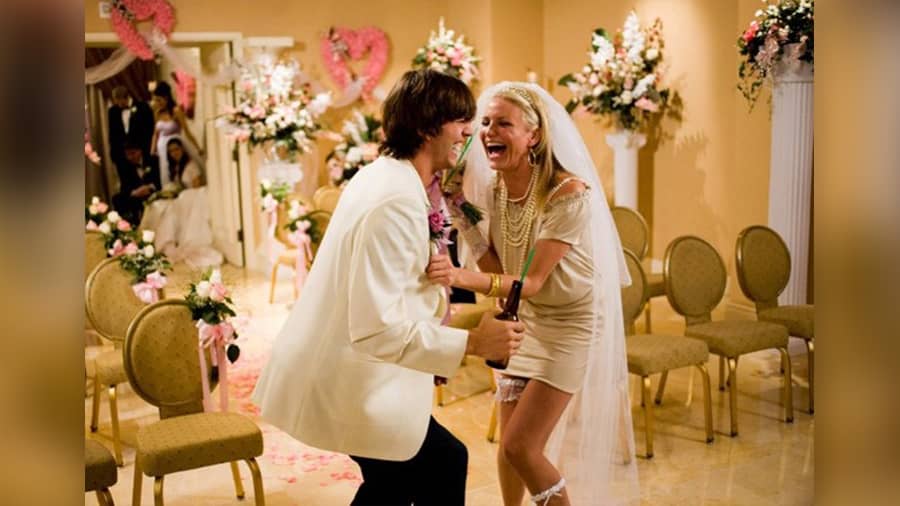 Ashton Kutcher and Camron Diaz starrer 'What Happens in Vegas' is about a Vegas wedding gone wrong
Prime Video
---
Calcutta
|
Published 18.07.22, 05:51 PM
|
---
Las Vegas stars in the lives of many Hollywood couples who decide to get married in a huff, with some cherishing each other over the years and some going their own ways within hours of saying their vows. 
The latest in the line of couples with a Vegas wedding are Ben Affleck and Jennifer Lopez, who tied the knot this weekend at A Little White Chapel, ending the 20-year-long 'will they/won't they' speculation. 
Before Bennifer (Ben+Jennifer) took their vows in Las Vegas, there have been many A-listers who have had their dream weddings in 'The Marriage Capital of the World'. 
But a fairytale ending like in What Happens in Vegas — where an inebriated couple (Cameron Diaz and Ashton Kutcher) who have a Vegas wedding slowly find their way to love – is quite uncommon, and celebrity weddings in Vegas are marked by highs and lows. 
Here's looking at some celebrity couples who started their wedded journey from Vegas and where their relationships stand today.
1. Kourtney Kardashian and Travis Barker 
The eldest Kardashian sister, Kourtney, confirmed her relationship with Blink-182 drummer, Travis Barker, in January 2021 following rumours that began in 2020. They got engaged in October 2021. In April and May 2022, the couple had several wedding ceremonies, the first of which was in Las Vegas. 
On April 3, 2022, the couple made headlines as they had an unofficial wedding in Las Vegas after the 64th Annual Grammy Awards. Following the first wedding ceremony, the couple officially got married in Santa Barbara, California, on May 12, 2022, and had a religious ceremony on May 22, 2022, in Portofino, Italy. 
The couple have seen troubled times since the wedding as Barker had to be hospitalised in June with health complications caused by a medical procedure he had earlier undergone. The musician has returned to the stage with his wife in attendance. 
2. Nicolas Cage and Riko Shibata/Nicolas Cage and Erika Koike
Las Vegas appears to be Nicolas Cage's wedding destination of choice. 
The 57-year-old star was first pictured with the 27-year-old Riko Shibata in February 2020. The couple eventually said their "I Do" at the Wynn Hotel and Casino in Las Vegas exactly a year later, making it the second time Cage got married in the city and his fifth marriage. Cage and Shibata are expecting their first child together. Las Vegas was also the setting for Cage's fourth wedding – and one of the shortest celebrity marriages — with Erika Koike in March 2019. This kind of went down the same route as What Happens in Vegas as Cage and Koike had a drunk Vegas wedding. The actor filed for the annulment of this marriage within four days of saying his vows. Koike reportedly contested the annulment, forcing Cage to file for divorce. 
3. Joe Jonas and Sophie Turner 
Singer Joe Jonas and Game of Thrones actress Sophie Turner keep setting couple goals. Rumours of the two stars dating started in 2016 with an eventual confirmation of their relationship in 2017. The two showed how serious they were by getting a dog, Porky Basquiat, together before their engagement in October 2017. 
In 2019, the couple had two wedding ceremonies—a fun one in Las Vegas and an elegant one in France. The Vegas wedding was live-streamed on Instagram. The couple exchanged candy rings and had an Elvis Presley impersonator officiate the wedding. Jonas and Turner continue to be very much in love and earlier this month welcomed their second child. 
4. Britney Spears and Jason Alexander 
The Toxic singer married her third husband Sam Asghari in June 2022. They had an intimate ceremony at Britney Spears' Los Angeles home. However, their wedding was almost crashed by Spears' first husband Jason Alexander whom the pop star had married in Las Vegas. In January 2004, Britney married her childhood friend Jason at the famous A Little White Wedding Chapel, the same chapel where Affleck and Lopez tied the knot. She filed for an annulment just 55 hours after the wedding, on the grounds that she "lacked understanding of her actions."
5. Angelina Jolie and Billy Bob Thornton 
When Tomb Raider actress Angelina Jolie and Bad Santa actor Billy Bob Thornton worked together in the 1999 film Pushing Tin, no one expected a budding romance. Thornton was still engaged to Jurassic Park actress Laura Dern when he and Jolie married secretly at The Church of the West in Las Vegas in May 2000. The newly-weds drew even more attention when they started wearing matching necklaces with a vial containing the other's blood. The couple were rumoured to be adopting a child from Cambodia. Jolie and Thornton ended their relationship in May 2003, and Jolie ended up adopting Maddox Chivan from Cambodia as a single parent. 
. 
6. Richard Gere and Cindy Crawford 
One of the most good-looking celebrity couples to have tied the knot in Vegas are Pretty Woman actor Richard Gere and model-turned-actress Cindy Crawford. Gere has had a long list of partners and when he finally had a woman walk down the aisle for him, it was the stunning Crawford. The two got married in December 1991 at The Church of the West, the same chapel where Jolie and Thornton got married years later. 
Crawford later confessed that it was not her dream wedding as it was a last-moment decision to get married. The couple divorced in December 1995, and Crawford later revealed that their 17-year age gap played a role in the separation. Crawford went on to have her dream wedding in 1998 with her current husband Rande Gerber. 
Gere went on to marry Carey Lowell in 2002 whom he divorced in 2016 before marrying his current wife Alejandra Silva in 2018. 
7. Jon Bon Jovi and Dorothea Hurley 
It's My Life singer Jon Bon Jovi's relationship with his wife Dorothea Hurley is long and full of devotion. Bon Jovi and Hurley were schoolmates but they started dating only in their 20s. After being with Hurley, a karate instructor, for years, the musician took a short trip to Las Vegas with her. On April 29, 1989, the couple quietly got married in Vegas. 
In a real-life fairytale romance, Bon Jovi and Hurley have been together for over 40 years, of which they have been married for 33 years. The school mates-tuned-sweetheart have a daughter and three sons together. On Valentine's Day this year, Bon Jovi posted a throwback picture of him and his ladylove on Instagram and wrote: 'My forever valentine'. 
8. Demi Moore and Bruce Wills 
A celebrity couple who ended their relationship a while back but continue to maintain a cordial relationship. Demi Moore and Bruce Wills met at the premiere of the 1987 buddy-cop film Stakeout. At the time Moore was engaged to actor Emilio Estevez. However, shortly after the meeting, the two got married in Las Vegas.
Moore and Wills had three daughters together before announcing their separation in 1998. Their marriage officially ended in October 2000. Moore went on to marry the What Happens in Vegas star Ashton Kutcher in 2005 but that marriage, too, ended in 2013. Wills went on to marry British-American model Emma Heming in 2009 with whom he is still together.