Vivek Oberoi and the mean meme
A meme on any woman's past is always in lousy taste and if she's a person from your own past, it's even more of a no-no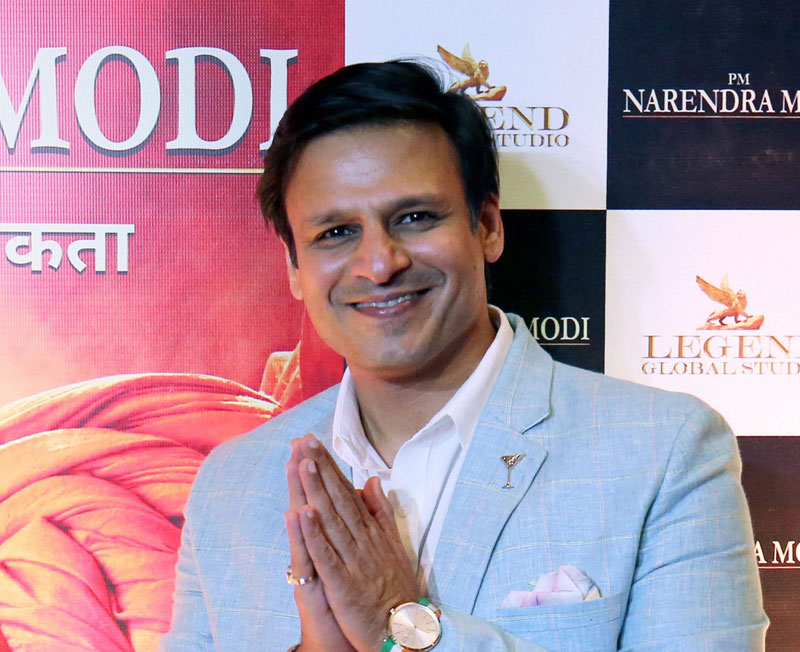 Actor Vivek Oberoi at the screening of his film 'PM Narendra Modi' in Ahmedabad on May 21, 2019
Picture credit: PTI
---
Published 25.05.19, 06:01 PM
---
Bharathi S. Pradhan is a senior journalist and author
When B.R. Chopra made the hugely successful Mahabharat for Indian television, he had Time (Samay) itself personified; Time was the sutradhar (narrator) of the mighty epic. The veteran filmmaker and his writer, Rahi Masoom Raza, had got it spot-on because Time is quite a character. So much hinges on it.
It really sucked that Vivek Oberoi, who is otherwise a well-spoken actor and rather chivalrous, went and tweeted a distasteful meme that featured Aishwarya Rai Bachchan. A meme on any woman's past is always in lousy taste and if she's a person from your own past, it's even more of a no-no. But Vivek found it humorous and tweeted it. Which was incredulous because he is an intelligent guy and, as mentioned earlier, chivalrous too. I'm not sure what the locker room lingo is when boys get together but I've known Vivek for decades and I've never known him to even refer to a woman in derogatory terms.
So put it down to bad timing. Even if Vivek apologised for it and later deleted the tweet, it was only after relentless trolling. Trolling that was compounded by the fierce reactions to the exit polls that showed a thumping victory for PM Modi. The actor, who's playing PM Modi in a movie released on Friday, May 24, therefore got a double whammy because it was not only anger over a declasse meme about a woman but also anger at the man who was an unabashed Modi supporter. Many of the tweeple vented their politics at the actor, so the trolling wasn't restricted to the meme.
He mercifully took down the tweet because it certainly wasn't going to help his film, a film that was hastily made, as producer Anand Gandhi himself said to me at a special screening of PM Narendra Modi. To meet their deadline and reach the theatres on April 5, Gandhi had two units shooting simultaneously, which made his cost of production shoot up. That the EC, quite objectively, delayed the release to after the polls, is another story of course. Another case of timing gone awry.
One isn't sure how to label this timing but imagine a Sridevi film which didn't do too well two years ago, when she was alive, suddenly minting money in China today. Her rather well-made film Mom, which barely netted Rs 37 crore when it was released in 2017, didn't satisfy its producer Boney Kapoor. As he pointed out, it was a film where Pakistani actor Adnan Siddiqui played Sridevi's husband and Sajal Ali, another Pak actor, was cast as her daughter. So a shoot that should've happened in Delhi had to shift to Bangkok and the climax, which required a snow-laden locale, wasn't permitted in Kashmir. Boney had to cart his cast and crew all the way to Georgia instead. All of which contributed to the cost of the film going up by Rs 3-4 crore.
And so, when Mom was released recently in China and began to move towards a Rs 100 crore mark, it left Sridevi's family happily bewildered. "Imagine, a film that's two years old and where the main actress died one year ago," Boney exulted. Mom could well be the seventh or eighth biggest money-spinner from India in China. What a pity that Sri herself isn't around to savour it. One can almost picture her big eyes growing wide and her saying, "Aiyo, imagine," in that child-like voice of hers.
Juhi Chawla also knows a thing or two about timing. She and Sujoy Ghosh have always had a friendly equation — she was his first heroine in Jhankaar Beats. So when he wrote the role of the distraught mother of a young man who's killed in Badla, Juhi was his natural choice. But bad timing. Saying "yes" to Sujoy would have meant a longish spell in Scotland where the film was shot. And Juhi was shooting for Ek Ladki Ko Dekha Toh Aisa Laga. Amrita Singh, who then played the role, went on to win much praise for her work. Badla too was one of the bigger hits of the year while, as is well know, the Juhi-Anil-Sonam Kapoor film went down, glub, glub.