PM Narendra Modi is presented through rose-tinted glasses
This is cinema clearly used as propaganda but even if you judge it purely as a film, PM Narendra Modi falls short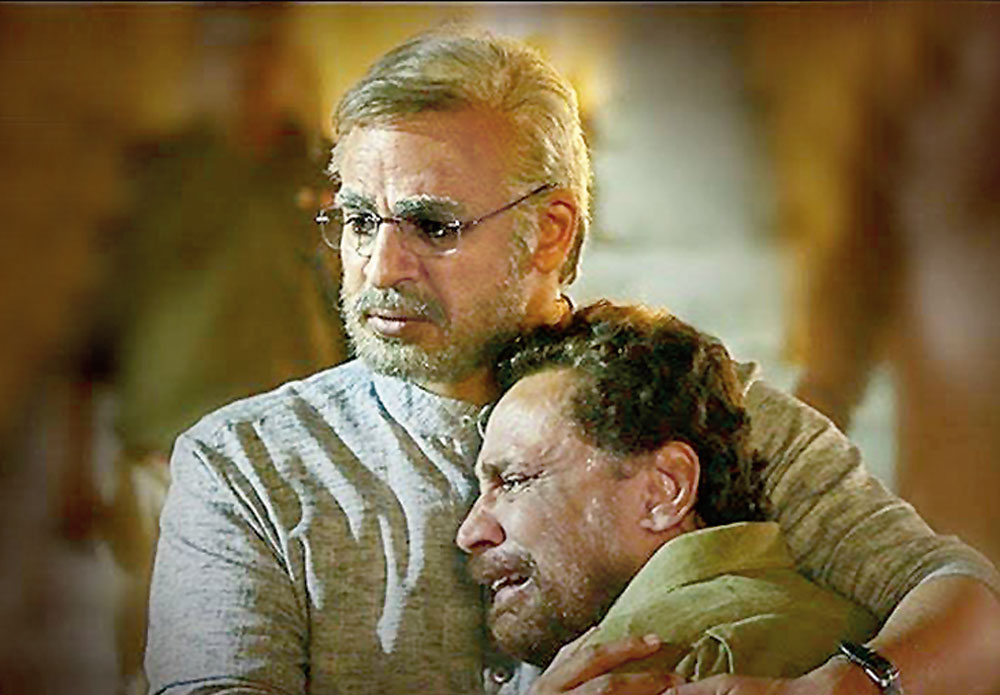 ---
Published 24.05.19, 03:13 PM
|
---
Facts really don't matter and substance and storytelling are inconsequential in PM Narendra Modi, a hagiographic account of the rise and rise of the country's current prime minister —just back for five more years after a thumping, unchallenged win — from his humble beginnings.
The film — that wrapped up shoot within a few months with the intent of releasing during the elections but, stalled by the Election Commission, had to cool its heels till a day after the results — deifies its subject to embarrassing heights with the leader's life being unapologetically presented through rose-tinted glasses.
Posing as a biopic but being anything but, PM Narendra Modi is directed by Omung Kumar B — a biopic "specialist" of sorts, having helmed Mary Kom and Sarbjit in the past — who chooses to adopt a reverential tone and treatment towards his protagonist and makes it clear from the disclaimer at the beginning that the film's intent is "to inspire patriotism, nationalism and reverence for our great nation" and that "while portraying his life in full grandeur, certain cinematic liberties have been taken".
Biopics in Indian cinema are rarely holistic in portrayal, but PM Narendra Modi takes it a notch lower by painting Modi as not only "the saviour of the nation" but also an ideal son, a patriot since childhood and a man whose sole purpose is to dedicate his life in the service of the country. He's noble, sacrificial, incorruptible and wise, with no warts and no grey areas.
The film starts off with a knee-high chai-selling Modi (addressed as "Naru" that often comes off sounding as "Nehru") who salutes the Tricolour every day on his way to school and wants to become everything from a soldier to a sanyasi. Even as a child, he speaks in slogans and aphorisms and when berated by his father for eavesdropping on a conversation between two strangers while serving them tea, young Naru beatifically smiles and says, "Chai pe charcha matlab siksha bina kharcha".
He quickly grows up to be Vivek Oberoi, a young man who refuses a marriage proposal (a never-been-married Modi is one of the many cinematic liberties taken) to take off to the Himalayas to discover his purpose in life. Once there, he's shown the path to righteousness through — believe it or not — politics by a yogi (played by Suresh Oberoi… yes, it's all in the family) who tells him, "Desh sadh raha hai. Tujhe ek naya Bharat banana hoga." At another time, a soldier appears to tell Modi that what Delhi needs is a "sachcha mard" in the PM's chair.
There's not a single subtle note in PM Narendra Modi that seems to have worked out a script from a bullet-point list of Modi's achievements, from his early days as an RSS worker to a BJP member to the chair of the chief minister of Gujarat. The film is extremely high on rhetoric and a lot of "cinematic liberties" are used.
It insinuates that the Gujarat riots of 2002 were orchestrated by a businessman who Modi had crossed swords with. It says that the riots assumed mammoth proportions because the neighbouring (Congress-ruled) states refused to come to Modi's aid even as he made frantic calls. It also shows the chief minister spending days and nights donating blood to riot victims in camps. Later on in the film, it's suggested that the same businessman — in collusion with certain Congress leaders — made sure Modi was denied a visa to the US. Some of it may or may not be true, but PM Narendra Modi is busy polishing the halo around its protagonist's head and portraying him as superhero-meets-Munna Bhai — there's even a rap song that goes "Namo Namo" everytime the man strides on to the screen. And like it was in Sanju last year, "gair zimmedaar media waale" are made the fall guy here too.
This is cinema clearly used as propaganda but even if you judge it purely as a film, PM Narendra Modi falls short. The climax unfolds as a laughable thriller where an assassination attempt on Modi is thwarted and the product placements — from the camera lingering on a tetrapack of milk as Modi makes chai to repeated references to an agarbatti brand — are too glaring for comfort.
Truth be told, Modi turns out to be a better actor than Vivek who seems to be weighed down not only by the prosthetics on his face but the burden of playing the man. Vivek, looking for a career resurgence here, makes no attempt to emulate Modi's attitude or mannerisms and comes up with an act that may be earnest but is hardly effective.
Among the side players, Manoj Joshi as Amit Shah — the Modi-Shah jodi is described as "Tendulkar aur Sehwag ka combination" — has surprisingly precious little to do, with Zarina Wahab, playing Modi's mother Heeraben, being the only one who manages to tug at the heartstrings. Boman Irani pops in for a cameo as businessman Ratan Tata and is his usual dependable self.
The Gandhis — Indira to Sonia to a stammering Rahul — are predictably portrayed as caricatures, with the film's comic relief being a running joke about Manmohan Singh being an "awaaz gayab PM".
The big question left unanswered at the end of 131 minutes — did Modi send emails in the '80s and how does he eat his mangoes? Maybe that's for another film. Gulp!