Vir Das on getting nostalgic and dipping his toes in politics in his latest Netflix comedy special 'For India'
The 74 minute special evoked nostalgia with the likes of Chyawanprash, Parle-G, Old Monk and Tinkle comics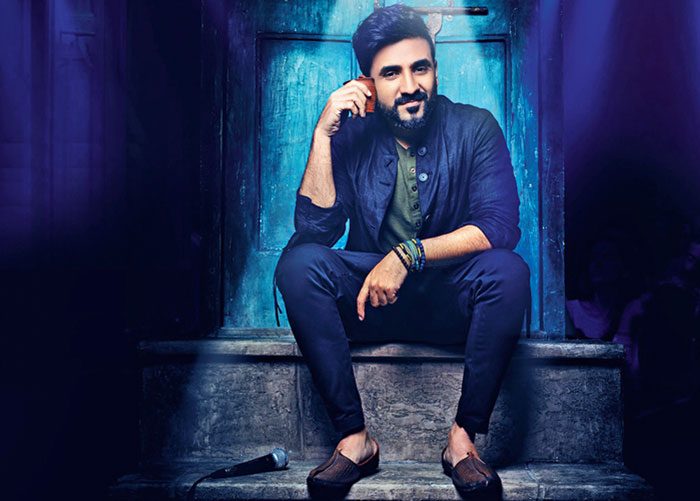 ---
---
Funnyman Vir Das has dropped his third comedy special on Netflix. Called For India, the 74-minute special that dropped on Republic Day has the 40-year-old comic going back to his roots, evoking nostalgia with the likes of Chyawanprash, Parle-G, Old Monk and Tinkle comics. But in what is his most political piece yet, Vir also traverses the tricky terrain of Indian politics, touching upon everything from right-wing nationalism to Section 377 to Narendra Modi and Rahul Gandhi. With For India already creating a lot of buzz, The Telegraph caught up with Vir for a chat.
For India has really caught on fast, hasn't it?
The Republic Day release clearly worked for us because in less than a week a lot of people have already watched the special. I am more or less pleased with the response. My work actually begins on the day of the release. I have done two of these before and I understand that it takes about 20 days for a comedy special to catch on but this has surprised me with its quick reach. Because this one is about India, there's been a very polarised response. It's either been, 'We absolutely love it!' or 'How dare you! Go to Pakistan!' (Laughs)
Given the material, I am sure you were expecting the polarised reactions…
I am not going to say that I wasn't and I was quite okay with it during the writing process. So far it's been largely positive. I don't usually get many good reviews (laughs), so it's very strange to suddenly have 15 good reviews in three days… that's very new for me.
Are there any specific bits that have hooked people more than the rest?
I went into this special thinking I would write about a universal India. But I quickly figured that it's impossible because there are 1.3 billion Indias. And that's why I prefaced the special saying, 'You may agree or you may disagree and that's absolutely okay'. Then I had to change the writing process completely.
I took over a club called The Cuckoo Club in Bombay and did about 45 shows in 20 days. I was basically on stage for four to four-and-a-half hours every day. The first half would be trying material and the second half would involve talking to the audience… like, 'What would you like me to write?' It was a secret set-up… only about 60-70 people per show… we would make them sign NDAs (non-disclosure agreements) and take away their phones… stuff like that.
Half the suggestions actually came from those people in the audience. I wanted to write about Nirbhaya and 26/11, but it was that audience that told me to write about Jallianwala Bagh and the Ram Mandir. I wanted to write about the Vedas, but they told me to bring in (The) Satanic Verses and Tinkle comics… honestly, it would have never occurred to me to write about Tinkle comics. Then I started feeling comfortable with the realisation that mota-mota people will be on board with the things I am talking about.
Honestly, you think you can predict what the audience will like but you never really know what to expect. I didn't expect the Parle-G bit or the Narendra Modi bit to land so well. It's hard to predict, honestly.
This is easily your most political — and, of course, most prickly — piece of work. It must have come from years of observation and thinking…
I have been trying political comedy for a while, simply because I wanted to get better chops underneath my feet. Political comedy has a fine line. A great comedian once said that it's easy to crack a joke if you know that 50 per cent of the people are going to laugh, irrespective of the joke and depending solely on their political beliefs. If you want to write a good political joke, write one in which both sides of the aisle will laugh.
So on this special, I have tried to bring in the audience with a Jungle Book story or Old Monk or Dil Chahta Hai. Once I managed to make them laugh and get them comfortable, then I started putting out the political jokes. I didn't start out wanting to write a joke about Narendra Modi or about Jungle Book and fuse them together. But I thought that given what's happening in the country today, I needed to put something like that out there. It was there in my subconscious all the time but my conscious effort is always to be funny.
Would you have been able to write this kind of material a few years ago?
I always knew that I wanted to do an India special… I was very sure about that. Had I just come out and done another show about my personal life, it would have come out as being too self-indulgent. People do very few comedy specials… I have had three comedy specials in four years on Netflix alone. That's terrifying because Netflix told me that there are six comics in the world who are doing specials… and I actually signed up for two after Abroad Understanding! (Laughs) So, I was like, 'I better make this one as different as I can'. The first one (Abroad Understanding) was a crossover story where I was like introducing myself: 'Hello, New York. My name is Vir'. The second one (Losing It) was a 'crossed over' story where I was in San Francisco. And with this one, I felt it was time to bring America to India.
Were you ever apprehensive that the Indiasplaining bits — where you had to explain quite a few of the desi references to the expat members of the audience — could take away the zing from the show?
I absolutely acknowledge that it may even have done that. But I would say that I am okay with that because you and I anyway do that, right? Say we are at a party and we have some American friends with us, we would invariably explain the India references to them. I really want to take our culture out there and this was a good way of doing it.
Is there anything you wanted to include but couldn't?
We actually shot five things in each category, but then the show just got too long and I felt it was taking away from the energy of the show. I also didn't expect the audience to be that energetic. Usually, the audience laughs at a gap of 20 seconds between jokes; here they were laughing between eight and nine seconds, so it was a much tougher edit. I ended up cutting one item — book, monument, movie, tragedy — per category. I figured it would be better to deep-dive into four things than skim over five things.
Will there be more of this because there clearly is no limit to nostalgia, politics or India?
(Laughs) I really don't know! I feel like I have just given birth! Right now I am going to act for a while and let life happen to me for a little bit. I am halfway through a world tour and then I will act for a while.
Travel shows, world tours, comedy specials, acting jobs… you've really upped the ante in the last few years…
I've worked very, very hard to work this hard! (Laughs) You know what I mean? I will grab at every opportunity and I think that everything that I do widens my perspective. I don't think I could have done a show about India if I hadn't left India for a while. I kind of had to remove myself from the bubble in order to write about the bubble. A lot of the writing of this comedy special happened in America while I was filming my ABC show, Whiskey Cavalier. It happened because I was so homesick and hence I started writing things I was getting nostalgic about. I feel leaving India informed me enough to be able to write this.
As far as acting goes, will the focus be more in India or in America?
Half and half. I have an Indian web series and an Indian movie to shoot in the first half of this year and then an American series in the second half of the year.