Vidya Balan on 'Sherni' and beyond
'The strength of a woman has been redefined for me with this film'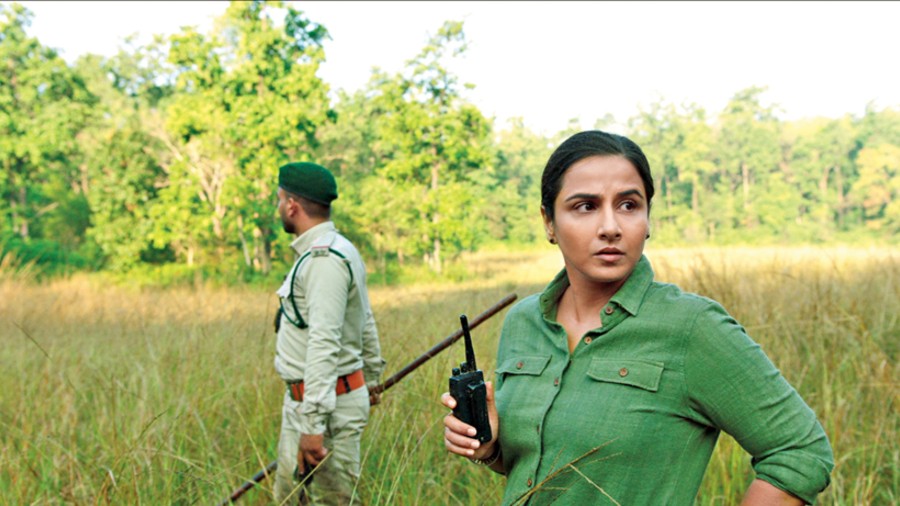 ---
Published 17.06.21, 11:57 PM
|
---
Vidya Balan personifies the strong woman, on screen and off it. Bringing yet another woman of mettle to screen, Vidya stars as a rookie but honest forest officer in Sherni. The film directed by Amit Masurkar — who gave us the powerful Rajkummar Rao film Newton a few years ago — has Vidya frontlining a cast comprising Neeraj Kabi and Vijay Raaz, among others, and focuses on the man-animal conflict.
Ahead of the film premiering on Amazon Prime Video today, Vidya chatted with The Telegraph on the strength of the women she plays and how she now understands the wild better.
You have played strong women all through your career. What is different about the strength of the woman you play in Sherni?
That it's not very obvious. Vidya Vincent (in Sherni) is the kind of woman who keeps to herself, someone who doesn't really want to engage with the world. She's quiet, she's reserved, she's reticent.... Like you said, I have played many strong women in the past, but the common thing between them was that they were all obviously strong, and more on-the-face.
Vidya Vincent is also very strong, she's stubborn, she's a woman of great integrity... she wants to do a good job and she wants to be taken seriously — this is her first field posting — and she wants to do the right thing the right way. She's fearless of the cost that comes with that. She's willing to do what feels right, irrespective of the consequences. That is fearlessness, that is strength. It's just that she speaks very little and she's not in your face at all. She makes you realise that you don't need to roar to be a tigress (smiles).
So was it more difficult to play her since you didn't have words to convey her strength?
Ya, most definitely! I couldn't find my way around her easily. For one, this is her personality, and secondly, I was working with a director (Amit Masurkar) who likes to keep things really realistic. He didn't want anything to come across as dramatic. Vidya Vincent, even in the gravest of situations, reacts with minimum emotion. Given that, I did sometimes feel, 'Oh my God! Am I being non-reactive?! (Laughs) As an actor, you are constantly asking yourself whether you are conveying what needs to be conveyed. That was a challenge. But it was a challenge that I enjoyed.
Did you have to unlearn anything about your craft in order to play this character?
There was no obvious unlearning as such, to be honest. But yes, it required a recalibration on my part.
Is recalibration the aim when you pick and choose the parts that you play now?
Ya, ya... absolutely! Rejig, recalibrate, unlearn... all these things. When I get out of my comfort zone, there is something to look forward to every time I go to set. When you are challenged, you are motivated because you are trying something new. There is always a certain joy in that, but there's also nervousness, there's also some amount of confusion as to how to approach the character. You have to understand that I am not a trained actor, so I have to find my way around these things.
From what I could gauge from the trailer, Vidya, surrounded as she is by men in a male-dominated profession, faces gender bias with quietude but also with a sense of humour. Is that how a majority of women are conditioned to take on gender stereotyping and sexism?
Ya, I think so! That's because women have been taught traditionally to keep the peace. Even when we are shaking things up, we either use humour or we do it quietly. But I feel it's important to call out gender bias, misogyny, sexism... that's also to make the person perpetrating it aware that it's not right.
Sometimes, people are not even aware what constitutes sexism and gender bias because our conditioning is so deep-seated. One is sometimes not even aware of the wrongness of what they are doing. The woman that I play in this film is not confrontational at all, and this is her way of dealing with it. Does that mean she's not strong? No, obviously not! She's strong... it's just that everyone has a different personality.
Honestly, the strength of a woman has been redefined for me with this film. Every woman in every household is probably finding her own way through this jungle of tradition and patriarchy and what not. She may not do it in a defiant way or in a rebellious way, but sometimes, rebellion is also in the way of making sure that her children, or even the other women in the family, don't go through what she has gone through. She may have to sacrifice her dreams sometimes, but does it make her lesser? Not at all. If it wasn't for the work of all the women who came before us, you and I wouldn't have been having this conversation today.
After doing this film, do you view the wild and the man-animal conflict differently? I was reading somewhere that before Sherni, creepy crawlies psyched you out but now you have made your peace with them...
In a way, yes. But it's not like if I see a snake today, I would say, 'Come here, let me take a closer look at you!' (Laughs) No, no, not at all! But it's true that now I am far less intimidated by the wild. I think I now understand that animals are not ready to pounce on humans... they also feel threatened by us. When you understand that, I think your attitude changes. It's actually two beings who are scared of each other. We are a part of nature as much as nature is a part of us. What we do to the environment will definitely impact us. When you have smog in Delhi for months on end, it's what we have done to nature....
The pandemic is a fallout of that, in a way...
Absolutely! We humans are upsetting the ecosystem. Global warming is one of those things. Before this film, I was aware of it, but it didn't mean much to me. But now, these things mean something to me.
Sherni has you in a loose khaki uniform with hardly anymake-up on. Kate Winslet recently refused body editing and skin smoothening and wanted her wrinkles to be on display in her show Mare of Easttown. You did that years ago, allowing your fat to bulge out and your dark circles to show, in The Dirty Picture. When you do something like that for a film, is it only to serve the part or is the intention to send out a larger message of body positivity and anti-ageism?
If it happens organically, it's a bonus. But I never want to give out a message pertaining to anything, honestly. Even Sherni doesn't give out the message of conservation. But I feel that the audience will take that out of it. At least, it will make you think a little bit. But I am averse to giving out any messages because I feel I am not a preacher (laughs).
It's high time, though, that women are just left to do what they want to do. I don't want to live a life where I am being constantly judged. It's really up to us as women to shun these judgments, whether it's age related or related to size. Only when we shun it, will there be a change... otherwise it will continue.
To end on a lighter note, you are having a lot of fun on social media of late. Are Instagram reels your new go-to distraction like you had told me Periscope was a few years ago?
(Laughs) I just love having fun on camera ya! I am not the kind to post any personal pictures as such. It's fun to try different things and keep my social media interesting. I still don't engage with social media that much, and I can't change that now. But I am really enjoying doing all these fun things!