Vicky Kaushal makes his fashion show debut with Janhvi Kapoor
Stars ramp it up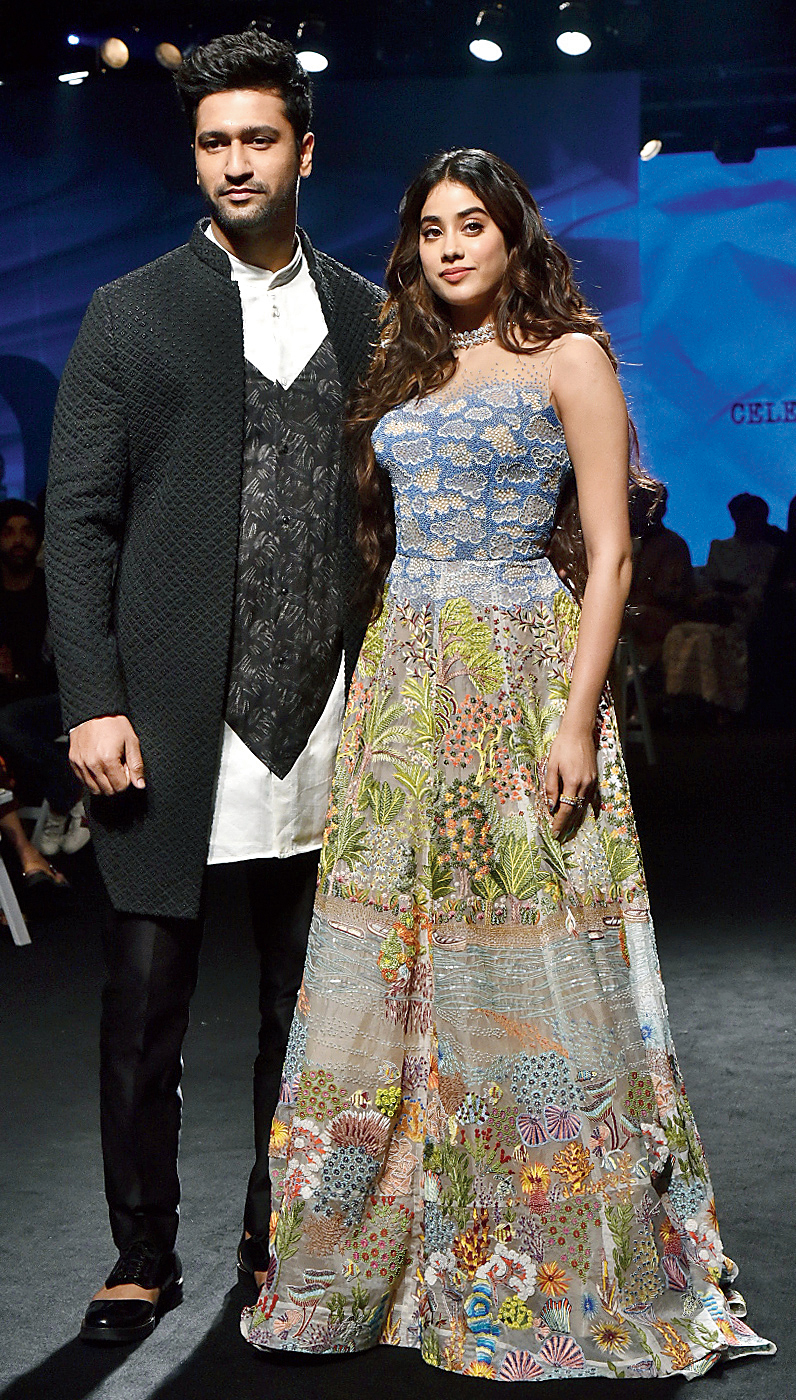 ---
---
Janhvi Kapoor and Vicky Kaushal — both of whom star in Karan Johar's Takht — were the showstoppers at the opening show of Lakme Fashion Week Summer/Resort 2020 held in Mumbai on Tuesday night. Excerpts from the chat with the media where The Woods was present.
Janhvi, you're wearing Rahul Mishra and Vicky you're wearing Kunal Rawal. What can you tell us about these pieces?
Janhvi: I'm such a big fan of his work and now I've got a chance to wear one. I'm very happy to wear it.
Vicky: We have been trying to collaborate since a very long time and I'm very that I finally got to wear Kunal Rawal. I really wanted to do this for a long time. This is the first time that I walked a ramp.
What's your personal fashion statement?
Vicky: It has to be an extension of my expression, in what I feel comfortable. It has to be me. If I'm wearing anything that is comfortable and I'm expressing myself, that's fashion to me.
Janhvi: I think fashion for me depends on my mood, comfort and also the occasion. It's very moody like me, today my mood is like jalpari I think (laughs).
What are you planning to wear on V-Day?
Vicky: Whatever your partner wants you to wear, simple (laughs). So that you have a very safe V-Day week.
Janhvi: I will wear what I like, partner ka koi choice nahi hai. Main khud hi ki partner hoon!
If you could bring back one vintage fashion trend, what would that be?
Janhvi: Vicky, you can say waistcoats. I think shoulder-pads for women.
Vicky: Waistcoats because Janhvi gave me this idea. Look, now she's asking me to say leotards. But my answer is bell bottoms!