Varun Sharma on why 2019 will be special
The comic actor has a packed couple of months coming up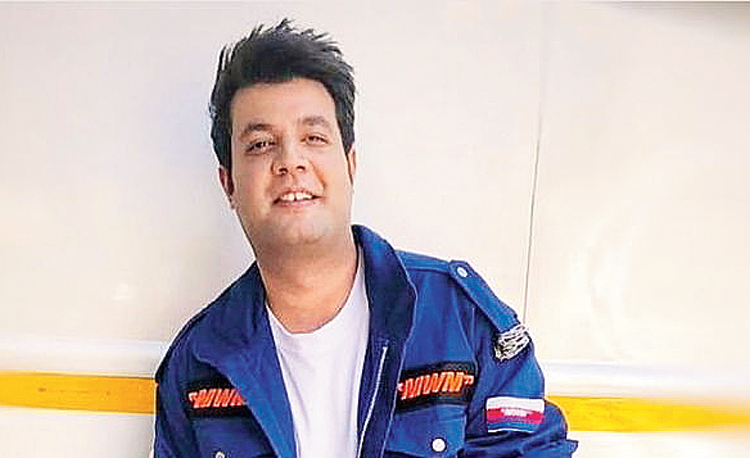 ---
---
With Arjun Patiala, Khandaani Shafakhana and Chhichhore lined up for release, Varun Sharma has a packed couple of months coming up. And he starts shooting Roohi Afza with Rajkummar Rao and Janhvi Kapoor soon. The Telegraph met the actor recently in Mumbai to talk about the spoof comedy Arjun Patiala that pairs him with Kriti Sanon and Diljit Dosanjh, his love for his Chhichhore director Nitesh Tiwari and why he's not afraid of getting typecast.
When we spoke last before the release of Fukrey Returns, you talked about wanting to do non-comic work. That hasn't happened, has it?
I have been getting some things that are not pure comedy but the ratio is still quite lopsided. The majority of scripts I get are in the comedy genre. At the same time, the films that I have signed show different shades of me as a comedic actor. Like in Chhichhore, my character ages, which is something that I haven't done before.
But I won't lie, the percentage of non-comedy roles coming my way is very low. I don't want to do anything apart from comedy just for the heck of it. If the pillars of a film, whether it's the script, production house or the director, are not strong, I don't want to attempt it just to show people my acting skills... it would be challenging in that scenario to make people accept me doing something new. Whenever it has to happen, it'll happen. Whether it's in Chhichhore or another genre I'm attempting in Roohi Afza, which is horror-comedy, there is a gradual shift happening. If something really crazy comes up in between, in films or digital, and it's really convincing for me to be a part of, I'll jump on it.
In the meantime, I'm enjoying doing comedy and I just hope I'm not repetitive, in terms of my acting style. My aim is to always attempt things differently while making people laugh or smile — I just hope it comes across like that and gets noticed by people. The day people tell me I'm different in my roles but still succeeding in making people laugh, it would be my biggest achievement.
Is there a fear of getting pigeonholed and not being able to get out of it? That's happened to good actors in the past.
I do get a little shaken up when people say I'm a comic actor or a comedian. Comedy is a very vast genre and I'm not a comedian, I'm just an actor who happens to excel at comedy. I love doing it, so I won't ever leave comedy just because there's too much of it happening. That's because I'm not scared of getting typecast. For an actor to get cast on a regular basis with good production houses and good scripts is a big task in itself... typecasting comes much later. Had I been typecast, I wouldn't be getting the films I'm getting right now. If there are films with good banners, good makers and good content coming my way, I'd be a fool to say 'no'. I do ensure there is variety in my roles and I'd be a fool to sit at home for two years waiting for people to wipe away that image... I love it too much for that.
It's taken me 24 years to achieve my childhood dream, execute it and get to where I wanted to be. The toughest challenge for any actor is to get accepted and loved by the audience... I love the acceptance I currently have with people and really value it. Whenever I walk out, whether it's at an event or at the airport, people look at me and smile. That's my biggest achievement and I hope I can continue to do that. Some day, when people ask me how I managed to pull off a certain role, that would be an added bonus. If all this has happened in my life so far, hopefully that will also happen some day.
In Arjun Patiala, you've got a chance to work with Diljit who you are a big fan of. What's he like as a co-actor?
He's a crazy guy, he's damn funny. I hail from Punjab and have always been fascinated by the music that he makes and the style of his videos. I've always been a huge admirer of his work, even when I was in my teens. Working with him and becoming best of friends on screen was a lot of fun. He's fantastic at comedy and a lot of the Hindi film-going audience would not have seen him for the kind of comedy he brings. His Punjabi films like Jatt & Juliet are hardcore mad films and he's phenomenal in them. On set, it was a lot of fun improvising with him. When you're working on a film like Arjun Patiala, where it's a mad world, the energy has to be crazy. Kriti and I go back five years, and we're very thick as friends. So, the energy on set was very different and the craziness translates.
You also ventured into the digital space recently, not as an actor, not as a host but as a quizmaster on Bollywood Bazinga on MX Player.
That's something I really wanted to explore. I lost my digital virginity and it was fun. Films are something that I've always been fascinated with and they told me there's this film quiz. I thought it would be interesting to do. I never thought I could be a quizmaster because I always thought it was hardcore... I've grown up watching BQC and KBC and that's really serious stuff. But this was a fun format and had anecdotes. This was one platform where I wasn't playing a character and was just being myself.
What's the the craziest bit of trivia you learnt?
I asked someone what was Aditya Chopra's first film as an assistant director. I didn't know this one myself... it was Chandni.
You mentioned Chhichhore which is being directed by Dangal man Nitesh Tiwari. How's that going?
Oh, lovely. I'm in love with him. He is just an incredible human being. There are certain things that you learn by just being around a person for a very long time. You inherit these and use them in your own life without even realising it. That's happened with me. I think Chhichhore is the film that's closest to my heart — it's a very entertaining film with a lot of soul in it. At the end of the day, it's a Nitesh Tiwari film... the expectations are really big and I just hope we live up to it. We've finished principal photography, the film's in post-production right now and comes out on August 30, which is around the corner.
And the film you go off to shoot next is Roohi Afza?
Yes. Arjun Patiala comes out and there's Khandaani Shafakhana that I've finished. It has Sonakshi Sinha, me and Badshah, and also releases soon. When we finished shooting for it, the film still didn't have a title, so we kept joking with the producers to name it, 'Picture ka naam kya hai? On Instagram we would tag each other with #picturekanaamkyahai.It's a comedy mixed with drama and family and is the journey of a small-town girl. And then there's Chhichhore in August. So 2019, hopefully, is going to be one of the most beautiful years for me.