Vadh sequel with Sanjay Mishra and Neena Gupta will be original, thrilling and more dramatic: Jaspal Singh Sandhu
Produced by Luv Ranjan, Vadh is a crime thriller that received plaudits from both critics and audiences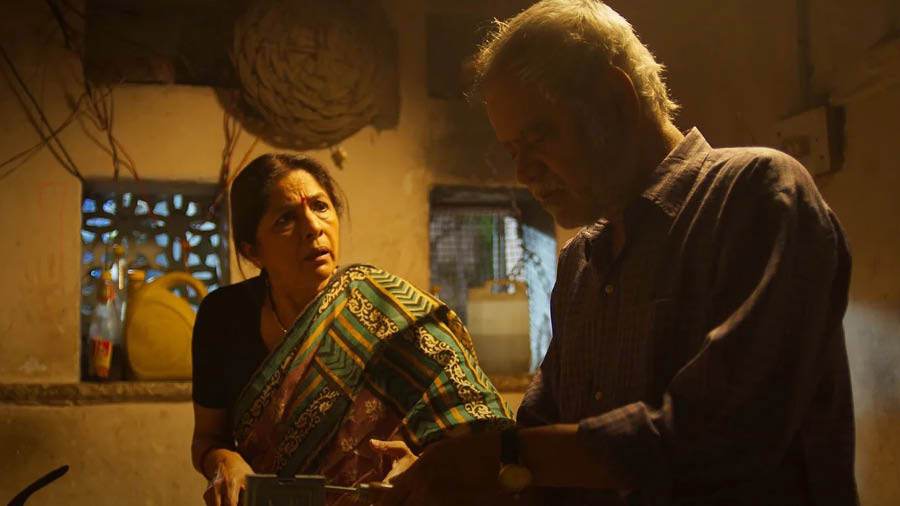 A still from Vadh (2022).
---
Calcutta
|
Published 17.01.23, 12:22 PM
|
---
Jaspal Singh Sandhu is set to come up with a sequel to his 2022 crime drama Vadh, starring Sanjay Mishra and Neena Gupta, that unfurls how the darkest crime can take place in the most unlikeliest of places and for the most mundane of motives. 
In a candid chat, Jaspal recently talked about how he is planning the sequel to Vadh, his experience of directing actors who are poles apart in practising their craft and his insight into pitching films.
What was the key takeaway from the response received by Vadh? 
Jaspal Singh Sandhu: I must make it clear that Vadh is a film and not a project. There's a difference between the two. People often say it would be beneficial to cast somebody who is commercially more viable. But we did not make any decision on the basis of commerce. We thought if Sanjay Mishra was fit for the role, we need not look any further. I think the key takeaway from Vadh was: we made a film honestly and people liked it.
What prompted you to make a sequel? 
Jaspal Singh Sandhu: Vadh has an open ending. We had thought of shooting some things in the first part itself. But then we decided against it and gave the film an open ending. Now that we have got a good response from critics and audiences, we're planning to come up with a sequel that would incorporate all those elements — something original, thrilling and more dramatic.
What's the status of the sequel? Is it going to be on a bigger scale?
We had already penned down some thoughts for the sequel which looked promising. Actually, Vadh came into being from a one-line idea and a similar thing is likely to happen with the sequel.
The scale of the sequel will definitely be bigger than the original. But again, it will be because of what the story demands, not just for the heck of it.
What is your experience of directing Sanjay Mishra and Neena Gupta, who are poles apart as actors?
When you have actors like these two, your work becomes easy. Generally, you think that some part of your thinking would get lost in the final outcome. But it was not like that with Sanjay Ji and Neena Ji. Rajeev Barnwal, our co-director, and I narrated the story to them. The dialogue would get improvised on the sets, but they already knew what the scenes were about. On the first day, we shot the scene when the characters played by Sanjay Ji and Neena Ji visit a cyber café to interact with their son. I had told Neena Ji that her character, Manju, suffers from knee pain. But I was awestruck by the way she climbed down the stairs in the first shot. She has a sharp memory and gets into the skin of the character quickly.
Sanjay Sir is an amazing actor. He got so deep into his character that he asked for a break. He said, "Mujhe andar se maayus lag raha hai." He closes his eyes when he listens to a narration or even before filming a scene.
These are the times when content is truly the king. Does it help you be gutsier with your choices of stories and casting?
Jaspal Singh Sandhu: Different stories are emerging, creating different choices. Some content is being made for theatres, some for OTT and some for both. Earlier, the financial outcome would decide things for cinema. Now, that has moved to OTT. Some people may not go to a theatre for a movie, but they enjoy watching it on OTT.
For instance, we've just had a phase of thrillers. We never had such a phase in Hindi cinema before. Earlier, it was all romance and musicals. So, there's definitely a change in the dynamics. But I think it's too early to predict the future.
You have also produced Punjabi films. So, along with the Vadh sequel, are you directing and/or producing something else?
Jaspal Singh Sandhu: When it comes to producing a film, I am not that guy who only puts in the money. We have made films happen with actors and writers. God has been kind that we could make some good cinema in Punjab. While producing in Punjab, I was working on some Hindi stories. I had written a few stories during the pandemic-stricken years. So, now I have to decide what to make.
You have been an enabler in Punjabi cinema. What do you think is your responsibility in terms of enabling new talent?
Jaspal Singh Sandhu: Old people will go and new ones will come — that's the way of the world. There should be a point where you can take a calculative risk. As cinema is the most expensive art form, there's commerce involved. But if you can keep an open mind to enable a newcomer who has the potential to become big in the future, it's a very big thing.
Which artists/filmmakers/films have influenced you?
Jaspal Singh Sandhu: I don't know whether my work is influenced by someone or not because I tend to forget things after watching them. I think that's a good thing for a creative person. But if I were to tell my favourites, I must confess that Ram Gopal Varma was my favourite filmmaker at one point of time. I adore Sriram Raghavan. Salim-Javed Sahab — who doesn't like their work? I am very fond of the Coen Brothers as I love watching the slow-burn treatment in their films. 
What other genres do you want to explore in the future?
Jaspal Singh Sandhu: I think that I write situational comedy well and definitely explore this area more. It might be an action comedy, crime comedy or dark comedy. And yes, I have a script that is 80 per cent complete — it's a grief-horror story involving a kind of fantasy world set in the 1950s. But this film requires a bigger budget; it's an aspirational film that I really want to make. I have narrated the story to some people. They were like, "Yeh zyada nahin ho gaya?" [laughs]. 
You just mentioned a new sub-genre called grief horror. The decision-makers in the industry often want to see visual templates or references before greenlighting a film. So, how would you pitch such a film to them?
Jaspal Singh Sandhu: The most important thing is to get time from a producer. I often say, "Give me two to two-and-a-half-hours of your time. I will create the world in front of you." You may not get references from movies ,but you can get them from the internet. You can show the producer a painting and explain what kind of world you're imagining. You have to do that homework. 
The most important thing is that you can tell a story only if you know the story. If your narration is good enough and if you can create that world, you can crack it. Sometimes, however, you may not be able to put everything that you imagine in words. I think the narration is very important. Actors, too, prefer narrations because they want to see the director's vision.