Vaani Kapoor on War, handling the failure of Befikre and having Aditya Chopra as mentor
War, the Hrithik Roshan-Tiger Shroff action thriller could be her ticket to the big league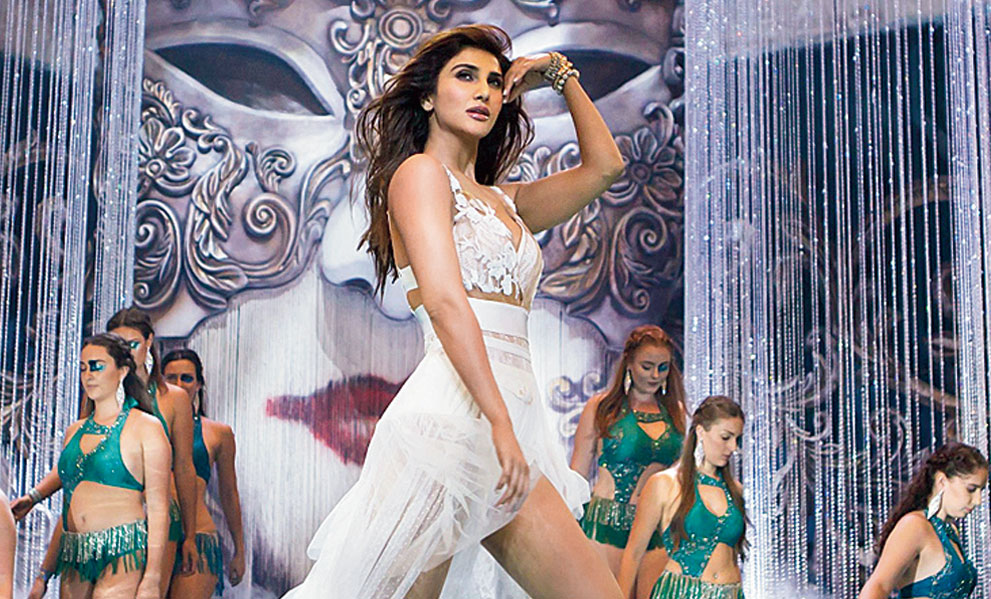 Vaani Kapoor in War
(Still from the movie)
---
Published 04.10.19, 11:44 AM
|
---
She made her debut with the 2013 rom com Shuddh Desi Romance, which was followed by Befikre that was helmed by the elusive Aditya Chopra. But Vaani Kapoor is still looking for that one film that will put her on the map. War, the Hrithik Roshan-Tiger Shroff action thriller could be her ticket to the big league. We caught up with the actress in a make-up room at the Yash Raj Films studio in Mumbai recently to chat about her two heroes, how she dealt with the flak she got for Befikre and what Aditya Chopra is like as a mentor.
War is a two-hero action film. What made you want to be a part of the film?
Even though it's a two-hero action film, there's such a pivotal role for a girl. It doesn't matter how long or short your role is, it's more about what you're doing in that part, are you making sense being in the film or not making sense at all? And it's a great project to be associated with — it's a once-in-a-lifetime opportunity for me to work with such an ace team. There's Sid (Siddharth Anand, the film's director) who makes his films look larger than life, and then Hrithik Roshan who's phenomenal. He's an impeccable actor and an even nicer person. And Tiger and he are so brilliant and phenomenal in what they do. It was an easy decision to be a part of such an ace team.
Tell us about your character in War...
There's warmth to her, she's sweet and adorable. With whatever little work I've done, there's a part of me that I've not explored on camera so far. I feel there's a side of me I've tried to bring into this character and it's very relatable.
Did you know either Hrithik or Tiger before you started the film?
No, I don't think I've ever met them before. 
Who's more fun to work with, and who's more fun off-camera?
I haven't worked with Tiger in the film, it's only been Hrithik. But I've gone to the set and met Tiger otherwise and hung out with him. We've had very basic conversations and he's very polite, humble and down-to-earth. He's a chilled, regular guy who works really hard. I've heard he wakes up super early and sleeps on time and is super strict with his diet. Whenever I've met him, he's met me with warmth and there's a lovely energy.
You've danced with Hrithik in the Ghungroo song. Was that daunting?
I was nervous, I won't lie about it. I'd be delusional to think I'd be as good as he is. There's a lot of hard work one can put in and there's this innate personality, body language and talent that one has. I think he's so innately blessed and on top of that he's put in so much effort and hard work.
Befikre was three years ago and the film didn't work. How hard was it for you to deal with that?
I genuinely liked the film, not just because I'm in it. In fact, a lot of people come up to me today and say they watched it and really liked it because it's a fun, happy, fresh film. If only more people had bought tickets back then and spread that word of mouth.
But at that point it couldn't have been easy for you?
Of course, numbers matter, for the filmmakers, the producer, and for us to get more work. But then, how long will I hold on to it and cry about it? Of course, I felt bad, I'm only human but one has to move ahead in life. I picked myself up. You learn to let go. Not everyone will applaud you in life, but some will and then there'll be people who will recommend you for the same thing. You can't make everybody happy.
Was there someone you turned to for advice and help during that period?
I have my family who's very strong — my parents and my elder sister. And there's an amazing set of friends that I have who are very close to me. They're like family. I have all these people who keep me in check all the time and keep me going in life. Professionally, of course, I have Shanoo Sharma (casting director at Yash Raj Films) who's been a huge support system for me. I have a wonderful producer, Aditya Chopra, who never lets you feel morally down and always motivates you. I also love my manager, she's like my friend — I've been blessed to have good people in my life at a time when I've needed it the most. 
You've had really long gaps between your films. In those periods when you've not signed the next one or the next one hasn't started, how did you keep yourself busy?
In a way, I've had a lot of time to chill. So, I get to do these amazing films and I also get to chill and not worry about a thing in life. Lucky me! I was privileged enough to travel a lot and I was working on myself. I was doing events to make money and then would take off and travel.
So, where all did you travel?
I travelled a lot to Europe because my sister's there. Also, with my friends. We went to Singapore recently and then we went to Prague and Rome. I do go to Amsterdam a lot. I also go to Dubai a lot, I have friends there.
You mentioned working on yourself. What did that involve?
I love watching films a lot... I'm hungry for food and films. I have seen numerous amounts of films and shows, in all sorts of foreign languages as well. It's my destress time. I've done that a lot. Then, I've focused on how I'm looking and my fitness. My parents don't keep that well with their health, my dad needs a lot of support. So, I was happy to be there for him 24x7 during his tough times. 
All your films, including the one that you're shooting right now — Shamshera — have been produced by Yash Raj films. Is that just a coincidence or is it by choice?
No, no choice like that. I want to work with such talented filmmakers who are outside YRF as well. Zoya Akhtar is one who I absolutely love and I hope some day in life I get the opportunity and that she considers me. There's Sanjay Leela Bhansali, there's Sujoy Ghosh, there's such a pool of talented filmmakers and I'm greedy as an actor to want to work with such people. But yeah, it just so happened that I've never really gone out and interacted with anybody, I've never been asked to audition for anything, only YRF has taken my auditions. Call it my luck or destiny, but ever since that time, they've put their faith in me. They believe in me, they believe that I'm a good actor and suited to the roles that they've hired me for so far. They've just backed me and I'm so happy that they have. I hope that some day other people can back me as well.
What is Aditya Chopra like as a mentor and what's the one thing that he's told you about this business that you think nobody else would have?
He's super fair to everybody and he has a lot of self-respect. He says he cannot work with people who don't respect themselves either. So, for us, it's very important to have faith in ourselves, self-belief and confidence and not sell ourselves short. He's also told me that Anushka (Sharma) and I resemble each other a lot in the way we think, behave and the way we are. He also finds her extremely solid and self-respecting. He likes that we would never compromise who we are and where we come from and our ethics and moral values.
He motivates us and inspires us to be ourselves. If I'm not comfortable going to a gazillion parties to network, he says it's okay because people will see my work and they'll come to me if they want to come. If I'm not good enough, none of this would help anyway. It's great that someone in this industry encourages you to do the right thing and lets you be you, rather than moulding you into clones of other people.