Twists and turns in Fantastic Beasts: The Crimes Of Grindelwald
J.K. Rowling, Jude Law, Johnny Depp and team give a glimpse of what to expect when the film opens on Friday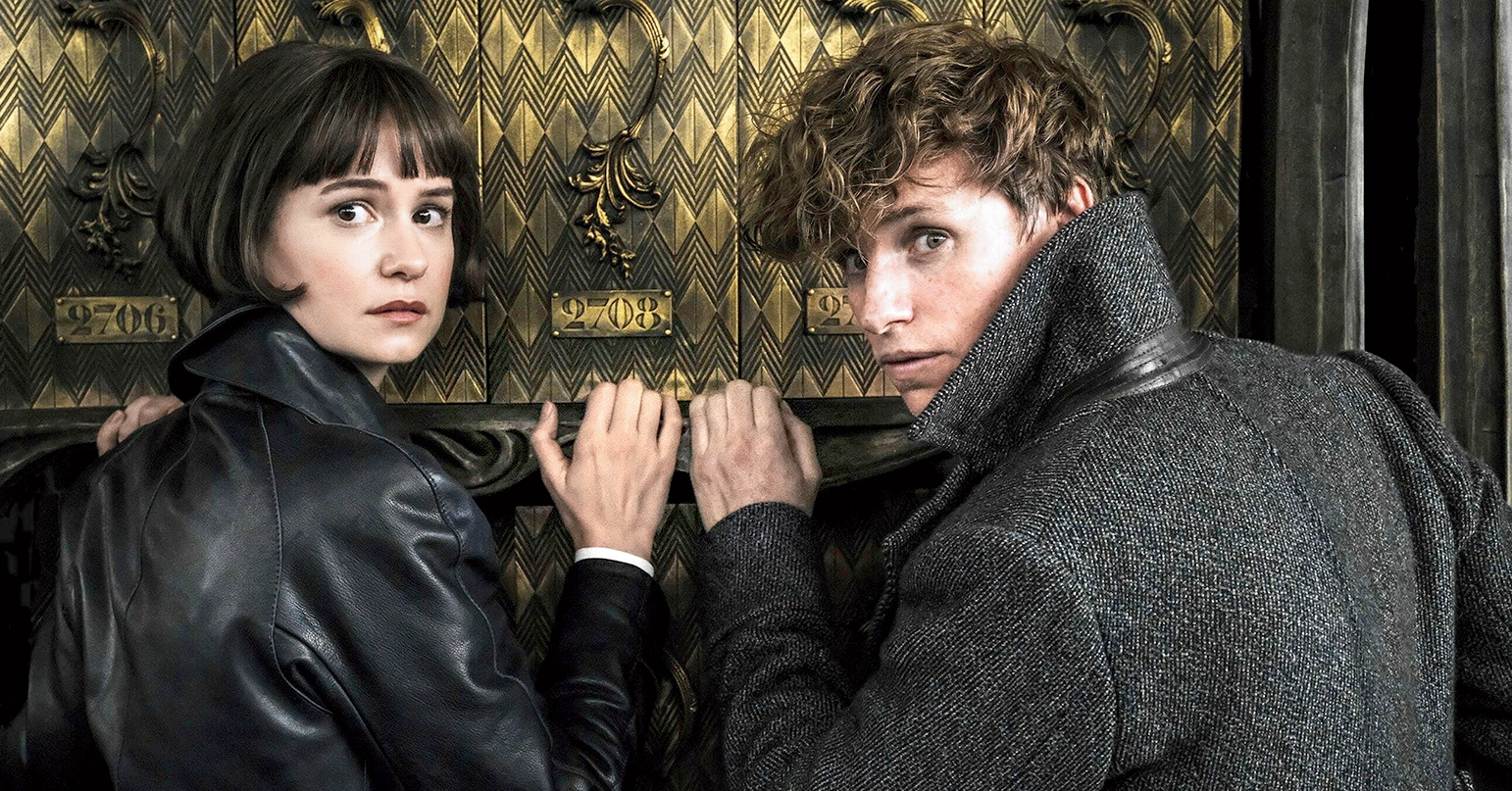 ---
---
Two years ago, Fantastic Beasts and Where to Find Them transported audiences back to the wizarding world that has captured their hearts and ignited their imaginations. Set in America in the mid-1920s, the film enticed fans with just a few fleeting allusions to the Harry Potter stories — a brief mention that Magizoologist Newt Scamander was kicked out of Hogwarts; that his only defender had been a certain Professor Albus Dumbledore; and the powerful Dark wizard Gellert Grindelwald, after wreaking havoc in Europe, had vanished. As the story continues in the second adventure, Fantastic Beasts: The Crimes of Grindelwald, those threads become even more intertwined.
Screenwriter and producer J.K. Rowling says, "Within the Fantastic Beasts franchise, I am telling a story that is only hinted at in the Harry Potter books — the rise of Grindelwald, who profoundly threatened both the wizarding and non-wizarding worlds, and his antagonist, Dumbledore, who, of course, is a key figure in the Potter stories. Grindelwald is first mentioned in Harry Potter and the Philosopher's Stone, so he was there from the beginning though he was more of a mysterious background character. You know he must have been important to figure so prominently in Dumbledore's own history, but it is only when you reach the end of the Potter series that you find out just how important he was… and you might also intuit that there must be much more to tell. I think this was the story I was most interested in revisiting because it's so crucial to understanding Dumbledore, who is my favourite character," she acknowledges.
At the helm of his sixth Wizarding World adventure, director David Yates recalls, "When Jo [Rowling] sent me the new script, my first impression was how different it felt to the first film we had made. This story is more layered and more intricate, with new character strands developing, and it's also a lot darker. But what really blew me away was how she created this feeling of an emotional thriller, with twists and turns I never saw coming. Jo is constantly evolving the universe she's built and, for me as a filmmaker, that makes coming back inspiring and always challenging."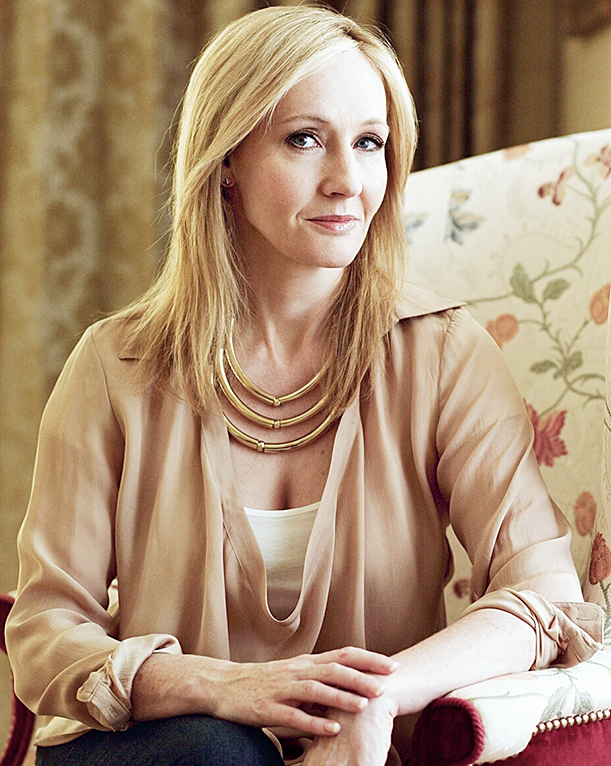 Grindelwald is first mentioned in Harry Potter and the Philosopher's Stone, so he was there from the beginning though he was more of a mysterious background character. I think this was the story I was most interested in revisiting because it's so crucial to understanding Dumbledore, who is my favourite character
- — J.K. Rowling
Layered, intricate & darker
Fantastic Beasts: The Crimes of Grindelwald once again teamed Yates and Rowling with producers David Heyman, Steve Kloves and Lionel Wigram. Heyman, who has produced all the Wizarding World movies, adds, "Jo invents stories that are so richly conceived and entertaining, with such vividly realized characters. There are themes in the film which are in some ways along similar lines to Potter —good versus evil, love and loss, friendship and loyalty, identity and feeling outcast.... There is also a strong thread about choices — choosing to take a side, or not — and the impact that has, not only on an individual but on everyone around him or her. These are universally relatable ideas that transcend any one time or place, so even though the story unfolds in a magical world, it's like holding a mirror up to our own."
Much has transpired since Magizoologist Newt Scamander departed New York for London, leaving a hopeful Tina Goldstein on the dock, and since Queenie Goldstein entered the bustling bakery owned by No-Maj Jacob Kowalski, who — despite having his memories obliviated — seems to show a somewhat bemused spark of recognition. In the months that have passed, Newt completed his book, Fantastic Beasts and Where to Find Them, which has become a bestseller. Queenie and Jacob have begun a furtive romance in violation of the American wizarding world laws forbidding it. And their relationship has caused a rift between Queenie and her sister, Tina, who, having been reinstated to MACUSA's Auror ranks, is responsible for enforcing those laws.
Reprising the role of Newt, Eddie Redmayne notes, "For the first movie, J.K. Rowling created four unique characters, all of whom were outsiders and struggling in their own way. It is only through the connections they develop with each other — through that symbiosis — that they thrive and find happiness and even love. But in the interim, through miscommunication and circumstance, things have shifted."
Rejoining Redmayne as the original quartet are Katherine Waterston as Tina, Dan Fogler as Jacob, and Alison Sudol as Queenie. Waterston comments, "When we met these characters, they were all struggling to come into their own, but hadn't quite gotten there yet. I found it was very compelling to explore how the important relationships in our lives push us, enlighten us, and help us grow. And J.K. Rowling has brilliantly weaved that idea — of the power of friendship — throughout this continuing, ever-expanding story."
For all the actors, one of the most exciting aspects of coming back for the second film was that "the roots of this story are embedded in the Potter lore we all know and love," says Redmayne. "The histories that were only touched on before are being torn open and explored. And the stakes are that much higher."
The links to Potter are immediately evident as, near the start of the film, Newt is mysteriously summoned by his former professor, now mentor and friend, Albus Dumbledore. Taking on the role of the beloved character, Jude Law is quick to clarify, "This is the Dumbledore who is not yet the great Headmaster at Hogwarts. He is closer to the formative, and more traumatic, experiences in his life that perhaps colour him. What was especially interesting for me — and for us as a team — was to try and layer in foundation points that keep him closely related to the Dumbledore we know, but with room to grow and learn and to make mistakes. And the stories we're telling will show the evolution of the character."
Wizarding World aficionados know there is one figure from Dumbledore's past who is inexorably tied to his evolution: Gellert Grindelwald. Arrested by MACUSA at the end of Fantastic Beasts and Where to Find Them, Grindelwald proves his powers are not to be underestimated — escaping in dramatic, and lethal, fashion. Once free, Heyman relates, "He begins to engineer events to further his cause: that wizards no longer have to live in secret, and that they should emerge from the shadows and be the dominating force in the world. He truly believes wizards are superior and should act accordingly. And he is very persuasive."
A beguiling villain
Yates says Grindelwald is a very different type of villain from the evil Lord Voldemort. "If you disagreed with Voldemort, he would kill you in an instant. But Grindelwald is incredibly beguiling. He would rather win people over to his side than annihilate them, and he is smart enough to understand you have to win hearts and minds, not coerce people, to gain their allegiance. So, whereas Voldemort was something of a thug, Grindelwald is a much more sophisticated player…and all the more dangerous for it."
Johnny Depp, who returns as Grindelwald, adds, "There is a rhythm to the way Grindelwald speaks, a cadence, that draws you in. Ultimately, what I felt about the character in terms of his presence is that it would be an exercise in stillness. I mean, his words are important, but what's even more important with Grindelwald is the subtext of those words. It is the dialogue that's silent — the meaning between the lines. It's almost hypnotic."
Grindelwald's ability to enthrall the masses leads to what Yates defines as a pivotal theme of the story. "These are circumstances when some characters will ultimately have to decide what they believe in. Will they choose a side or stand passively by and watch the world consumed in flame? That resonates throughout this film. And Jo has woven that into the search for the identity of one of the main characters who was known as Credence Barebone."
Played by Ezra Miller, Credence was revealed in the last film to be an Obscurial — a born wizard whose powers were suppressed to the point of becoming an Obscurus, a parasitical force deadly to its host, usually at a very young age. Rowling says, "You could justifiably have believed Credence had been killed, but, in fact, you can't kill an Obscurial when they're in Obscurus form. He survived, but the big question for him now is, 'Who am I?' His quest for his true identity is what propels him and becomes one of the major story strands in this movie. Who is Credence?"
Miller offers, "As she's done at every stage, beginning with Harry Potter, J.K. Rowling has taken the story to a new level of intrigue. She's delving even deeper into ideas that permeate all of her works — about the magic that exists in the connections between people, and people trying to find each other… and themselves."
Credence's search for his identity directly or indirectly affects almost every other character in the film, including Credence's friend and confidante, Nagini, played by Claudia Kim; a French-African wizard named Yusuf Kama, played by William Nadylam; Newt's older brother, Theseus, played by Callum Turner; and Theseus's fiancee, Leta Lestrange, played by Zoe Kravitz, whose picture was seen in Newt's workshop in the previous Fantastic Beasts film.
"I loved the first movie," Kravitz states, "and it was amazing to see it knowing I would soon be part of this incredible world of witchcraft and wizardry. But this film is a bit deeper, playing with some interesting ideas in the place between the dark and the light. It asks, 'Which path will you take?'"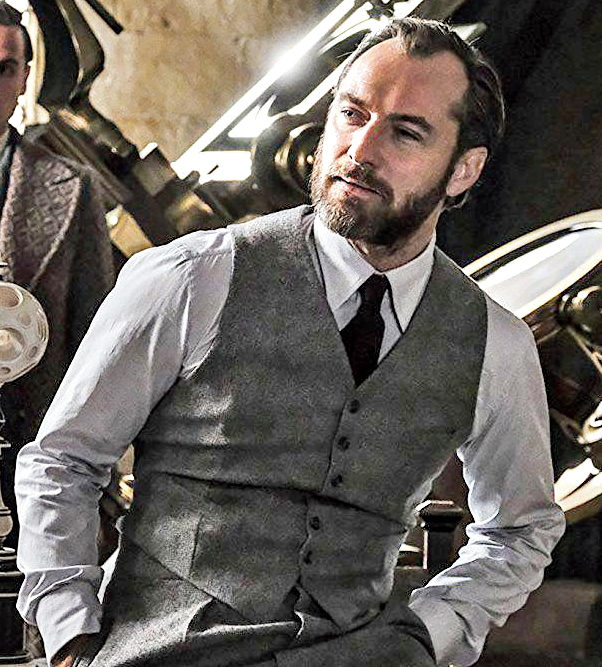 This is the Dumbledore who is not yet the great Headmaster at Hogwarts. He is closer to the formative, and more traumatic, experiences in his life that perhaps colour him. What was especially interesting for me — and for us as a team — was to try and layer in foundation points that keep him closely related to the Dumbledore we know, but with room to grow and learn and to make mistakes
- Jude Law
The beasts and beyond
Fantastic Beasts: The Crimes of Grindelwald has an array of magical creatures, including a few returning favourites. The tiny, sprig-like Bowtruckle, named Pickett, is once again Newt's constant companion, kept safely tucked away in his pocket. Pickett's innate ability to pick locks has also made him an invaluable ally.
The Niffler — a small, furry rodent-like creature with a long snout — is back, and still constantly on the lookout for anything shiny or glittery, which will inevitably wind up in his marsupial-like pouch. Sharing that instinctive obsession with anything sparkly is a litter of baby Nifflers, who also seem to have inherited their father's proclivity for wreaking havoc wherever they go. "So there is not just one scene stealer, there's an entire family of scene stealers," Redmayne jokes.
As with the first film, the creation of the beasts entailed months of concept designs and animation tests to determine the appearance, movement, behaviour and personality of each animal. Rowling based several of the beasts on the mythical creatures of various cultures, including the Chinese Zouwu, the Scottish Kelpie and the French Matagot. She affirms, "I'm fascinated by different mythologies and traditions, particularly when you're moving around the world, so where there is an existing creature in mythology, it just adds so much texture and colour. But some things I totally have to invent, and I really enjoy that process, too."
Heyman remarks, "Jo's descriptions in the script, as well as in the book Fantastic Beasts and Where to Find Them, were our starting point. From there, we had people from the art department and visual effects teams coming up with thousands of design ideas, and gradually, we would cull them down to the ones we were most excited about."
Case in point was the Zouwu, the largest and most ferocious of the beasts. Visual-effects supervisor Tim Burke says, "We had more than a hundred assorted concepts for the Zouwu. At one point, it resembled a more conventional big cat, but David Yates challenged us and said, 'Let's push this and really see how far we can take it.'" The final design is a massive feline with a tiger-striped body, a lion-esque mane that sparks when flared, sharp claws and four long fangs that curl up out of its mouth. One distinctly non-feline trait is its disproportionately long and ruffled multicoloured tail.
After escaping from Circus Arcanus, where it was severely abused, the injured Zouwu poses a threat to anyone unfortunate enough to cross its path… except Newt Scamander, who sees beyond its terrifying demeanour to the kitten within. Redmayne offers, "Newt believes that these creatures are just misunderstood, so his way of dealing with them is to have empathy and learn as much as he can to try and understand them. At his core, there is a strong ethos of compassion and conservation, and I admire that about him."
A group of puppeteers provided both the actors and the filmmakers with physical stand-ins for the beasts that would eventually be brought to life in post-production via visual effects. Supervising creature puppeteer Robin Guiver headed up the team, who had initially gained fame for their creation of the title character in Broadway's War Horse and also worked on Fantastic Beasts and Where to Find Them." Guiver notes, "Having a tangible representation of a creature gave the actors something to act with and react to. And we could approximate the size, so David [Yates] and his camera department had a physical reference to frame up on. David could also direct our puppets just as he would an actor to establish his blocking for a scene."
One of the most challenging sequences involved Newt having to tame a Kelpie, which takes him on a wild underwater ride. The green Kelpie looks very much as its name suggests, "like a field of kelp", Burke illustrates. "And then it takes on more of a horse-like shape when out of the water."
For the underwater portion of the scene, Redmayne was filmed in a water tank, where he was pulled along by wires that the VFX team would later replace with the Kelpie. However, Burke details, "When he leaps out and rides across the surface, there was no way we could do that on a rig that would work in water. Instead, going with the theory that everything could be shot dry for wet, with the water added digitally in post — we came up with this basic buck rig for Eddie to ride, like a pommel horse without the handles. We had four stuntmen moving the buck around the floor, which allowed the camera to move freely around and get the best angles. At the head, we had Robin Guiver wearing a pair of stilts with a fabricated horse head, which he was puppeteering. It really gave Eddie something to work with — he was pulling on the reins, fighting the Kelpie's head, and you can see that in his performance."
The Kelpie is only one of Newt's collection of magical creatures in Fantastic Beasts: The Crimes of Grindelwald. Two more animals in Newt's care are the Augurey, a large owl-like bird with sharp talons, a horned beak, colourful tail feathers and a very inquisitive face; and the Leucrotta, which deceptively seems to be nothing more than a large moose with long, jagged antlers, but when the Leucrotta opens its jaws, its mouth is cavernous.
Other beasts seen in the film include the feline Matagots, spirit familiars resembling hairless Sphynx cats, which are employed for security, as well as menial jobs, at the French Ministry of Magic; and Firedrakes, winged lizard-like creatures that might be mistaken for small dragons, except, instead of breathing fire, they emit sparks from the end of their tails that set anything ablaze.
Potter fans will immediately recognise the winged Thestrals, a skeletal equine beast with forked hooves and a pointed tail. Black in colour, they are only visible to those who have witnessed death first-hand. The Thestrals are pulling the carriage transporting Grindelwald to Europe to pay for his crimes. And Gellert Grindelwald can clearly see them.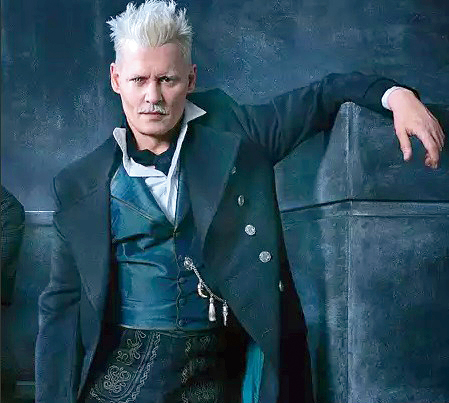 There is a rhythm to the way Grindelwald speaks, a cadence, that draws you in. Ultimately, what I felt about the character in terms of his presence is that it would be an exercise in stillness
- — Johnny Depp
Slipping into costume & character
Costume designer Colleen Atwood, who won an Oscar for her work on the first Fantastic Beasts, came back for a second foray into the wizarding world. "This world was made for Colleen," Yates declares. "She is a true artist, and it's a wonderful canvas for her."
In creating the costumes for the returning characters, Atwood wanted to mirror their evolution since the earlier film. "They have all matured a bit and are in another phase of their lives," she says.
Starting with Newt Scamander, she notes, "Newt still has his beasts, but his shell is a little slicker. We put Eddie in clothes that are close to the same silhouette, just a bit better fit."
Atwood took a similar approach to Dan Fogler's Jacob, whose success as a baker is denoted in his natty new suit, "with all the pieces made out of the same matching fabric", she points out.
Each of the Goldstein sisters has also undergone a noticeable change. The designer explains, "Tina has more self-assurance since her reinstatement as an Auror. She looks like a true detective in a great blue leather coat. We were fond of everything about it… except how much it weighs."
"That thing weighed so much; it was a workout just to put it on," Katherine Waterston confirms with a laugh. "But it really helped me to define her, so it was worth it."
Credence's transformation is outwardly reflected in both his clothes and his hair, which is no longer in an awkward bowl cut.
For Nagini, Atwood outlines, "Throughout the film, she is wearing her performance costume from the magical circus, so I wanted to amplify the fantasy aspect. For the material, I took lace and screened over it with metallic foil to give the look of snakeskin, and then added ruffles around the bottom and the sleeves to suggest the coils of the snake."
"I think Colleen really captured the beauty and the tragedy of Nagini in that dress," Claudia Kim comments.
Unlike Nagini, Atwood says, "Leta is from the manor born, so her clothes are all very elegant and rich in colour. Zoe looks fantastic in anything, so it was fun to dress her for the period."
One of the more daunting challenges was designing the costumes for Albus Dumbledore. However, Dumbledore is years away from wearing the long, flowing robes that defined his wardrobe as the Headmaster of Hogwarts. Atwood remarks, "David Yates and I wanted Dumbledore to be the professor the kids all love, their go-to guy. He needed to look professorial but at the same time approachable, so I used softer fabrics and textures in tones like heathery grays, which add to the approachability of the character."
Jude Law offers, "Colleen and I liked the idea that he had the eccentricity of a Hogwarts professor but also had a certain swagger and wore suits with panache."
Atwood has costumed Johnny Depp for a wide variety of characters over the last three decades. In designing the clothes for Grindelwald, she says, "The name begged for an Alpine twist, and I've always loved Bavarian clothing.
We made the lederhosen a little bit longer, coupled it with a tall boot, and ended up with a kind of Bavarian meets the New Romantic. And no one sells a costume better than Johnny Depp."
Magic's the word
Inarguably, the most important accessory for any wizard or witch is his or her wand, so a great deal of thought goes into the wands created for the individual characters. Hod prop modeller Pierre Bohanna, who has been crafting wands since the first Harry Potter film, says, "The wonderful thing is that the wands are bespoke to each character, so naturally, they should reflect their personality and taste."
For all of the cast, receiving their wands was a highlight of their time on the film. "I was blown away," Depp states. "In my mind, it didn't register at first that it was the Elder Wand. But then I realised that Grindelwald has the most powerful instrument of magic, be it bad or be it good."
Actors playing wizards for the first time were given a short course on proper wand usage. As Dumbledore is known to be among the most prominent of wizards, Jude Law acknowledges, "I needed to become very familiar with the wand. I looked at how people in the past held them, the flourish with which they used them."