Turkish TV shows are making us dizzy: here's why and what to watch for starters
Turkish dizi are sweeping sagas with each season having 35-40 episodes, and each episode lasting 120-150 minutes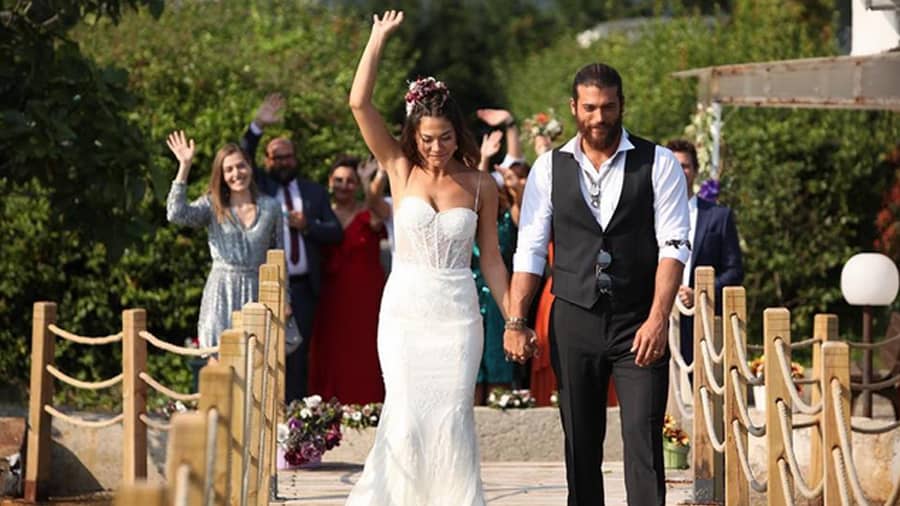 A scene from Erkenci Kus (Daydreamer)
@erkencikusdizi (Facebook)
---
Calcutta
|
Published 02.07.22, 05:22 PM
|
---
Swoony men, stunning women and some superb storytelling – if this is the trifecta of all that you might be on the lookout for in your next binge-watching spree and may have already exhausted in the English language, look no further west than Turkey.
Turkish dizi (series), as they are called, have gained immense popularity across the world including in India and, thanks to global viewership and international sales, Turkey is second only to the US in worldwide TV distribution. The first Turkish show to air on Indian screens was Adini Feriha Koydum on Zindagi channel and was an instant hit. MXPlayer has since been adding dubbed Turkish content for free-viewing and is a popular site with Indians. But you don't have to be restricted to just Zindagi and MXPlayer anymore. The world of Turkish dizi is far more varied and easily available.
Whether you are a historical saga nut or a romance buff or a romcom addict or a thriller enthusiast, there is something for everyone when it comes to Turkish dizi. If you have no idea what to expect or where to start, we have an all-you-need-to-know of Turkish dizi for you. 
Statutory warning: we shall not be held responsible if you spend sleepless nights and dizzy days once you get started!
Like for any good thing, you need to put in hours Turkish dizi are sweeping sagas with each season lasting typically from 35-40 episodes on an average. Each episode in a season lasts 120-150 minutes, which is as long as a movie. So be prepared to start watching only when you can put in at least two hours at a stretch. You can always stop halfway, but it might be difficult to do once you start (don't say we didn't warn you). If you are wondering how it is possible to keep you hooked for 40 two-hour episodes, don't worry. Superb storylines, great acting and innumerable secondary characters that you get invested in will keep you going. There are always some hits and misses and sometimes forced and repetitive plot points can be irritating, but it more often than not gets better soon.
You can watch them for free
There are lots of Turkish shows available on free sites like MXPlayer, which are dubbed in Hindi (and not terribly badly) and on YouTube, with English subtitles. There are other free sites that show up on Google search but too many pop-up ads can become annoying. The best thing about MXPlayer and YouTube is that they are broken up into shorter episodes, usually an hour on MXPlayer and 30 minutes on YouTube, making it easier for you to stop from spending sleepless nights (we haven't been very successful at it, but you can always try). For those of you who have Netflix subscriptions, rejoice! There are some great Turkish shows and movies on the OTT platform covering everything from romance to action and fantasy to comedy.
Subtitled is the best way to watch
Die-hard dizi fans prefer to watch the shows in Turkish with subtitles. Even if you are not a fan of subtitles, give it a chance. After a month, you'll know enough Turkish to get by on the Turkish holiday you will soon be planning (more on this later). The subtitles are sometimes hilariously scrambled, which makes romcoms and comedies even funnier. The English dubbing is actually pretty good, the Hindi not so much, but none of them feel as satisfactory as watching them in the original language.
Family is at the core of Turkish dizi
Historical drama or romcom, action or fantasy, family plays an important role in Turkish dizi. Grandmothers, grandfathers, parents, aunts and uncles, siblings and cousins all have important roles to play in the development of the plots, whether they are supportive, conflicting or downright evil. They often become secondary central characters with story arcs of their own. In fact, a lot of time is dedicated to family dynamics in almost every show, but they are a world apart from the soaps that are on the screens on Indian television. They are really modern in theme, settings, clothes and habits, which makes sure that audiences around the world are not alienated, but they are also built on core Turkish values and customs, weaving a bit of both its good and bad. 
Friendship is also an important aspect of Turkish dizi and is often as integral to the show as it was in shows like F.R.I.E.N.D.S or How I Met Your Mother. 
Be prepared to fall in love with love Some of the most popular Turkish shows are romantic ones and even those that are not out and out romances have love stories that are central to the plot. From swoony to steamy, sweet to stormy, no one does romance better than Turkish television. There are some usual tropes – economic class difference, difference in value systems, love triangles, exes and competitions, workplace settings and innumerable misunderstandings – and some of it can become repetitive and boring, but you can bet you will have a smile on your face and a dreamy look in your eyes once you start watching. There might be some kisses and zero sex, but it is definitely sensual thanks to the chemistry between the actors.
Turkey is stunningly beautiful Most of the Turkish shows are shot in Istanbul and mostly in location as opposed to sets and they show off the city in gorgeous details. From the Black Sea and Marmara coastline to the Bosphorus Bridge on the river, from the mohallas to the upscale neighbourhoods, from the old architecture to the glitzy financial district, the dizi are a showcase for the city. The shows are sometimes also shot in other areas, cities and resort towns around Turkey like Cappadocia, Antalya and Agva which are absolutely gorgeous. We'll be surprised if some of you don't start planning a Turkish holiday once you have watched a few shows.
The shows will make you hungry The Turks know how to set a table and food is the language of love. Funnily, Turkish Delights are the least seen food item on screen. While everyone already knows about the kebabs, the shows have introduced us to food like Dolma (stuffed vine leaves), Kofte (meatballs), Corba (soup), Sarma (wraps), Borek (puffs), Doner (subs) and Simits (pretzels). 
When it comes to beverages, everyone is drinking cay (pronounced chai), which is Turkish black tea, all the time. Kahve, Turkish coffee, is also extremely popular and served usually after a meal and with dessert. You might be tempted to buy a Turkish coffee pot given how much you will see it on screen (some of us have already done it, but are struggling to get the froth right). 
Both the men and women drink a lot of alcoholic beverages (and get smashing drunk) but all alcoholic beverages are blurred out on screen. 
Turkish shows are eye candy central All the men and women in Turkish shows are gorgeous, and not just the main characters. We have our favourites but we think we have barely scratched the surface. We'll leave just a few names for you to Google so you are not as unprepared as we were by all that beauty – Can Yaman, Kerem Bursin, Burak Deniz, Ibrahim Cellikol, Hande Ercel, Demet Ozdemir, Esra Bilgic, Beren Saat (you are most welcome). 
Some shows to get you started If you are a romance buff, then you can start with Sen Cal Kapimi (You Knock on My Door) or Erkenci Kus (Daydreamer). If you are a historical drama buff you can watch Rise of Empires: Ottoman or Dirilis: Ertugrul (Resurrection: Ertugrul). Crime buffs can tune into Fatma or Kara Para Ask (Black Money Love) and fantasy lovers can watch The Protector or The Gift.