Tracing the journey of Fauda to its Indian reimagining Tanaav
The Telegraph chatted with Sameer Nair, CEO of Applause Entertainment, and Sharon Levi, MD of Yes Studios on the process of Fauda becoming Tanaav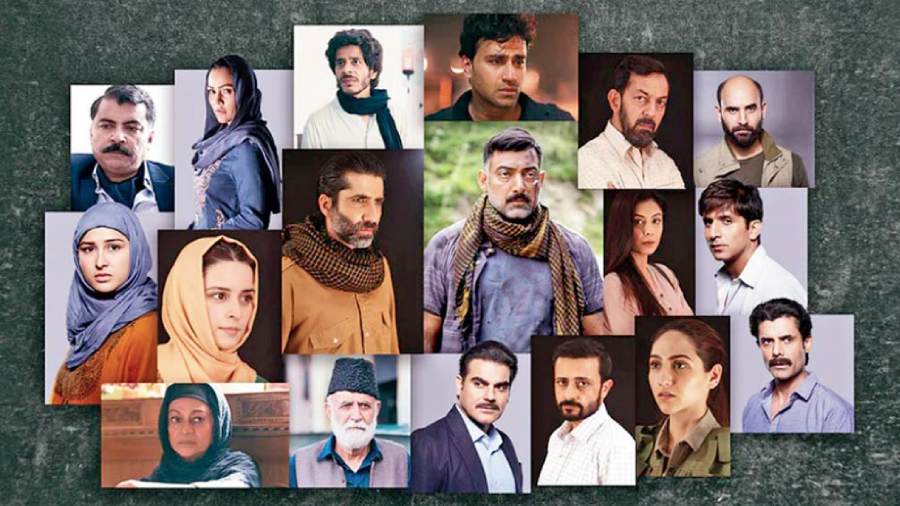 ---
Published 09.11.22, 06:33 AM
|
---
Tanaav, the Indian adaptation of the highly acclaimed Israeli series Fauda, streams on SonyLIV this Friday. Created and produced under the banner of Applause Entertainment — that has successfully adapted international shows like Hostages, Criminal Minds, Luther (which became Ajay Devgn's Rudra) and Your Honor — Tanaav is set in Kashmir and is directed by Sudhir Mishra and Sachin Krishn.
The 12-episode series boasts of an eclectic ensemble cast comprising Arbaaz Khan, Danish Husain, Ekta Kaul, Manav Vij, MK Raina, Rajat Kapoor, Satyadeep Mishra, Shashank Arora, Sumeet Vyas, Sukhmani Sadana, Waluscha De Sousa and Zarina Wahab.
Created by Avi Issacharoff and Lior Raz, Fauda is distributed by Yes Studios, Israel's leading distribution and co-production service. The Telegraph chatted with Sameer Nair, CEO of Applause Entertainment, and Sharon Levi, MD of Yes Studios on the process of Fauda becoming Tanaav.
Sameer and Sharon, what was the thought behind this collaboration and how did the decision to adapt Fauda come about? How will this association be fostered further?
Sameer Nair: I had seen Fauda and really liked the show. It had a distinctive narrative style and a gritty, realistic lens on what easily, and often, becomes a glam version of counter-intelligence and homeland security. We had reached out to Yes Studios in late-2017 while we were in in the process of acquiring Your Honor to begin discussion on Fauda. It took its time, including a trip to Tel Aviv in January 2019 to meet the creators Avi (Issacharoff) and Lior (Raz). And six months later, we had acquired the rights to reimagine Fauda in India.
Going ahead, apart from the existing format licensing, we hope to deepen our relationship with Yes Studios by exploring co-development and co-funding of new shows, and jointly collaborating on distribution and monetising of what we create together.
Sharon Levi: The thought behind the collaboration on Fauda started firstly with the story. Fauda is not a series that can easily be adapted on a global scale and it strongly depends on the individual stories in each country. We were seeking a strong local story that the audiences in India and the region can identify with and with Tanaav, you see exactly that. We have been collaborating with Applause and SonyLIV on both Tanaav and Your Honor and truly look forward to cooperating more in the near future. How does the universality as well as the specificity of Fauda lend itself to an Indian adaptation?
Sameer: The thriller plot of Fauda is distinctive and unique… it has all the elements of exciting storytelling with twists, turns and surprises. But the gritty, realistic take on patriots and insurgents, and the fact that both sides have families and loved ones, make it a universal human story.
For us, the added advantage was that we have a similar yet different socio-political situation in Kashmir, and that allows us to nuance the story to reflect our reality.
Sharon: At the end of the day, Fauda tells human, emotional stories. From several points of view, regardless of the political views. People all over the world can relate to these characters and stories, as they can with Tanaav. The viewers hurt with them, love with them, get upset and frustrated with them and mostly, this is an edge-of-your-seat type of series. The tension and stakes are high and it makes you want to binge-watch the whole series.
Sameer, does making a subject like Tanaav make it much more contentious in India, or rather this part of the world, than it would be anywhere else?
Sameer: I think Tanaav is an important story to tell... it reflects a reality rather than a fantastical version of reality. By not resorting to histrionics and melodrama, the story unfolds in a taut and tense manner with the focus on the reality of the human beings behind the often over-the-top events and sensational news reports that dominate our mind space. I don't think it's contentious... it's a style of narrating a story that makes you think rather than telling you what to think.
Sameer, is this the biggest adaptation yet for Applause, at least in terms of ambition and scale?
Sameer: Yes, Tanaav would be right up there with Rudra, and coming soon, Gandhi (directed by Hansal Mehta), would count as one of our biggest and most ambitious shows. Sameer, based on the ones that you have done so far, are there any specific learnings you have gleaned from how global adaptations work in the Indian market?
Sameer: The first rule of adaptations is to find a universality of human emotion that can travel to and resonate with your market. Then comes the matter of the reimagination — the context, milieu, the cast, the crew and the local lens we choose to take. For example, Your Honor was set in Punjab that contextualised the show in its entirety. Finally, it's about staying reasonably true to the original format but retelling that tale in a syntax that finds favour with local audiences.
Human beings have been retelling stories from time immemorial, from variants of the mythologies to modern renditions of Shakespeare. Great stories, if found relevant, must be retold to new audiences and new generations of old audiences... it helps preserve and perpetuate good values and beliefs.
Sharon, what is it about Israeli stories and Israeli storytelling that makes it popular globally?
Sharon: That's a very good question. Israel is such a small country and yet has such a wide variety of cultures, backgrounds, history and traditions. We are also in a complicated geo-political situation, surrounded by enemy countries, which forces us to come up with stories and be creative in order to escape reality or confront it, all at the same time. The mixture of the cultures brings creativity to its best, being diverse, colourful, emotional. Content that has strong travel ability.
We are seeing it with shows like Fauda, Tehran, The Beauty Queen of Jerusalem or shows that shed a light on the religious communities like Shtisel and Fire Dance, or contemporary shows from various genres such as Your Honor, which celebrates 10 different versions worldwide, On the Spectrum, The Conductor and even romantic comedies such as the award-winning Bloody Murray.