It was a glorious November morning. I was travelling from Mumbai to Pune via the expressway. The car was cruising at a comfortable 80kmph. Kishore Kumar was on the music system and the scenic Sahyadri mountain range was in front of my eyes in all its splendour. Just when life couldn't get any better, my phone rang. The screen displayed 'Dada calling'. Dada, as Pradeep Sarkar is fondly referred to, isn't big on social calls; which meant it was work related. Dada, as usual, was terse. "Akta chhobi korchhi. Tui achhish. Korbi toh?" (I am making a film. You are there. Will you do it?).
"Okay," was my equally short reply.
"Won't you ask anything about the film?" Dada was taken aback by my unquestioned acceptance.
"What's there to ask Dada? You are making a film and you have cast me. That's more than enough for me."
"At least ask who you are cast opposite?"
"Who?"
"Kajol," Dada tried to suppress his glee of having stumped me.
"New girl?"
There was a five-second pause and then Dada screamed, "KAAAJOOOOLLLL".
Whaaat!?!? But I didn't get the time to display my complete surprise since Tujhe dekha toh yeh jana sanam (instrumental version) started playing in the background and the Sahyadri magically transformed into a Swiss meadow where I was doing cartwheels in sheer joy! With a lot of restraint, I kept my voice devoid of any emotions and managed to croak, "Okay Dada", as if it's every day that I get to act opposite my screen crush!
Soon I was on a flight seated beside a polite boy who was to play my son in the film — Riddhi Sen. We were travelling to Mumbai for the joint reading session and costume fittings. I usually watch a film on my iPad while flying but since Riddhi had the script already, I decided to read it. After I finished reading it, I was awash with feel-good emotions and was glad that I was getting to be a part of this film. In retrospect, the final film is so different from the first draft. But that's a different story for another day.
We were all gathered at Dada's Bandra apartment for the joint reading session. Apart from the Cal boys Riddhi and me, there was our director of photography, Shirsha Ray. I congratulated him on the awards that he had won for Konkona's (Sensharma) film, A Death in the Gunj, and also joked, observing Dada's near-complete Bengali team, whether we were at the the right pin code!
In between our light banter, Kajol walked in. She was simply dressed in jeans and a top, shook hands with all the actors and got down to the business at hand, keeping her 1,000-watt smile intact. I could see the boys go moony-eyed and turn to mush but Dada's polite but firm interjection, "Let's all be serious now, shall we?" provided us with enough impetus to course-correct. The professional in me took over and I tried to gauge who and what I was up against, so I went with gusto at our very first scene together. She was slightly surprised by my enthusiastic approach but being the quintessential pro herself, responded with equal fervour.
I realised, here was a lady who would give no quarter. From the corner of my eye I could see Dada smiling mischievously, having realised what I was up to.
The next day was our photo-shoot. Mainly for the photos which were to be framed and displayed around the living area of Eela and Arun's living space.
A sharp eye will have noticed that all of Arun's photos were with his beard on, but Arun didn't have a beard; he had a moustache in almost all the scenes.
This was because on the second day of shooting, Dada decided that Arun, being a '90s man, most likely would have sported a moustache; and since I was playing an advertisement professional, a beard would be too much of a cliche, so technically my first shot with Kajol was our post-marriage photo at the registrar's!
The shoot commenced two weeks later at the famed YRF Studio. My first shot was ironically my last scene in the film, with Kajol and Riddhi at the dining table. I told Riddhi that we were now representing the Bengali film industry and we should give our best so that they have the highest regard for our industry. That seemed to charge up the talented lad.
Dada made us approach the scene in various ways. Like a symphony conductor, he wanted to set the right tone for the entire film. It was creative collaboration at its best and I realised that the rest of my schedule would be enriching and enjoyable.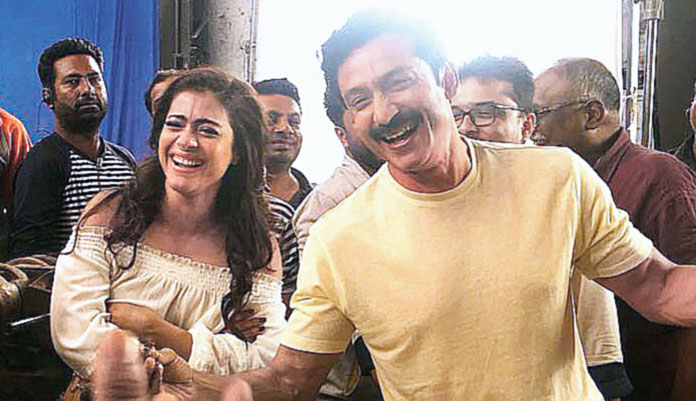 Tota does the SRK pose much to Kajol's amusement on the sets Agencies
I observed a couple of things about Kajol. When she came to the sets, she didn't fiddle around with her mobile phone and only took those rare calls which were from her home. She concentrated on giving her best shot, or tried her hand at the piano which was a part of the props. By the way, she is quite a decent pianist.
On the third day, sometime in the evening, I was filming a scene with her when all of a sudden I had this epiphany that she actually began her lines with her eyes! You could almost see her forming the words in her cornea, for Christ's sake! That's the sign of a born actor.
In the second schedule we mainly filmed the outdoor sequences. I was given a 25-year-old Yamaha RX100, a popular motorbike in the early '90s. Now this was a piece of work! Like most artists, it was temperamental. Some days it started without a fuss and ran smoothly. Other days it sputtered, coughed and teetered favouring the left side.
I promptly dubbed it 'Comrade Mahamaya', for its obvious 'left' leaning and Indianising Yamaha to Mahamaya! There was this song sequence on the Aksa beach. Shirsha, for the only time in the film, requested me for a shot where I had to ride along the waves at a depth of one-and-a-half foot of sea water, with Kajol riding pillion. She was to spread her arms in joy. It was high tide and for every take, I had to ride on a new pathway. I could feel the sand shifting beneath the bike. Too much rev and the tires dug in. Too little and the bike wobbled. I had to go at a certain speed factoring in Kajol's movements. It was tricky and dangerous. Dada, too, didn't help when he nervously hissed into my ear, "Pheley dish na. Chhobi bondho hoye jabe." (Don't make her fall. The movie will be stopped). Like Kali Banerjee in Ajantrik, I pleaded with Mahamaya to cooperate. And cooperate, she did! After about 12 takes, Shirsha was satisfied, Dada was ecstatic, I was relieved. I literally kissed Mahamaya and thanked her. Kajol rolled her eyes.
On the last day of my shooting, the crew gave me a grand send-off. Cakes and candles were arranged. The unit gathered. Dada gave a touching speech. Kajol said, "You are a wonderful and generous actor. I am so glad you did the role."
I said, "Thanks Kajol. Errr, I have had this ardent desire to do something for the last 22 years. May I ?" Before a very perplexed Kajol could react, I spread my arms, in trademark SRK style. She burst into laughter and I realised that wishes sometimes are horses!