The Telegraph's K-drama recommendation for this week: While You Were Sleeping
Not only does the show blend the supernatural with the real seamlessly, it gave us the pairing of Suzy and Lee Jong-suk whose on-screen chemistry was one for the books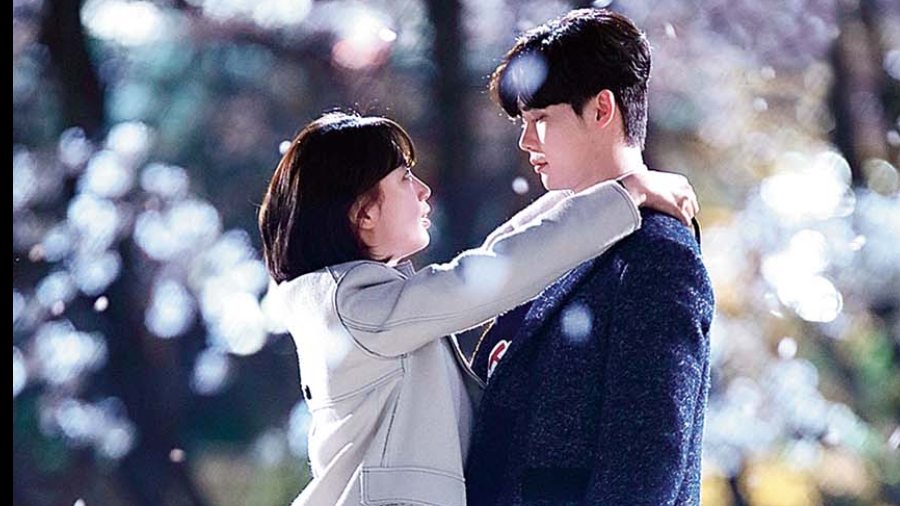 ---
Published 19.09.22, 04:30 AM
|
---
2016-2017 was a golden year of K-dramas with a number of brilliant productions but of them, While You Were Sleeping undoubtedly deserves a special mention. Other than the fact that it blends the supernatural with the real seamlessly, it gave us the pairing of Suzy and Lee Jong-suk whose on-screen chemistry was one for the books.
Plot Pot
The drama starts with Nam Hong-joo (Bae Suzy) who has the ability to see the future while she is sleeping, and primarily, sees accidents that are going to take place. However, no matter how much she tries, she can never stop them from happening. She can warn someone, take away any belonging that might be the primary cause of the accident, but in the end, it does end up happening anyway. It is in such a dream that she first sees Jung Jae-chan (Lee Jong-suk). He also eventually features in a dream that shows her own death, but he also becomes her neighbour. Jae-chan, a rookie prosecutor, who lives with his brother, in time, ends up developing the same ability as Hong-joo.
Jae-chan and Hong-joo realise that this is not the first time they have met each other and their lives are intertwined in more ways than one. But it does not just end with these two characters as the drama will reveal and neither are they the only focus.
The brilliance of this K-drama also lies in its supporting characters, especially the police officer Han Woo-tak (Jung Hae-in), the lawyer Lee Yoo-beom (Lee Sung-yeob) and Kim Won-hae (Choi Dam-dong). Hong-joo's ability is also eventually shared by Woo-tak, which raises questions who exactly are the people who manage to get it.
While You Were Sleeping has the perfect mix of good writing and a great cast of actors who more than having brilliance in their acting itself, have amazing chemistry. This does wonders in a K-drama such as this, which heavily focuses on the intertwining of lives. The first few episodes also do the brilliant work of building the unique and inventive world, which sets a stable backdrop for the rest of the show to play out. All links are unfolded in a gradual manner, which not only provides anticipation but satisfaction, once everything is unravelled.
A driving factor in the drama is also Jae-chan and Hong-joo's magnetic chemistry which is evident from their first meeting, even when they are not fond of each other. It only increases as their feelings develop. However, Woo-tak's (we can't help but also be partial to Jung Hae-in's sweet smile) silent admiration for Hong-joo is perfect to give "second-lead syndrome".
Despite its many twists and turns, however, it has a wholesome ending. While You Were Sleeping was, and remains, one for the books and has all elements to make it a satisfying watch.
Genre: Supernatural, romantic thriller
Where to Watch: Netflix
You Will Love It If You Love:
Amazing chemistry
Supernatural meets thriller plots Predestination
Meaningful side characters; well-timed comedy
TT rating: 4.5/5
OSTs we love... 1. It's You by Henry
Henry's crystal clear vocals complement this melodious song full of emotions that trace Hong-joo and Jae-chan's falling in love.
2. When a Long Night Comes by Eddy Kim
Another memorable song from the OST, this song is melancholic but hopeful all the same. Eddy Kim's voice expresses the emotions through this tune.
3. I Love You Boy by Suzy
Not only does Suzy act through her falling in love, but also sings it through this song. It's a sweet confession of love that documents Hong-joo's falling in love with Jae-chan despite understandable apprehension.
Characters We Treasure Lee Jong-suk as Jung Jae-chan: Goofy and funny, Jae-chan is a lovable character through and through. Although he might seem unserious, we eventually see how passionate he is about his job and his loved ones, which makes him admirable.
We also loved him in: Big Mouth, Romance is a Bonus Book Bae Suzy as Nam Hong-joo: Nam-joo is almost as goofy as Jae-chan, which makes their pairing all the more chaotic and fun. However, her dreams weigh on her mind and she always tries her best to prevent them.
We also loved her in: Start-Up, Uncontrollably Fond Jung Hae-in as Han Woo-tak: Calm and collected, Woo-tak brings gentle calmness to the chaotic duo that Hong-joo and Jae-chan often are. His gentle acceptance of Hong-joo's interest in Jae-chan instead of himself is sweet as well.
We also loved him in: Something in the Rain