'The Sky is Pink': Both gut-wrenching and life-affirming
The movie is instantly relatable but yet oddly alienating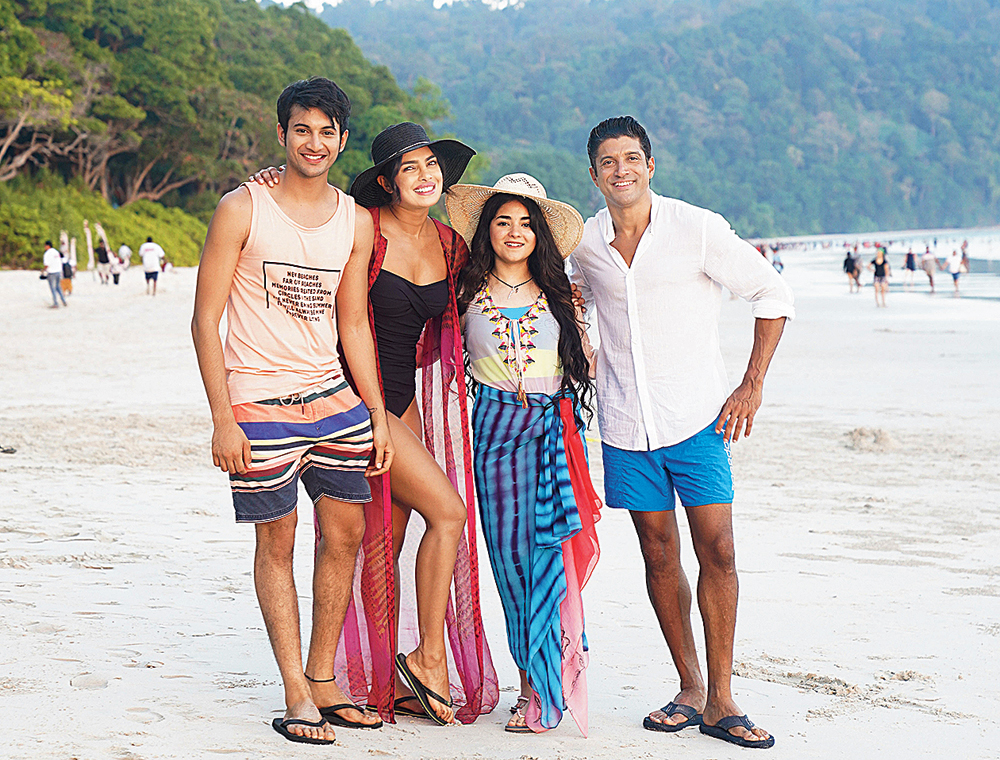 A scene from 'The Sky is Pink'
(Source: 'The Sky is Pink')
---
Published 11.10.19, 01:01 PM
|
---
Do you have to experience deep, profound loss in the form of the death of a loved one to appreciate the finer nuances of The Sky is Pink? Do you have to know what it feels like to be a caregiver for years together, watching someone slowly slip away, to understand the pathos and poignancy of the film? Do you have to be emotionally vulnerable and aware of the fragility of life a little more than others to be able to better grasp what it wants to say? The answer to all these questions is 'yes' and 'no'.
The Sky is Pink is both instantly relatable and oddly alienating. Relatable because all of us have experienced loss in some form or the other, whether it's death or distance or even heartbreak. Alienating because one really can't comprehend the debilitating emotions a parent has to tide through as they hopelessly watch their child edge one step closer to death every day.
The Sky is Pink is about life and death, but it's also about everything that comes between life and death. It's a rare film that's both gut-wrenching and life- affirming. It recognises the pain that arises from loss but it never makes loss the centre of what it wants to say. It's about helpless vulnerability and yet a quiet, innate strength that we need to dig deep within ourselves for. It's about collective healing and what it means to hold on to memories without letting them become festering wounds.
It's a film that rips your heart into shreds and then pieces it together. It tells us that the way we choose to deal with bereavement is personal and doesn't have to follow any preset paradigm.
The theme is melancholic, but its treatment is anything but. The Sky is Pink is about the happiness, or at least the pursuit of it, that arises out of the most hopeless. It's a film that makes you smile through your tears.
Based on a true story — Aditi and Niren Chaudhary lost their 18-year-old daughter Aisha a few years ago to complications arising out of a genetic disorder — The Sky is Pink has 'personal' written all over it. Shonali Bose, who also directed the deeply moving Margarita with a Straw, pours spirit and soul into the film — she, too, has lost a young son — and it is this empathy and sensitivity that powers the film.
Bose and co-writer Nilesh Maniyar adopt a largely playful tone to carry forward much of the poignant material. The film is narrated by the spunky Aisha (Zaira Wasim), who cuts to the chase immediately, informing us that she's already long gone. "I'm dead… get over it!" she says nonchalantly. The film benefits from its beyond-the-grave narrative technique — a lot like Peter Jackson's The Lovely Bones that released a decade ago —and makes the parents, Aditi (Priyanka Chopra Jonas) and Niren (Farhan Akhtar) the focus of a story that hurts and heals in equal measure; that teaches and yet never preaches.
The Sky is Pink opens in a cheek-by-jowl tenement in Delhi's Chandni Chowk with Aditi and Niren expecting their third child. But the mood is far from euphoric. A rare gene combination they share means that they have already lost a six-month-old daughter to a condition called Severe Combined Immunodeficiency Disorder. The condition has miraculously skipped their son Ishaan, but a few months later, they discover that newborn Aisha hasn't been that lucky. That sets off an almost two decade-long battle, collectively and individually, where Niren and Aditi shift countries, crowd-fund, work double shifts and give up every semblance of a normal life to give Aisha a shot at life.
Years of paranoia converts Aditi into a 'helicopter mom' even as Aisha grows up to be a sprightly teenager. But life hits you hard when you least expect it and when the Chaudharys — now a well-heeled family residing in a plush Delhi farmhouse — realise that Aisha just has a few years left, they let her live her life without any encumbrances... sketching to scuba diving, writing a book to delivering motivational talks.
The best thing about The Sky is Pink is its commitment to remaining cheery and positive, despite its sombre material. The film looks at death as inevitable and something that is a natural progression from life. "Uski body chali gayi, lekin woh toh ab bhi hamare saath hai," Aditi determinedly tells a friend at one point. Even without being manipulative, the film tugs at your heartstrings at every point — the kiss that a severely ill Aisha plants on brother Ishaan's (Rohit Saraf) cheek will make you reach out for a tissue — but even as it feels a tad too long at 149 minutes, The Sky is Pink doesn't weigh you down with sadness.
Not only life and death, the film also examines relationships through various prisms — Niren and Aditi may be parents first, but even at their lowest, they don't lose their hold on each other as a couple, the crowning point being the lighter moments they share together or their romance through the years, played out to the soothing tunes of Pritam's Dil hi toh hai in Arijit Singh's mellifluous voice.
At the heart of this deeply moving film are some heartfelt performances. Priyanka, back in Bollywood after a gap, is the driving force of the film, bringing in both steely grit and incapacitating vulnerability, oscillating between wanting to control fate and succumbing helplessly to it. Some of the film's best moments — that scene of her sitting by Aisha's grave at night will bring a lump to the throat — belong to her and she excels. Farhan acts as the perfect foil, largely internalising Niren's grief that finally culminates in that breakdown scene on son Ishaan's lap. Rohit Saraf as Ishaan turns in a measured yet moving act, while Zaira Wasim — in what is supposed to be her last acting job before her decision to give up the arc lights — shows us yet again what a talent she is.
The germ of the film's title lies in a scene early on where a knee-high Ishaan tearfully tells his mom about how he got punished in school for colouring the sky pink in his painting. An agitated Aditi tells him that there is nothing wrong in letting his imagination soar and that his sky can be any colour he imagines it to be. Yes, life is sometimes about black and white, and most often about greys. But your sky can be any colour you wish it to be. It's your sky.