Bhumi Pednekar: The shape shifter
Pednekar is Bolly's go-to girl for roles that require depth and diversity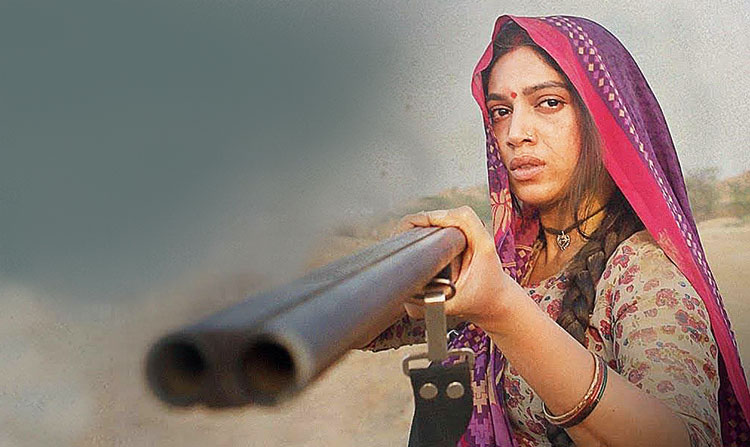 Bhumi Pednekar as Indumati Tomar in 'Sonchiriya'
A still from the movie
---
Published 11.01.20, 06:43 PM
|
---
Five years. Eight films. Diverse characters. Critical acclaim. Box office. One name: Bhumi Pednekar.

In a career spanning less than half a decade, the 30-year-old has established herself as a prominent Gen Y actor, one who is the first choice for many for roles that demand strength and spunk, sass and spirit. In the eight films that she's done so far, Bhumi has played women of fortitude with a strong moral fibre, mostly hailing from small towns. They have been women who have worked from the ground up, battling prejudice and fighting for pride. And yet, none of these eight women have been the same.
Whether it was an overweight, confident wife handling her husband's insecurities on debut in Dum Laga Ke Haisha, a girl full of pluck refusing to live with her husband if he didn't build a toilet at home in Toilet: Ek Prem Katha, a supportive girlfriend helping her fiance navigate through the tricky terrain of erectile dysfunction in Shubh Mangal Saavdhan or the gutsy domestic help not apologetic about her sexual needs in Lust Stories, Bhumi has ensured that every screen turn so far has left a mark, riding high on both depth and diversity.
That Bhumi is one of the most versatile actors in Bollywood today was brought more into focus in 2019, a year in which she had four releases, all of which were critically acclaimed, with three of them hitting bullseye at the box office. For Saand Ki Aankh, she aged to 60-plus to play real-life sharp shooter Chandro Tomar. She followed it up in less than a month with Bala, slipping into the skin of a dark-skinned lawyer-activist battling discrimination. Even within the seemingly flippant framework of Pati Patni Aur Woh, Bhumi made an impact as a woman who wasn't going to take her husband's extramarital shenanigans lying down. Her most powerful turn in 2019, however, came in March film Sonchiriya, where she played a village girl adept at handling a gun and ghoonghat with the same ease and expertise.
Today, a Bhumi Pednekar performance comes with the guarantee of versatility and profundity, with the young actor having achieved the balance of saying what she wants within the format of entertaining cinema.
"I don't really have a formula, but there's a lot I want to say with my work. And all these scripts have supported that. From the beginning of my career, I was clear that if I wanted to make a place for myself in this business, then stretching myself was the only way to do it. I realised very early on that I would have to constantly challenge myself, go for scripts that demand much and deliver even more and that which don't appear as run-of-the-mill. Otherwise, how would I set myself apart from what others were doing?" Bhumi tells t2oS on a late December morning, flush from the success of her last few films.
Riding High On Confidence
The unanimous acceptance of the choices she's made so far have made Bhumi a far more confident actor in the last few years, something that was evident more than once during this chat. But confidence wasn't something that the Mumbai girl, born and brought up in a middle-class family with no filmi connections, was ever short on. Bhumi spent six years working as an assistant casting director at Yash Raj Films (YRF), auditioning the likes of Ranveer Singh, Parineeti Chopra and Arjun Kapoor, who are now her contemporaries. Familiar with the beats of the industry, she waited it out patiently, observing much and honing her skills, till a chance to audition for Dum Laga Ke Haisha, produced by YRF, landed her the role of Sandhya in the Sharat Katariya film, opposite Ayushmann Khurrana. It was, by no means, a conventional debut, requiring Bhumi ("I was always a plump girl," she laughs) to pile on as much as 30kg. "I was very fortunate that Dum Laga Ke Haisha gave me the opportunity to experiment with myself — emotionally and physically — in my very first film. The kind of response at the start of my career for a role that was anything but conventional was so heart-warming that I decided, 'You know what, this is what I enjoy doing and I am fairly good at it… so why not dedicate a large part of my career to doing films that are more challenging than what's expected out of me?'" she says.
'Shape-shifter' is an apt way to describe Bhumi as an actor. Even if her subsequent roles after Dum Laga Ke Haisha — barring Saand Ki Aankh — have not demanded a physical transformation, she's consistently changed things up emotionally to slip into her roles. Something that the actor feels is second nature to her. "Emotionally, I am a different person in every role. I played a naturally overweight girl in Dum Laga Ke Haisha. You have male actors doing it all the time, so why not us? I am an actor, it is my job to transform, in whatever way necessary. If there is a script that requires me to play a man, I will do it," says Bhumi.
Redefining Roles
Bhumi has also, in a way, redefined the paradigm of the 'spunky' Bollywood heroine. For many, a woman of pluck in a Bolly mainstream film started and ended with Kareena Kapoor's Geet in Jab We Met — irreverent, talking nineteen to the dozen — but Bhumi's parts of a woman who knows what she wants and is unafraid to go after it, have been a breath of fresh air. A recent example being Pati Pati Aur Woh, a bonafide box-office success that also (surprisingly) won praise from critics. "Topically, Pati Patni Aur Woh may seem like a frivolous film, but it isn't. The way the audience has reacted to it shows that. The film has gravitas, my character has a lot of gravitas. She stands for a lot of things… she's a modern girl with a progressive outlook. Yet at the same time, it's a very entertaining film… it has some fun moments and really great songs. For me, it was a big breather. Even 2020 is looking like a great balance between both these worlds," says Bhumi.
Eight films in five years don't seem much, but Bhumi has been terribly busy over the last six months, with her last three films releasing within weeks of each other. But that's the only way, she says, that she can work. "I've been on set almost every day!" she laughs. But that's not something that's new to Bhumi, who loves the challenge of a tough role. "All the films that I have done, since the beginning of my career, have been very hectic. They have extracted a lot out of me. None of my films have been frivolous projects that I could just go to the sets and chill on," she says.
One thing that has stood Bhumi's career in good stead has been the fact that she's always made it a point to be a part of good films, irrespective of their box-office potential. "How a film does at the box office is beyond my control, but I can always control the kind of films I can be a part of. Films that tell a story, films that are loved and respected for posterity. Touch wood, till now, no one has told me, 'Yaar, yeh kaisi picture kiya hai Bhumi ne?'"
Going By Gut
Bhumi says that she primarily relies on her gut and instinct to pick and choose her roles. Case in point being Sonchiriya, in which Udta Punjab man Abhishek Chaubey scripted a compelling story of a band of dacoits in the Chambal of the '70s, suffering an existential crisis. Bhumi was the only woman in the mix, boasting of actors like Sushant Singh Rajput, Manoj Bajpayee and Ranvir Shorey, and she made every minute of her screen time count.
"Sonchiriya is a film that will always be at the top of my filmography. It was such a special film. It didn't do well commercially, but that's okay. It's a film that's got me a lot of love. And that's important for me, much more than box office. I don't understand this (Rs) 100-crore-waala business. When I am offered a film, I always ask myself, 'Is this a film I would want to watch? Is this a story I want to be a part of?' And when you see the response, then you realise that you've done all right," smiles Bhumi.
The guarantee of quality means that Bhumi has now become more responsible about the kind of roles she picks. But she maintains that this sense of responsibility will not make her give up on her gut. "It's always worked for me and I really want to be true to who I am… I don't want to be that person who is like, 'Achha, mujhe yeh formula karna hai, mujhe yeh project karna hai'. I am somebody who creatively reacts to material. I am very childlike that way… I get so excited every time I come across a character that I really want to do. I want to retain that."
A New Bollywood
Bhumi, much like her contemporary and Saand Ki Aankh co-star Taapsee Pannu, is riding the wave of a new Bollywood, where films have changed, narratives have changed, audiences have changed. And she's quick to accept that. "There's also been a shift in power. There was an entire phase where the actor decided the fate of the film… now it's the story, the writing, the direction that decides the fate of the film. It's because of this automatically that there are newer stories, newer ideas… writers are now experimenting and because of that we are now seeing a bouquet of such amazing roles. Women are now at the forefront of our films," says Bhumi.
"I am not being immodest, but it was unheard of where a female actor, within the same calendar year, got the opportunity to play a 60-year-old woman to a deep-coloured girl to a glamorous heroine to a village woman. We are living in really good times," she adds.
The fact that Bhumi has left a mark on every film is not only endorsed by the audience, but also by her co-stars. While Ayushmann, her co-star in Dum Laga Ke Haisha, Shubh Mangal Saavdhan and Bala, hails her as "one of the most talented" he's worked with, her Toilet co-star Akshay has gone on record to state that "Bhumi is someone who can pull off any role with ease". A fact that's made him invest in her as presenter for the upcoming Durgavati, that will be frontlined by Bhumi and has her playing a tough cop. "I am very nervous because the responsibility of the film is completely on my shoulders. But I take pride in the fact that it's a killer script and the character is fantastic. There is so much that I will be able to do in the film and I am very excited," she smiles.
Bhumi will also soon start shooting for Karan Johar's magnum opus Takht,
co-starring the likes of Anil Kapoor, Kareena Kapoor Khan, Ranveer Singh, Alia Bhatt, Vicky Kaushal and Janhvi Kapoor. She's also expanding her kitty to include horror with February film Bhoot — Part One: The Haunted Ship with Vicky Kaushal and is "very upbeat" about Dolly Kitty Aur Woh Chamakte Sitare, a girl-power film with Konkona Sensharma that's been directed by Lipstick Under My Burkha maker Alankrita Shrivastava.
Walking The Talk
What makes Bhumi more than just an actor is her ability to walk the talk. Last year, she spearheaded a pan-India campaign called Climate Warrior to raise awareness about global warming, conservation and sustainable living, all causes that she maintains are very close to her heart. She's often spoken up about the need for pay parity in Bollywood ("Even at this stage of my career, I have been offered a fee that is just four or five per cent of what my male counterpart is getting. And it's not even about seniority. I'm speaking of actors that are as experienced as I am in the fraternity, or slightly older. And it does feel insulting and it's just heartbreaking," she had earlier told t2) and was gutsy enough to take up the role of a sexagenarian in Saand Ki Aankh, after it was rejected by many others in what is a traditionally ageist industry.
However, Bhumi's casting in the film was met with criticism, with many questioning why the role couldn't have been played by a 60-plus actress. This controversy was quickly followed by her part in Bala where her natural skin colour was made a couple of shades darker to enable her to play a dark-skinned character. Bhumi admits that the criticism did take the sheen off a very good run, but she won't allow it to cow her down. "It did kind of put me down a little bit, but eventually I realised that this is what I have done through my career… I have always broken stereotypes. I was like, 'Let people watch the two films and if they don't like my work in it and feel I haven't done justice to the characters, then I am going to take this as constructive criticism and work hard'. But most people liked it. They wrote back to me, on Twitter especially, saying, 'Well done!' And that's the only thing that matters," smiles Bhumi, before prancing off to shatter some more stereotypes.