The 'essential' movie: Story of the Oscar winner
Alfonso Cuaron on why he wanted to tell the story of Roma and the theatre versus OTT debate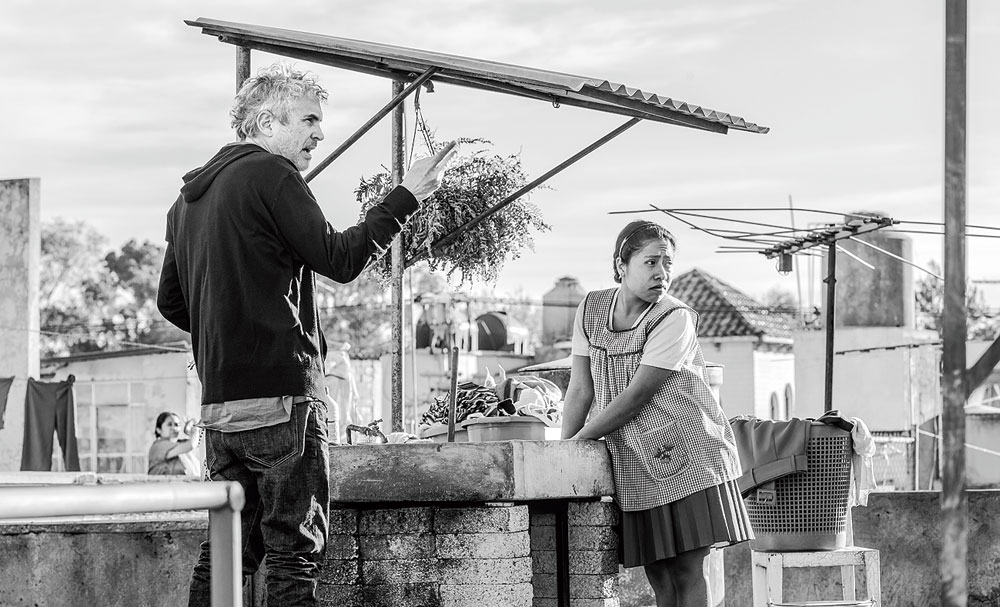 ---
---
A little more than a month ago, when Alfonso Cuaron took three Oscar statuettes home for Roma, he also made history. He became the first director to win a cinematography Oscar. Roma won for Mexico its first foreign language Academy Award. And he gave Netflix, the streaming giant that distributed the film, a taste of Oscar glory.
The 57-year-old filmmaker has called Roma the "most essential movie" of his career. He insists that this is the film he's been working towards since he made his debut with Solo con Tu Pareja in 1991. Roma is set in the Mexico of Cuaron's childhood. The story follows Cleo (played by debutant Yalitza Aparicio), a young domestic worker for a family in the middle-class neighbourhood of Colonia Roma in Mexico City. The film is a heartfelt love letter to Cuaron's own nanny, the now 74-year-old Liboria "Libo" Rodriguez, who had a profound role in raising him. Shot in black and white, this Spanish-language film created a vivid portrait of domestic strife and social hierarchy in the midst of political turmoil of the early '70s.
In an exclusive phone interview with The Telegraph from Pietrasanta, Italy — a small town where Cuaron now lives — the Oscar winner explained why personal and political thoughts can't be separated.
Now that the award season is over, have you had a chance to take stock of why the film connected with audiences across the world?
No! I am still quite surprised by this. I was talking to Carlos (Cuaron, his brother), who I wrote Y Tu Mama Tambien with, that I was making Roma because I had to do it. I knew it was an indulgence that nobody was going to care about or maybe even understand. I didn't care because I just had to make this film. I really don't have an answer to this question. I am pleased, of course. Whenever I have talked to members of the audience who were moved by the film, they've all given me different answers for what they connected with. I am very happy for the conversations that this film has generated but that's not why I wanted to tell this story.
Whenever I have talked to members of the audience who were moved by the film, they've all given me different answers for what they connected with. I am very happy for the conversations that this film has generated but that's not why I wanted to tell this story
- Alfonso Cuaron
Is it true that your real-life nanny Liboria, on whom Roma is based, also played a huge part in introducing you to the movies?
Yes, this movie is based on her and at this point she is my oldest link of affection. Not only did I go to the movies with her as a child, she was also very generous in sharing her experiences with me for this movie. It was a very important and interesting process for me to go through and revisit our memories.
Were there memories you came across that you didn't want to share publicly?
That didn't happen because I wanted to be as straightforward and honest as possible. That was the point of this whole exercise. I asked her if she would feel comfortable with me telling these parts of her life and she said: "This is stuff that happened so long ago, so why not." What I'm very touched by is she was very concerned not just about the parts that involved her but also about the well-being of the children in the film.
You've said that winning the Oscar for Roma felt different from the emotions of winning for Gravity. Why?
Winning for Gravity was amazing but ultimately it was a film with big Hollywood stars with a lot of visual effects that was technically cutting edge. I had taken a huge gamble with how the film was being told, not with the narrative but with the symbolism. Even early on, the studio lost faith in the film and sold a share to a different company.
With Roma, the gamble was much bigger. I was making the film in Spanish, in black-and-white and it was based on my memories. It was a film about moments, sensations and textures. It was an intangible film. I was surprised by the reaction when we premiered in Venice and then when we started showing it around the world, we realised that the reaction was becoming universal.
When you accepted your Oscar for directing, you said that Roma is about the people Hollywood relegates to the background. While Roma isn't a political film, this statement made it one.
Well I could not escape that. I believe that you can't separate the personal from the political because we live in a society. Even my films like Y Tu Mama Tambien and Children of Men, there's a political overtone. When I was talking about the wounds of my childhood, it was not possible to separate them from the wound of the society around me. Particularly when I am talking about a woman who belongs to a completely different social class. We co-existed, so it's impossible not to deal with that subject. I am happy that the film has been adopteded by some very important organisations, like the Alliance for Domestic Workers for instance. I would say that more than political, Roma shares an anthropological point of view.
This film thrust Yalitza Aparicio, who is a debutant actress, on to the world stage. How is she doing?
I am still in touch with her. I deeply admire her. She is a young woman who understood the symbolic value of what she was representing. She has completely embraced that with generosity, respect and dignity. And she's been working very hard supporting important causes. That's what is so magical about Yalitza. She's been a part of the UN conversation about women and she's been very outspoken about the rights of the indigenous people.
Not many know that there's an Indian connection to Roma. Chaitanya Tamhane (who directed the award-winning Marathi film Court) assisted you on this film.
Oh my god, Chaitanya was an amazing collaborator through the process. I am so happy that I got to meet him. It's one of the things I thank Roma for bringing into my life. I didn't share the script of Roma with anyone except Chaitanya. So he was the only person I could have conversations with about the film. He is an amazing filmmaker. I admire him quite a lot. I am looking forward to the film he is working on right now. I think there is a very interesting moment going on in India in the context of art house cinema or world cinema.
What's your take on the Netflix-versus-Oscars debate? Some filmmakers believe that films shown on OTT platforms aren't really 'films'.
I will always defend the theatrical experience. I think films should always have a theatrical release. How wide that theatrical release is would depend on the nature of the film. What I am against is the equalisation of the pressure that's put on all films for how they have to perform at the box office. People have got upset with me for saying this but I am so against the conversation about box-office collection because that sends out the wrong perception about the performance of a film. So many films are masterpieces that don't get recognised during their theatrical release. History turns those films into masterpieces. This modern concept of box office is absolutely dreadful.
We need to remember that no matter how successful you are in your theatrical release or whether you are Christopher Nolan, James Cameron or Steven Spielberg, your film will leave the theatres and will be viewed in the digital format in people's homes. The conversation for me is not about OTT versus theatres but about how we can create the best compatibility for cinema as a whole. Each side believes that they are defending cinema but I think they are only defending their economic model. I hate that they are using cinema to do this.
As long as people keep going to theatres, films will belong in theatres. I created Roma in 65mm with Dolby ATMOS because I believed in presenting it in the best possible way. But at the same time, I know the limitations that exist in terms of theatres only supporting certain kind of films. Unfortunately, in certain terrorities, theatres are not interested in showing films that are perceived to be art house. To give you an example, Yalitza said she is thrilled that the film is on Netflix. She said this is the only way that her community can watch Roma because they don't have a theatre close to them playing this film. They would have had to travel three hours and the tickets are too expensive. It's beautiful that they can have access to watching a film. I have seen masterpieces in theatres, on VHS and on Blu-Ray. It's not like my local cinema would always have Ingmar Bergman or Satyajit Ray playing. When I wanted to learn about their cinema, I had to watch their films on a different format.