From Yeh dil maange more to Har ghoont mein swag
With his trademark swag in place, Tiger Shroff chats on the sets of a music video in Mumbai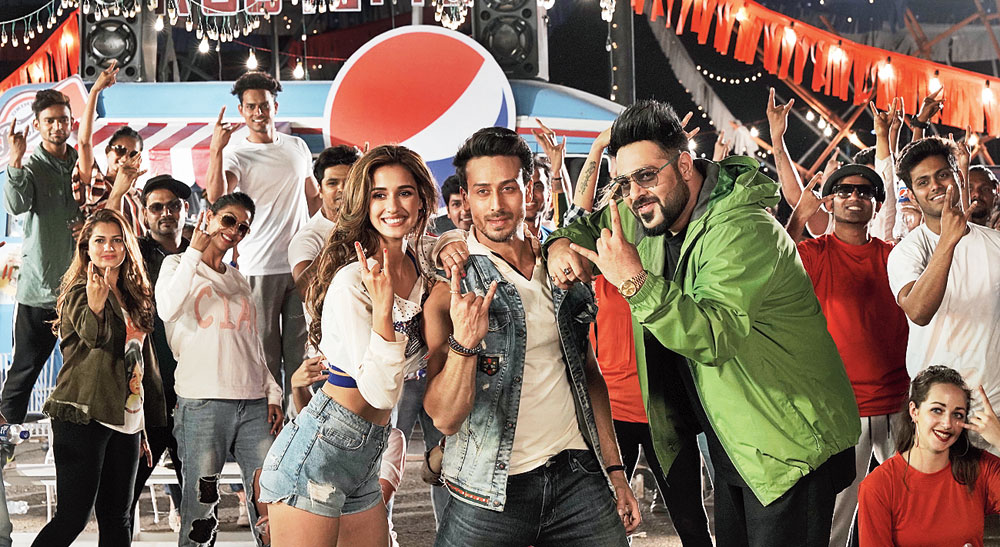 Disha Patani, Tiger Shroff and Badshah groove in Pepsi's new music video Har ghoont mein swag
Source: A still from the video
---
Published 08.04.19, 01:49 PM
|
---
It's an exceptionally hot afternoon in Mumbai but that's hardly a deterrent for the crew who's busy shooting for Pepsi's new music video, Har ghoont mein swag, starring Tiger Shroff, Disha Patani and Badshah.
The sun is blazing and the shoot is taking place outdoor on a location in Vashi. t2 watches from the sidelines as Tiger and Disha dance on the Har ghoont mein swag hook step. After a point you start humming that part too because it's so catchy!
A quick lunch break later, the stars are back on shoot. This time we spot Tiger lying down on a bench... he gets up and throws a Pepsi bottle at Disha. Director Ahmed Khan is pleased as he yells, 'Cut!'
Tiger looks at ease in his sleeveless denim jacket and Disha is all smiles in a pair of denim shorts and white sneakers. As the camera pans, we see a girl and a guy playing with a basketball near them. The set is vibrant and decorated with colourful Chinese lanterns hanging from the trees. It's time to dance on the hook step again! The director says, 'Action!' and the music blares Har ghoont mein swag hai.
"Pepsi is always known for its youth campaigns and it's a youth drink. Youth means rebel and they change every five years. This campaign talks about a hookline that Pepsi has always come up with, like Yehi Hai Right Choice Baby or Yeh Dil Maange More... here the hookline is Har Ghoont Mein Swag Hai. Every sip has swag, so inherently you have a swag if you're drinking Pepsi. We are trying to show two sides of the youth — one is the elite class and the other doesn't believe in behaving elite. They don't believe in gowns and done-up hair and going to parties... that youth believes where we stand party wahi shuru ho jati hain, that is Pepsi!" Ahmed Khan tells The Telegraph, sitting next to his monitor. What does swag mean to him? "Be yourself! Everybody has swag, you don't need to create one."
In the next shot, Badshah joins the duo. Wearing a bright green jacket, Badshah lip-syncs the rap as Disha and Tiger play with a basketball.
Released on April 7 by T-Series, the anthem that's composed by Badshah is foot-tapping and peppy and is a part of Pepsi's 2019 campaign that follows the Har Ghoont Mein Swag TVC.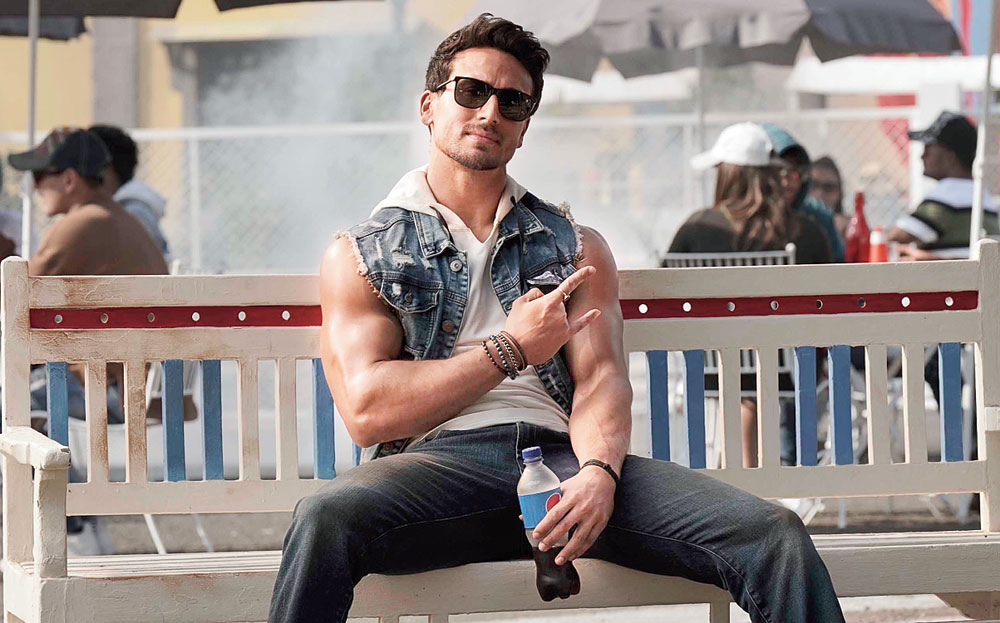 In between the shoot, The Telegraph caught up with Tiger for a quick chat in his make-up van...
How's the shoot going?
It's fun, the campaign slogan and theme is Har Ghoont Mein Swag and that's the song title as well. It's a very young, fun and happy vibe and it's all about swag!
What does swag mean to you?
It just means being easy, cool, fun, happy… swag!
The set is so colourful and peppy. Any fun anecdote while shooting?
Doing this hook step is really fun, that's one swag-gy hook step!
Your dance is so talked about. How was it dancing on a music video?
Well, what's amazing is that Pepsi is targeting the youth, it's a very youth-oriented brand and through music, music videos and dance I think the goal is to attract the youth and make them dance to our tunes and also join our swag campaign.
Ahmed Khan who is directing you for this video had directed you before in Baaghi 2…
It's an absolute joy every time I collaborate with Ahmed sir. Of course he has given me my biggest blockbuster in terms of Baaghi 2. Ever since the Baaghi 2 shoot, I have not shot with him and it's a great feeling to reunite with him and shoot a music video.
Baaghi 3 shoot apparently starts from July?
Yeah well, right now they've just completed the script with dialogues. I've to have narration and we take it from there. I'm busy shooting the Yash Raj film with Hrithik sir (Roshan) right now, directed by Siddharth Anand... it's untitled. Once that's over, I get into this.
What other projects are you working on?
Well, I finished Student of the Year 2 (SOTY 2), I'm just finishing this film with Hrithik sir soon and post that I get into Baaghi 3... that's it.
How was it working with the two debutantes, Tara Sutaria and Ananya Pandey, in SOTY 2?
It was an absolute joy! It was fun, you know the whole film was like a joyride… it was so breezy, easy and light. It was a very offbeat film for me from what I have done in the past, in terms of the Baaghis and all.
Our trailer of SOTY 2 will be out soon and we are getting closer to the release date… just one-and-a-half months to the release now!
Did you feel any pressure since SOTY is already a popular franchise?
Definitely, it's established and it has launched three young stars. It's big shoes to fill, really…we just want to take that franchise forward so that it lives forever.
You're one of the fittest stars. What's your fitness funda?
Consistency. I work out every day of my life… the number of hours depend on my schedule.
Do you have a cheat day?
Every Sunday. I have a crazy sweet tooth, so usually it's something sweet that I eat on my cheat day.
Is there a particular diet you follow?
No, actually there is no particular time that I eat. I do something called intermittent fasting, so when my fasting period is over, I start eating.
What are a few dos and don'ts in fitness according to you?
Fitness is such a talked-about thing and every star is aware of it, they are always harping over it. Dos I'd say —drink a lot of water, keep yourself hydrated, stay happy, sleep on time, get at least eight hours of sleep and get yourself at least half an hour of exercise every day. And don'ts are just the opposite of that (laughs).
Any recent film that you really liked?
I'm a huge superhero fan. I have not watched Captain Marvel yet. But I really liked Aquaman… I'm a fan of Aquaman and the DC world and the Marvel world. I'm not a fan of anyone specific but all the characters and the universe.
Any message for your fans?
I just want to thank them for their constant love and support for me.