The Dirty Picture turns 10
Bombaat! looking back at the Vidya Balan starrer as it clocks a decade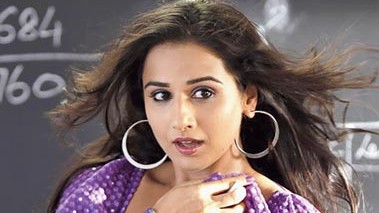 Vidya Balan in The Dirty Picture
---
Published 03.12.21, 02:26 AM
|
---
The Dirty Picture completed 10 years of its release on December 2, and what comes to mind when one thinks of the film (apart from the song Ooh la la of course), is Vidya Balan's superlative performance. Which other female performance has left as much of a lasting impact in recent times as Vidya in The Dirty Picture? The actor has become synonymous with great performances, particularly her selection of strong-willed women who are creators of their own destiny. In a career packed with excellent choices — from Paa to Kahaani, Ishqiya to this year's Sherni —Vidya has paved the way for a mainstream Bollywood female actor to be visible on her own terms, out of the shadow of her male counterpart. Her performance in The Dirty Picture remains memorable in ways more than one.
So much has already been said about the dearth of meaty roles for female actors in Indian cinema and the hyper-sexualised, problematic roles offered to women. The mainstream audience feeds on films that portray female characters whose presence is always linked to that of the leading man... as a girlfriend, a sister or a wife. The examples are endless.
That being siad, there are also films with strong female parts at the centre, with actors like Shabana Azmi, Smita Patil and Tabu having made illustrious choices. Yet, rarely does a film leave such an impact that it becomes a trailblazer itself —for women in film. Vidya's performance in The Dirty Picture, directed by Milan Luthria — achieves that.
Reportedly based on the life of   '80s screen siren Silk Smitha, The Dirty Picture starred Vidya as Silk, who made her way into a male-dominated industry through her sex appeal. In an early scene, she first catches the eye of the crew by dancing sensually to Nakkamukka. And yet it is her desperation to become an actor that puts her in that position. Time and again, she's reminded that she's ordinary looking and not cut out to fit the part of a heroine. For the leading lady must be fair and traditionally attractive. Vidya's Reshma (she was Reshma before she becomes Silk on screen) has none of those 'qualities'. She's voluptuous, and unsophisticated in her mannerisms, but hugely instinctive. In an early scene, she states that there's nothing she can't do like a man, so there's no difference between her and a man. When everything else fails to get her to her dream she uses her body as the passport to get through. She flaunts herself with an unabashed sensuality that one can either hate or lust after but dare not ignore.
Abraham (Emraan Hashmi), a director who wants to stay away from sleaze and make good cinema, and in whose film she was first spotted, is abhorrent to Reshma. In no time, Reshma tranforms into Silk with some help from producer Selvaganesh (Rajesh Sharma) and some 'tuning' with co-star (and her old infatuation) Suryakanth (Naseeruddin Shah). Instant fame follows, which she is quick to grab and relish, in all her headline-inducing spirit. Wherever she goes, she seizes the limelight. As she builds a bond with Suryakanth's younger brother Ramakanth (Tusshar) that she starts to realise the duality of it all. "Silk bani hain mazaa lene ke liye, chahnewaalo ki bhi, or ladnewaalo ki bhi," she says.
Vidya revels in the tightrope of effectively balancing sensuality with innocence. Her Silk is a walking-talking sex machine, and whatever she does, she dials it up to the extreme. She retains the innocent spirit of Reshma even as she titillates the audience as Silk. Her life mantra?  "Jab upaarwaale ne zindagi ek di hain toh do baar kya sochna?". There are several such dialogues that feel a bit too superimposed, and the second half, which charts the eventual decline of Silk, becomes a bit of a clumsy mess. But Vidya holds it all through — managing to be unfiltered, coy, sexy  and vulnerable, all within a single scene. Her Silk is a full-bodied creation, remaining true to herself throughout the many dirtier revelations of the film industry. Despite all odds, she remains determined and in charge of her actions.
Silk uses her body as her weapon. In doing so, in more ways than one, she confronts the hypocrisy of the industry that fantasises about women's bodies. Vidya, herself an actor who never aligned to look a particular way to fit the normative definition of a heroine, found a perfect synchronisation in Silk.
Even when The Dirty Picture fizzles out a bit in tracking Silk's downward spiral, she remains powerful. The film, and her performance in particular, has aged magnificently in the 10 years since release.
The Dirty Picture's success was unexpectedly huge, both critically and commercially. It won three national awards, with Vidya taking home the honour for Best Actress. The film paved the way for a string of strong female characters at the centre — as well as more biopics — in the Hindi film industry. Even after a decade of its release, there's no one quite like Silk. As she says, "Kuch logon ka naam unke kaam se hota hain... mera badnaam hokar hua hain."