The AstroTwins — Tali and Ophira Edut — on their show Cosmic Love
Some people will say it's not a science, it's a pseudo-science, but I think astrologers are still scientists in the lab, says the duo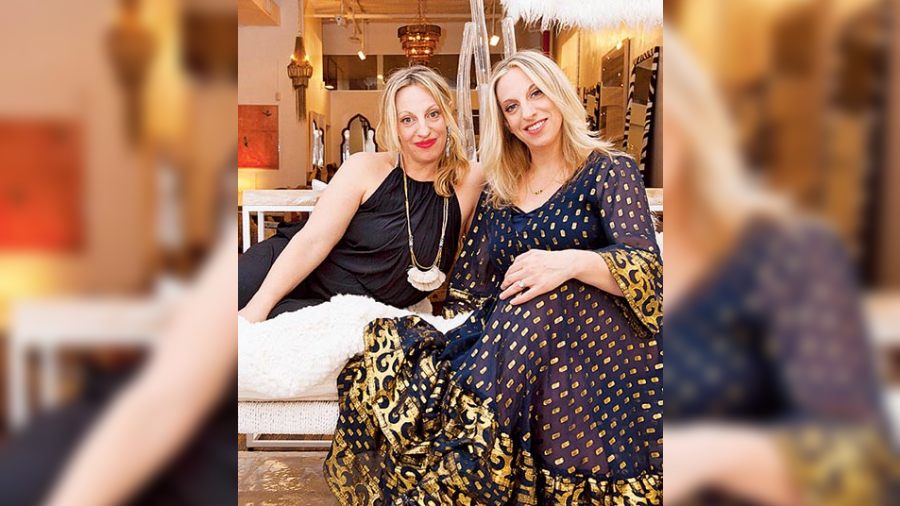 The AstroTwins — Ophira (left) and Tali Edut
---
Published 12.08.22, 02:05 AM
|
---
They are known as The AstroTwins. Identical twin sisters Tali and Ophira Edut, 49, are celebrated astrologers and authors. Besides writing daily, weekly and monthly horoscopes and columns, Tali and Ophira have appeared on a number of TV shows. Their celebrity clients include names like Beyonce, Sting, LeAnn Rimes, Stevie Wonder, Avril Lavigne and Jessica Simpson.
The AstroTwins are now all set to guide four single people on a journey to true love through their birth charts on Cosmic Love, that premieres on Amazon Prime Video today. The Telegraph caught up with Tali and Ophira over a long-distance video chat to know more.
What made you think of a show like Cosmic Love?
Tali Edut: For us, astrology and love go hand-in-hand, they always have. We got into astrology because we were learning about relationships. Also, over the last 30 years of our career, the common questions we get from our clients are, 'Who am I compatible with?' 'How should I get along with my partner?' 'When will my person come?'
We have been doing astrology matchmaking for such a long time that it needed to come on a TV show. This is the time... astrology is having such a beautiful moment. People now have apps to get easy access to astrology and we wanted to explain how it works to the world. We want people who are open to discovering themselves and each other and are willing to make a relationship work.
What has been the most fun and the most challenging bits of doing this show?
Ophira Edut: To see the contestants act out the 'astrology missions' that we put them on!  The challenge was to figure out how to translate astrology to TV. Your chart is so personal to you... so how do we make it interesting for everyone in the world to watch? I think we really pulled it off (smiles).
How do you explain the worldwide interest in astrology, and not only when it's connected to love?
Tali: The truth is that we are all made of star stuff, as the quote goes. We see the stars every night, we see the moon changing, we have an inherent connection to the cosmos.... It's almost as if the soul knows that there is something in the air. Astrology, when done right, gives people a connection to the vast universe out  there....
Ophira: Even if it's in a small way, it makes you feel you matter, that you have a purpose. Astrology makes everyone feel special and also connected at the same time. That's a rare thing..
How much has your belief in and practice of astrology helped you in your own relationships?
Tali: Whenever we enter into relationships, both for business or personal, we kind of know how to navigate based on the person's sign....
Ophira: We were university students studying art and design and though we weren't looking for it, someone introduced us to astrology. And we were like, 'This is really true about us. Maybe there is something to this'. We became believers just by seeing how accurately it described us and our lives...
Tali: Some people will say it's not a science, it's a pseudo-science, but I think astrologers are still scientists in the lab. For eons, we have been looking at the sky, recording data, seeing the connections, making hypotheses, dealing with psychology and personalities.... In India, you guys have done it for much longer. We are late to the game, you all are the originators!
When you study astrology, you see the patterns and then you realise that a certain song may move you....  You can always exercise your free will, but astrology is also a great tool to have in your arsenal to understand yourself and the people around you. Did your shared interest in astrology develop organically or did one sister influence the other?
Ophira: My boyfriend in college gave me a gift, which was my birth chart... a 30-page booklet! Till then, I only knew that I was a Sagittarius, but that chart made me realise that all the other 11 signs were also my sign in some way or the other.
Tali: And yes, that's how she influenced me! We became obsessed together. And the rest is history.
Astrology in India is sometimes accompanied by blind belief, by superstition.... How would you like to dispel the myths around astrology and what it stands for?
Ophira: That's a great question! We do have quite a few clients who were born in India and raised there and whose parents matched them up. As humanity has developed, we have developed more humanity, more free will, technology has allowed us to make other choices.... In earlier times, people did have to follow the cycles of the stars, moons and planets just to survive.... They travelled, they were nomads, they hunted, they fished, they planted.... But we have evolved and the way we use astrology has evolved.
Both of you are self-taught...
Tali: Yes, we were lucky to learn at a time when a generation of astrologers before us — Susan Miller, Steven Forrest, Susan Gerber — were pioneers and wrote so many books. So we were able to learn from their teachings. Now, there are many more people spreading the word of astrology. Some of it is accurate, some of it is not (laughs). So I guess the Baby Boomers really made astrology accessible to Gen X.
Has being self-taught been a disadvantage in any way?
Ophira: I think it's an advantage because people generally don't like anyone getting too academic about astrology. Sometimes, those who practise astrology forget that one is not getting a PhD here! (Laughs) At the end of the day, it's about transmitting information that can help someone's life. We use astrology to help people find happiness and purpose and career path and their next best path. Getting too heavy and academic about it doesn't really serve anyone.
Tali: Being self-taught was the only option we had. We were in a place where we didn't have access to anything but books. There was no Internet in the '90s. Being a good astrologer also means teaching yourself other things besides astrology.
We have many teachers, some of which are also in other categories like life-coaching, therapy, personality development, travel, survival skill.... You have to know how to navigate this planet and then connect it to the stars.
What do you do to stay relevant and keep astrology relevant?
Tali: We hang out a lot with young people. Ophira has a daughter. We go on TikTok, we keep abreast of the news. You just have to stay present-day. Even though we are thinking of the future, we like to stay perennial. Connecting with the world and not going off into a cave is what keeps us relevant.
Do you ever want to not know your own future?
Ophira: Not really! (Laughs) Astrology gives you a peek into the future but it also gives you the tools to create your future. That's important.
Which of your celebrity clients has been the most interested in and receptive to astrology?
Ophira: I would say (actress) Emma Roberts, Karlie Kloss (model)... Beyonce, when we first met her, had just started dating Jay-Z and we gave her her first astrology chart and her first compatibility chart. She did a reading with him, which was back in 2003.
Clearly it worked!
Ophira: Yes! I think they already had their thing... we just gave her a little more reassurance (laughs).
Given the uncertainty of life and future that the pandemic has brought on, have the number of people drawn to astrology gone up?
Tali: Yes! But it has also happened over the last five years, even in the changes in US politics (smiles). People started questioning a lot of things. They started asking, 'Why is this happening?' 'How can I find some power?'
Ophira: And then during the pandemic, many people had more time to study and learn and they really got into it.