Team Monica, O My Darling on their quirky thriller, out on Netflix this friday
The Telegraph chatted with Rajkummar, Radhika and Vasan on the neo-noir film that melds off-centre thrill with '80s pop culture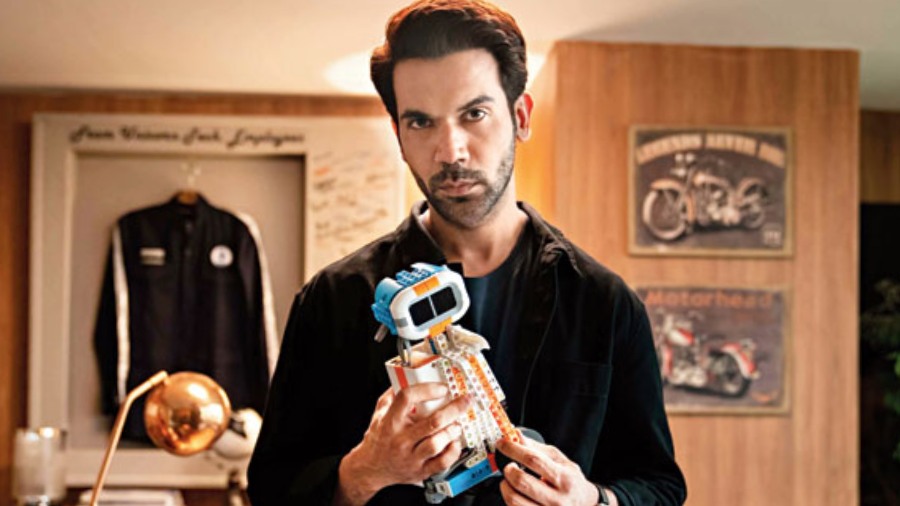 Rajkummar Rao as Jayant in Monica, O My Darling
---
Published 10.11.22, 07:26 AM
|
---
The running joke is that this Friday, Netflix returns to its favourite genre — Radhika Apte! Radhika stars, along with Rajkummar Rao and Huma Qureshi, in the wacky whodunit Monica, O My Darling, directed by Vasan Bala, the man behind unconventional fare like Mard Ko Dard Nahi Hota and Ray.
Over a video call, The Telegraph chatted with Rajkummar, Radhika and Vasan on the neo-noir film that melds off-centre thrill with '80s pop culture, and which also stars an ensemble comprising Sikandar Kher, Akansha Ranjan Kapoor, Sukant Goel and Zayn Marie Khan.
I had an absolute blast watching Monica, O My Darling, which in true Vasan Bala tradition, is campy and cool and has an unabashed love for the '80s. Raj and Radhika, what for you is a typical Vasan Bala film and how much does Monica, O My Darling fit into that?
Radhika Apte: A Vasan Bala film can actually be summed up as sitting with Vasan for a whole evening and having a drink! (Laughs) He's the kind of person who will watch the same thing as you are watching, but he will have a different take on it... he will just twist it in his head and narrate it (laughs).
For me, his films are always quirky, they have a unique sense of humour; he manages to find humour in very simple, basic, regular things... in unexpected moments, which you and I probably can't even think of. He has a very different perspective and he brings that to his cinema.
Rajkummar Rao: Any film of Vasan's is quirky, cool and has his signature on it. A lot of people haven't watched his first film Peddlers (which is still awaiting release) but that's a very different film from Mard Ko Dard Nahi Hota and Monica, O My Darling. He is very versatile and he wants to do everything because his love for cinema is unmatchable. You see that love in every film of his.
Vasan, how would you define the Vasan Bala brand of cinema?
Vasan Bala: I think it's about being given the opportunity to be oneself. I have been fortunate that the producers I have worked with so far have allowed me to be that. I don't know what will happen when I am not able to (smiles). But at least for now, whether you call it campy or a tribute... for me, that's the only way to be. I hope that's the only way I continue to make my films. Vasan, what was the starting point for Monica, O My Darling?
Vasan: There was a book that was being adapted by Matchbox Shots (the film's producers). They had been at it for four years. It's a Japanese book by Keigo Higashino, whose English title is Brutus' Heart. They contacted me in 2019, but for some reason it didn't materialise then. Eventually, things fell into place and the film happened.
I was excited about the source material as well as how Yogesh (Chandekar, writer) was planning to pitch it. Yogesh and I collaborated very well on this. During shoot, we braved the second wave (of the Covid-19 pandemic), but post that, we had a blast!
Raj and Radhika, what excited you the most about Monica, O My Darling?
Raj: The chance to work with Vasan... I have been wanting to collaborate with him for a very long time, ever since my Gangs of Wasseypur days. I have always liked him... I think he's got this really great vibe about him... he's so positive and I love people like him who talk about cinema with as much passion as he does. I am so glad we got to work on Monica... it's one of the finest scripts I have read.
Radhika: For me too, it was the chance to work with Vasan. I hadn't even read the script when he spoke to me about Monica, O My Darling. And Raj, I have been trying to work with you for such a long time! (Laughs)
Raj: Before this film, so many people asked me why we have not worked together....
Radhika: I know! So many people have asked me this. And I am like, 'It just doesn't happen like this!' (Snaps her fingers) Monica, O My Darling worked out and I hope there are more opportunities for us to work together... because it's always not enough (smiles).
Honestly, I was not very sure that Vasan should cast me in this part! (Smiles sheepishly) I told him that I am not sure if I should be inspector Naidu. I told Vasan, 'You want a female Gulshan Devaiah... I don't think I can do it, I don't have that sense of humour, I will fall flat!' (Laughs) I was so scared, but Vasan was very confident. He was like, 'Mujh pe bharosa kar.' I told him, 'Tujh pe bharosa hain, khud pe nahin hain!' (Laughs)
But this was something that was positive for me because rarely do you get opportunities which are so out of your comfort zone. This part is not at all in my comfort zone. I was actually shitting bricks on set and saying, 'Oh God, please make me funny!' (Laughs) But then, I was okay after sometime. And this film also has Sriram (Raghavan, director) attached to it, which felt like home to me. And then, of course, it's on Netflix... and you know how it is with Radhika and Netflix! (Laughs) Vasan, Monica, O My Darling is a genre mish-mash. What was the tonality that you were going for?
Vasan: Adding quirk and humour as a layer, according to me, doesn't work. It has to be intrinsic and shouldn't stick out like a sore thumb. The idea is never to be quirky just for the sake of being quirky. Raj, Radhika and all the others understood this aspect so well. So I never had a problem in communicating with them in terms of what I really wanted. Which was a big relief, because that allowed me to flow... I didn't have to stop and correct myself or correct anyone else.
It's very important for people to understand that humour is not just about laughing at random. Raj has a great sense of humour, he can crack jokes easily. Radhika can too, but she doesn't believe it (smiles). They also understand observational humour, and they are able to get those nuances in without trying too hard.
It's very difficult to land the kind of humour that we have in Monica, O My Darling... there is always the danger of it going the other way.
In a thriller, when the perpetrator is revealed so early, how much pressure does it put on the director to keep the viewer engaged?
Vasan: Actually, it's the other way round. Once the audience knows who the perpetrator is, it's very liberating. Also, there is this old trick of showing three cards, but I keep cards four and five with me, and no one knows about them. It also works like a great distraction. It's also something that we have learnt from the greats — from (Alfred) Hitchcock to Sriram Raghavan. You keep the illusion that the audience is ahead of you and then you reveal the cards later.
So much of this film hinges on lying. Are you good liars in life and are you able to build a credible enough backstory?
Raj: Luckily, I haven't faced a situation in life yet where I have to be interrogated like Jayant (his character in the film). But when it comes to white lies, I don't think one should have a perfect backstory... as the film says, one should leave it a little dheela (laughs).
Radhika: I don't like to lie, but I am a great liar! (Laughs) Lekin main dheela nahin chhodti hoon, main poora backstory pakad ke rakhti hoon. I have actually realised that now with your question (Laughs) Main pucca criminal ho gayi hoon (laughs).
Vasan: She is, actually! The other day, I was speaking to Gulshan (Devaiah) about Radhika and saying that she has promised to meet and he was like, 'Haan, dekhte hain.'
Radhika: Oh please! Gulshan is ridiculous... woh kuch bhi bolta hain! He told me the other day on a media platform that I never take his calls. I was like, 'Kab kiya tu ne call?!' He never called me! So please don't rely on Gulshan!
Finally, in keeping with the theme of the film, if you guys were involved in a hit job and had to pick between killing, transporting and disposing a body, which task would you pick?
Raj: I think I will transport. I like driving (smiles).
Vasan: I will dispose... and so Radhika has to kill!
Radhika: I will kill in a way where I don't need transport or disposal duties!