Looop Lapeta stars share their best experiences in a candid interview with The Telegraph
Actor Taapsee Pannu, Tahir Raj Bhasin and director Aakash Bhatia opens up about their mind-bending film that streams on Netflix , soon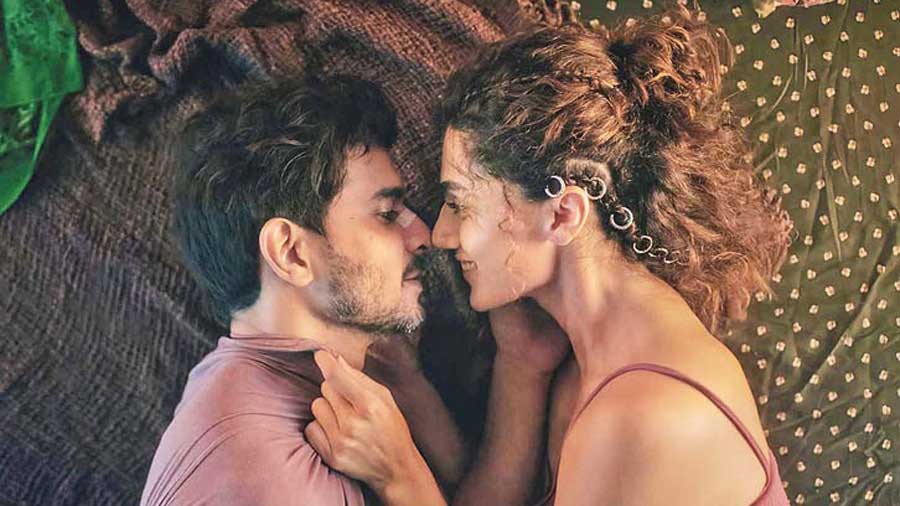 Two's Company: Tahir Raj Bhasin and Taapsee Pannu in Looop Lapeta, streaming on Netflix from February 4
---
Published 28.01.22, 02:06 AM
|
---
The highly acclaimed 1998 German experimental film Run Lola Run will be seen in an Indian context and sentiment in Looop Lapeta. Starring Taapsee Pannu and Tahir Raj Bhasin, the Aakash Bhatia-directed film follows the original's story of a young woman — Taapsee's Savi — being given a limited amount of time to get hold of Rs 50 lakh to save her boyfriend Satya, played by Tahir Raj Bhasin, from his gangster boss. Savi has three possibilities to reach her outcome, and the film is a whirlwind ride that compels her to make some choices.
With Looop Lapeta slated to stream on Netflix from February 4, The Telegraph chatted with Taapsee, Tahir and Aakash on their hatke film, why Taapsee has had enough of 'sports' films and Tahir's extended purple patch.
Taapsee has a couple of releases at any given time of the year. But just on the basis of how he's taken over the last few weeks, wouldn't it be correct to say that it's a Tahir Raj Bhasin world and we are all just living in it?
Tahir Raj Bhasin: (Laughs) It's just awesome! It's been a great start to 2022 and thank you for acknowledging that. I just keep telling everyone that I have been coached by the best (gestures towards Taapsee). Taapsee is really someone who knows how to handle multiple releases.
Taapsee Pannu: My protege has overtaken me as far as the number of releases in a month are concerned! And I am proud of him! (Laughs)
Tahir: Taapsee really knows the art of controlled release of her projects. My situation was a little different because there were delays in the production of several projects because of the pandemic. I really couldn't tell producers who had been holding their films for two years that, 'Hey, can you hold on for another two months?' So it's become a 'Tahir Bhasin Festival' as a result (smiles).  
What was your first reaction when you read the script for Looop Lapeta?
Taapsee: That it's funny and that it's a 'yes'. It was an instant 'yes'!
Does that happen with all your films or was this one special?
Taapsee: With all films! It's either an instant 'yes' or an instant 'no'. But I don't get funny scripts too often. So a big reason to say 'yes' to this script was that I was finally getting to do some good comedy... comedy in a different set-up and in a different style. It's genuinely funny!
Tahir: It was an instant 'yes' for me as well because firstly, Taapsee was already attached to the project. I was very excited to be working with her. And second, because this is so out of what my comfort zone was... it's different from anything that I had done before. If I ever had to play a romantic hero, I always wanted it to be out-of-the-box and that's how Satya was written. Aakash, Looop Lapeta is an official adaptation of Run Lola Run, but having watched it, I can safely say that you have made the film your own. What was it in the original that you think merited an Indian version?
Aakash Bhatia: This film was brought to me as a work-in-progress by Atul (Kasbekar) and Tanuj (Garg, both co-producers of the film). I hadn't watched Run Lola Run then... it was one of those films on my bucket list that I had just kept pushing over the years. My thing is that when I watch a good film, I start feeling insecure, and when I watch a bad film, I start feeling very unhappy (laughs).
So when this film came to me, we put our heads together to write it. We kept telling ourselves that we weren't making a remake... we were taking the base concept of Run Lola Run and wanting to make a truly Indian film. We wanted to make something that had our authorship on it. If we took so many talented and skilful people and copy-pasted the original, it would be a total waste of their talent.
Also, it was important for us to make this film hugely Indian in its sentiment and context. Indian audiences react very differently. And we needed to give the story an emotional arc that would resonate with the viewers here. We got in more players, gave more depth to their stories and backgrounds, and their responses.... So the idea was to make an Indian film and not go in with the idea that, 'Chalo, ek classic ka desi version banaate hain.'
The original was an experimental film, and both tonally and thematically, your version is unlike anything the Hindi film space has seen in recent times. The narrative style, the three possibilities to arrive at a conclusion, the colour palette... you have a lot going on in Looop Lapeta. What were you going for and was it a tightrope to walk on?
Aakash:Yes, it was. But it was definitely an exciting tightrope to walk on. This film has been a world-building exercise. The tonality comes from that. You have to create a suspension of disbelief in a film like this and for characters of this variety to co-exist and have that six degrees of separation.
The narrative spoke to us in an exciting manner. We needed flow, some movement.... I like seeing things in a very distorted manner... for me, everything is an element in a film, not just the characters. The background, the foreground, the music, everything plays a part. The camera in this film is a character. It makes the viewer intrusive, it makes him a part of the story. And all of this comes from the idea of building a world... whether it's through colour or fabric and just using the players to their best ability. Taapsee and Tahir, what went into playing Savi and Satya?
Tahir: Satya, as I said, is written very differently from anything that I have played before. Satya is a personality of contrasts. When he is romantic and charming, his voice assumes a certain tone, his body language is a lot relaxed. But when the pressure mounts and he cracks under it, an explosion of erratic nervousness somehow comes out. He is a lovable and vulnerable fool who leads with love... everything he does is because he loves Savi intensely. His body language is so different from what I have done before, and I had to work a lot on that... what his walk is going to be, how he is going to be when he is making a manic phone call versus how he is when he is in the bedroom....
Taapsee: For me, it was about two things. First, I had to run a lot and thankfully, that was taken care of by my last film, Rashmi Rocket, in which I played an athlete. So by the time I came on to Looop Lapeta, I organically became a 'retired' ex athlete (laughs). So that was taken care of.
Savi, because she has been pressurised so much by her father to be a certain way, has lived a robotic life until this point in the film where she is unexpectedly faced with different possibilities to arrive at a certain conclusion in life. Since she has been an athlete, Savi is a go-getter, she knows how to hit the finish line at the right time.... But when you first see her in the film, she leads a very indisciplined life. From that, she has to once again evoke the mentally and physically tough side of her to save the person she loves. All these discussions happened between Aakash and me and we set up a backstory.
The film is essentially only 50 minutes long, and what happens over and above that is a loop that's being repeated. So Savi had to have a solid backstory for the viewer to understand where she is right now and where she has come from.
Taapsee, considering the films that have come and the ones on the anvil, you are already a bonafide athlete...
Taapsee: I am done with my sports quota! (Laughs) I love sport, I watch sport more than anything else — even movies — but now I am tired of learning so many kinds of sports and then performing them. I do take them very seriously... because I have an inherent love for sports since childhood, I put immense pressure on myself to get it perfectly right. And I feel that takes a toll on the actor in me sometimes.
For the last two years, I have been constantly training, whether it's been for Rashmi Rocket, Looop Lapeta or my cricket lessons for Mithali Raj's role (in Shabaash Mithu). Now, I just need to lie back and let the actor take over. Whether its free will vs. determinism, the role of chance in destiny, the Butterfly Effect in Chaos Theory... Looop Lapeta retains a lot of the themes that we saw in Run Lola Run. Akaash, what were the challenges of writing that into a film which has elements different from its source material?
Akaash: We brought in elements of Chaos Theory and the Butterfly Effect without going too deep into it because we wanted the audience to go back and read up on it. We have tried to bring in metaphors through those ideas. These are not ideas of Astrophysics... these are ideas of life. Anything you do not only affects you but it affects a lot of others as well.
So we used the larger idea of Chaos Theory to bring it down to the core idea of one decision taken impacting a person in one way, and many others in many different ways. Savi's character has a lot of touchpoints, and when she opts for a larger resolve versus a selfish resolve, she ends up creating a sense of balance. This could be an endless cycle of loops, as we get to see in the film, and every cycle has a different outcome. And we chose to tell the story of these three outcomes, so to speak. And in the process, Savi learns so much about life, love and everything else in just 50 minutes.
What's your favourite time-loop film? Tell t2@abp.in