Tapsee Pannu back with Amitabh Bachchan for Badla
Sujoy Ghosh reunites the Pink duo for a Scottish revenge thriller. Big G plays Pannu's lawyer again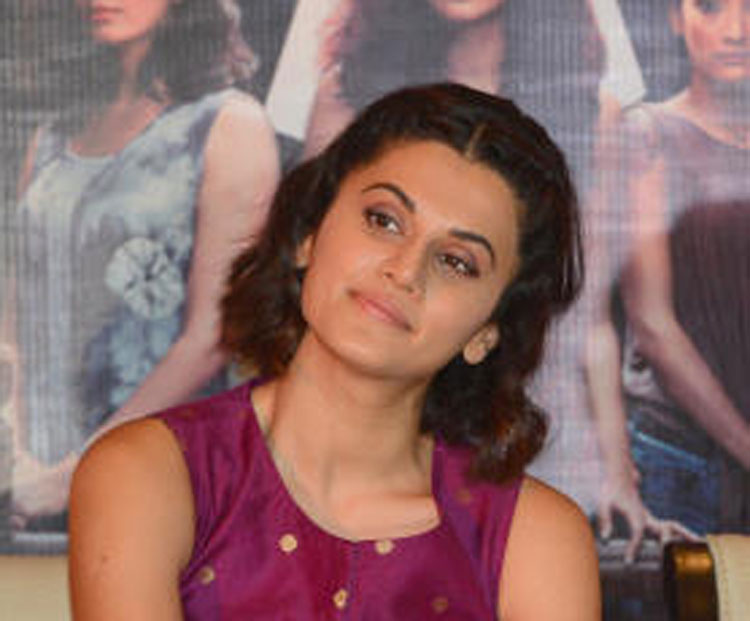 Taapsee Pannu
The Telegraph picture
---
Published 16.02.19, 08:49 PM
---
If you're a somebody, you have to be seen at Soho House. That's the new snob chant of Mumbaikars, especially the filmic brand. With the club having its origins in London's Soho and hosting only the creative, filmwallahs feel they've got a slice of England in their midst. It makes it that much more sought after with half the film industry already flashing their membership and the other half waiting for theirs. It is quite the envy of the South Bombay (SoBo) folks too, who're willing to motor down to suburban Juhu to put a toe inside the new club.
So it was that Sujoy Ghosh, who always seeks the new, chose it to launch the trailer of his new film Badla over alcohol and hors d'oeuvres. The club has its own little 32-seater screening room, well-padded and luxurious, which can be hired for private viewing for a fee.
We trooped into this exclusive space to watch Amitabh Bachchan get intense against a beautiful Scottish landscape while the trailer played on loop all afternoon.
Mercifully, Sujoy hasn't named his new thriller Kahaani 3. He hasn't produced it either, happy to be the well-paid hired hand this time around as writer-director of the remake of the Spanish film, Invisible Guest. "We've bought the rights, it's all official," disclosed Sujoy, who's in his element when he's working with his favourite actor. He's such an unabashed admirer that when he couldn't find anybody around who could introduce him to Amitabh Bachchan, he strolled on to the sets of Waqt (2005), caught the actor at work and met him himself.
Bachchan, who hadn't seen Jhankaar Beats or heard of its maker, asked him bluntly, "Who are you?" And the two hit it off right from that day, Bachchan aware that Ghosh was a fan and "dying to work with him". They did later do Alladin (2009), which co-starred Riteish Deshmukh and Jacqueline Fernandes. It fared so badly that if you type Alladin, the Net pops up with these figures: "Budget INR 60 crore. Box-office INR 6 crore."
But a strong bond was established, with Bachchan going on to act in Sujoy's production, Te3n, and also famously lending his baritone to Tagore's Ekla chalo re for the superbly crafted Kahaani.
For Badla, the thriller shot at a stretch in Scotland, Taapsee Pannu reunites with Bachchan, who is, as in Pink, her lawyer. Although the venue of the trailer screening was just three paces away from his Juhu bungalows, Bachchan wasn't around but tweeted about it all day and was there larger than life on the screen.
"Mr Bachchan likes dialogues, so I've given him plenty of them in Badla," Sujoy grinned. Amit does say stuff like, "Maybe I should've seen 6 as 9." One hopes Sujoy is back to his Kahaani form — one kind of missed that touch in the very cliched sequel, Kahaani 2.
Another Juhu resident in the news (for not-so-healthy reasons) is the really tough Rakesh Roshan. The Sainik School-toughened actor had to fall back on all his reserves of mental and physical endurance when fate threw a googly at him and a blister in the mouth that wouldn't heal required a biopsy. It was a lucky break for him as he happened to be visiting a hospital to see somebody else when he spotted an ENT's name plate and went to meet him along with a doctor-friend. The instant advice of go-for-a-biopsy came like a bolt from the blue but the strength kicked in. Within three weeks, the second stage head-and-neck cancer was removed and thrown away.
Back behind his desk, he cheerfully chatted, with visitors going in only after lavish use of the sanitiser outside. As his receptionist said, "You know sir. Always smiling." Taking the rounds of radiation and chemo like a trooper, he's fighting fit with only a light scar in the neck, which too will vanish.
Fortunately, he could take my black humour too. I couldn't help wisecracking, "You won't have to worry about hair fall after chemo."  
Bharathi S. Pradhan is a senior journalist and author