Tandav aims for subtlety and nuance, but gets very little of it right
It never rises above being a derivative — and dull — drama on everything that we have always known about Indian politics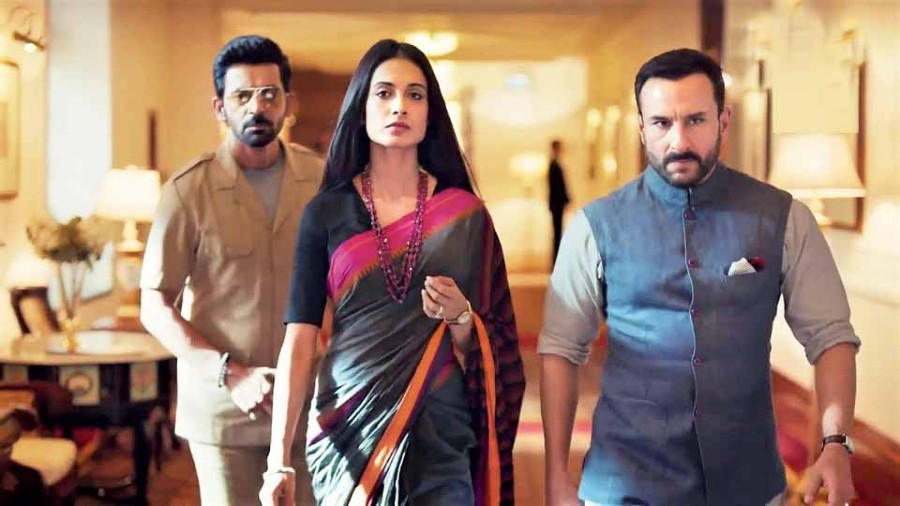 (L-R) Sunil Grover, Sarah Jane Dias and Saif Ali Khan in Tandav
Sourced by the correspondent
---
Published 18.01.21, 02:07 AM
|
---
Tandav kicks off with a farmers' protest, a zeitgeist of the times we live in. Consistently, through its nine-episode runtime, the series rests on art imitating reality. But what could have been a stark and stinging look at modern politics in the power corridors of Delhi often turns out to be a Bollywood-styled drama characterised by political players who conveniently swing 'left' or 'right', governments that are formed and broken against the backdrop of horse trading and cow politics, and stretches of overdramatised dialogue with the word 'rajneeti' being thrown around like a shuttlecock. "Sahi aur galat ke beech mein jo cheez aake khadi ho jaati hain usey rajneeti kehte hain". "Ab iss rajneeti mein Chanakyaneeti laani padegi". "Rajneeti ke khel mein khiladi ke paas ek chaal chalne ka mauka aata hain". You get the drift?
Tandav is the kind of series that aims for subtlety and nuance, but gets very little of it right, preoccupied as it is with ticking off newspaper headlines to fill in for plot points. Very often, it turns out to be exactly the kind of stuff that Madhur Bhandarkar would pass off as an 'in-depth look' into Indian politics and name it, well, 'Politics'. But that's only because the title Raajneeti is already taken.
Which is a pity because Tandav, now streaming on Amazon Prime Video, has both premise and potential. Creator-director Ali Abbas Zafar, the man behind bonafide Bolly masala fare like Sultan and Tiger Zinda Hai, teams up with writer Gaurav Solanki, who penned the hard-hitting Article 15 a few years ago, for a show that brings together a stellar cast and the promise of an explosive drama that both engages and entertains.
Tandav sporadically entertains, but cobbling so much of its material from things we are already aware of — students' angst, political powerplay, dynastic politics, farmers' unrest, systematic intimidation of the minority populace — gives us a series that doesn't throw up anything new. Even when it has moods and moments that have the potential to stay on with you, the show's predilection to come up with a twist at the end of every episode, with the intention of pulling the rug from under the feet of the viewer, does it an immense amount of disservice.
Tandav strives to draw parallels between the powerplay playing out simultaneously in the top echelons of a party triumphantly coming back to power for another term and the fledgling politics on a university campus, riddled with cries of 'Azaadi' and the ambition to rebel against the status quo. When the country's incumbent prime minister Devki Nandan (Tigmanshu Dhulia) is murdered on the eve of the election results, all eyes naturally rest on his heir apparent Samar Pratap Singh (Saif Ali Khan) to fill in his father's kursi. But a twist, and some arm twisting, places Devki Nandan's consort Anuradha Kishore (Dimple Kapadia) firmly in the top chair, with a seething Samar realising that he can accomplish much more as 'kingmaker' than as 'king'.
As his faithful man Friday Gurpal (Sunil Grover) gets his hands dirty carrying out his orders, Samar keeps his white kurtas spotlessly clean as he goes about, armed with a beatific smile, to wrest control of Raisina Hill. At the same time, idealistic student leader Shiva (Mohd Zeeshan Ayyub), a student of VNU (inspired by you know what), is fuelled by the ambition to cleanse the country's political scene. The paths of the two men often collide, sometimes as ally and often as adversary.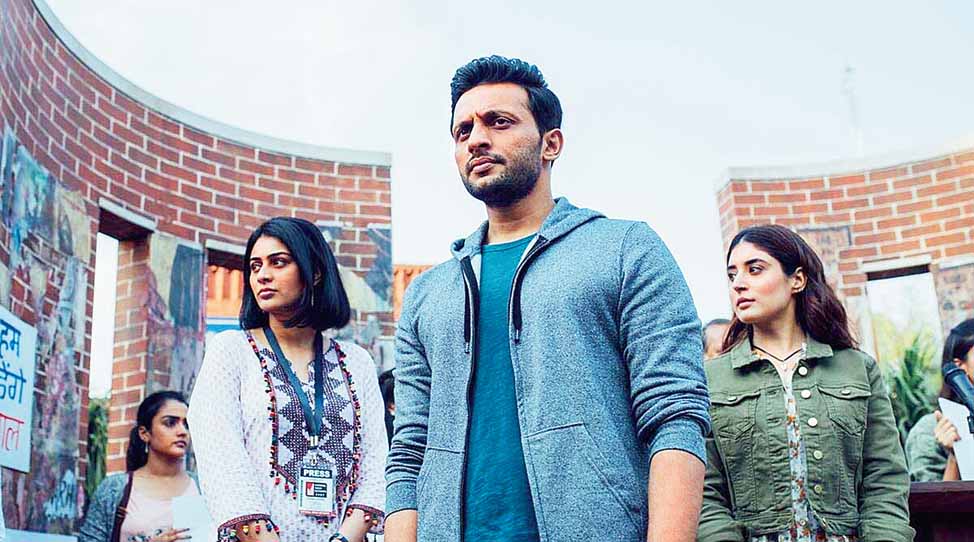 Coming in with a lot of expectations given that it's an Amazon Prime Video original, Tandav has neither the depth in writing that characterised the streaming platform's trailblazing Paatal Lok last year, nor does it offer a palette of well fleshed-out characters like its memorable Mirzapur franchise.
Much of what happens in Tandav works at the surface level, with a great deal of posturing and with characters relying on drumming up drama with throwaway lines. Cliches abound, with the writing lacking the layers that should have been the cornerstone of a politically-charged drama of this level and repute. Scarce attention is paid to authenticity, the plot and players are presented in broad strokes and the perfectly manicured world of Tandav looks too unrealistic for the power-hungry games that it strives to bring to the fore.
The thread of student politics, an indelible part of the show, is almost always accompanied by a reworking of the Yuva hit Dhakka laga bukka. It's played so often that you can't help but feel that Tandav can barely conceal its excitement at the prospect of using an A.R. Rahman number.
If Tandav, which mercifully plays out in episodes that stretch no longer than 30 minutes each, is worth a watch, it's courtesy some of its performances. Saif has little to chew on, but he bites into his part — a mix of Hamlet and Macbeth — with whatever he's got and makes Samar watchable. So does Zeeshan, who physically may not look the part of a student, but renders his character believable.
Fresh from Tenet, Dimple Kapadia's Machiavellian act is top notch, while Sunil Grover, who scores with poker face and controlled rage, is the pick of the lot. The rest of the players pop in and out, with some of them, like Kritika Kamra and Gauahar Khan holding their own, but ultimately suffer from sketchily written parts.
Tandav is a classic case of what could have been. It takes inspiration from what we see around us. But it never rises above being a derivative — and dull — drama on everything that we have always known about Indian politics.