Taking it slow with Sohum Shah
The producer-actor on the journey from 'Tumbbad' to 'Bard of Blood'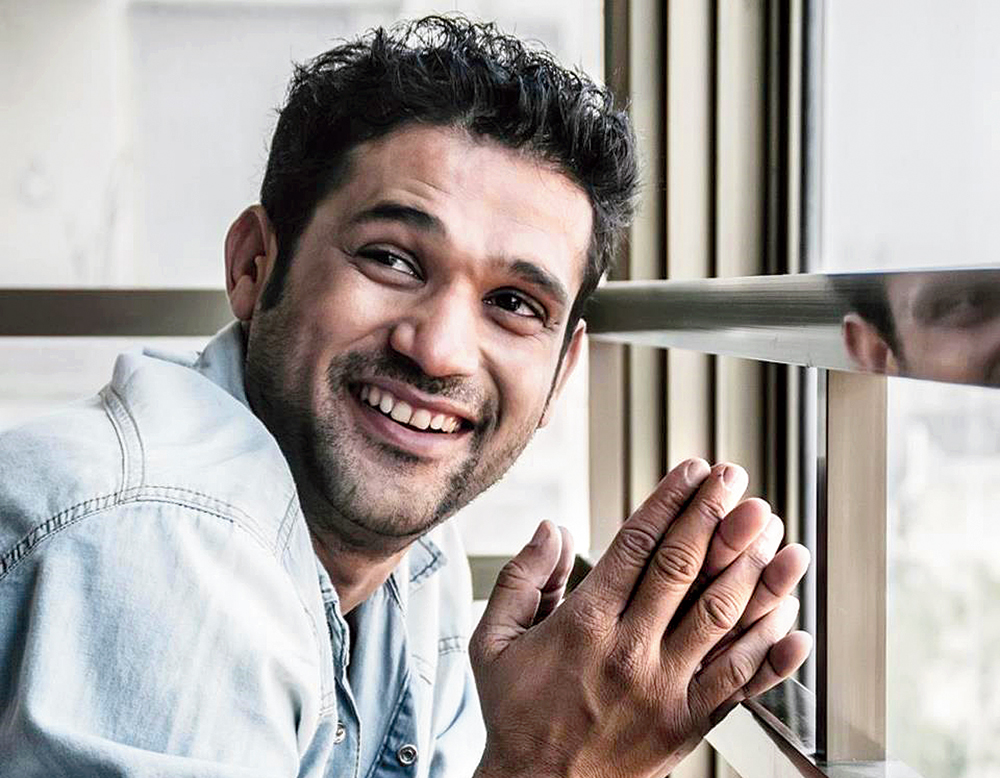 ---
---
Visually rich', 'original', 'genre defying'. These were some of the many adjectives used to describe Tumbbad when it hit theatres in October 2018 and went on to becoming a sleeper hit, playing for close to two months in cinemas. As the horror film with roots in folklore and mythology readies for its TV premiere (tonight at 9.30pm on &pictures), The Telegraph chatted with the film's lead actor Sohum Shah — who played its Machiavellian protagonist Vinayak — on Tumbbad and beyond.
When you made Tumbbad — and it did take some time to get made — did you ever think that you were coming up with something so special that it would be hailed as a genre bender?
Definitely. If I didn't think we were making something special, I wouldn't have been able to devote so much time to it. I felt it was a unique concept and would stand out once it reaches the audiences. I started making the film in 2012 and it only released in 2018. I could only make this film because from the beginning I knew we were on to something special.
One year on, what's been the most memorable feedback you've received for the film?
Raju Hirani Sir (filmmaker Rajkumar Hirani) was one of the first ones to reach out and say how much he liked the film and my work in it. That was truly memorable for me.
Looking back, why do you think Tumbbad was so highly acclaimed?
I think that's because of its unique concept. Whether it was the cinematography, the production design or the story, the VFX (visual effects) or the performances… everyone put in a lot of love and care into what they did. The audience really sat up and noticed Tumbbad because you don't get to see such horror films coming out of India.
Also, you can't really slot the film… it's horror slash thriller slash folklore… and that's what intrigued the audience.
The film blends mythology with history, folk with fantasy. It's also a commentary on patriarchy and the position of women. At any point, did you think you were taking on too much?
In a sense, yes. But these things just flowed naturally. Someone once told me that an artiste doesn't always make things consciously… some elements creep in subconsciously too. In Tumbbad, we worked on the core idea with a lot of authenticity and the other elements just added on organically. We didn't really think of adding on so many layers. The idea was always to make a film that the audience would enjoy.
Do you hope the success of the film will spawn more in what is a relatively nascent genre in India? We have been hearing about Tumbbad 2…
We are working on the script, but we haven't cracked anything yet. Tumbbad has its own audience and people expect a lot out of the sequel. We are working towards it.
You are both a producer and an actor. When you get a script, do you look at it first as an actor or a producer?
Whenever I read a script, I first look at it as a member of the audience. Main dekhta hoon ki as an audience, mujhe mazaa aayega ki nahin. After that, I see it from the producer's point of view, in terms of budget and logistics. And finally, I look at it as an actor.
Your character Vikramjeet is the most intriguing in the Netflix series Bard of Blood and leaves room for so much to unravel in Season 2. What was it like doing that part?
Though the screen time was very less — maybe hardly even five minutes in the whole season — it's the character of Vikramjeet that drives the story and also sets it up intriguingly for Season 2. It's a character that's very important to the story. I hope the role will be bigger in Season 2. It's basically my gut that makes me choose projects more often than not.
You've been picky in terms of projects, but when a Tumbbad, Talvar and a Ship of Theseus make it to decade-end lists, that must be quite a high…
Ship of Theseus took three-four years to be made. So technically, in the last 10 years, I have only made two films and acted in two more (laughs). That's a lot of time to invest in such few projects. So when all the films that I have made get appreciation to the level that they have, then it tells me that I am on the right path.
What can you tell us about Batuni and The Big Bull that you are shooting for now?
We are shooting for The Big Bull (based on the life of tainted stockbroker Harshad Mehta and also starring Abhishek Bachchan and Ileana D'Cruz) right now and it will release next year. Ajay Devgn is producing the film and it's a very interesting role. Batuni release hone mein abhi thoda time hain.
What's the way forward for you as an actor and producer?
Pata nahin, yaar. Plan toh bahut banaate hai lekin sab plan kamyaab nahin hote. Acting is my first love and I want to concentrate on that. I want to explore more opportunities as an actor and also try my hand at different genres. I haven't attempted comedy or romance yet… and I want to do such films in the next five years.